Making A Diaper Cake
With All Kinds Of Decorations 
Making a diaper cake really is so easy and simple! In just one afternoon you can create a beautiful and practical gift to celebrate the arrival of a new baby. By now I have made well over 1000 diaper cakes (for commercial sale) and here I have collected my most valuable tips, tricks and useful ideas on how to best fix your items on the diapercake.
Homemade diaper cakes are a very personal gift. You can individually customize it for the newborn and the new parents. Profit from my experience and learn how to make diaper cakes with various embellishments and themes both for girls and for boys. Also follow the links below for further instructions and cute ideas.  
Additionally, lots of diaper cake photos here show you unique and creative ideas.
For this diaper cake you will first of all need the same items as listed for the easy / plain diaper cake. Except for the cotton swabs (candles). Follow the instructions for the plain pampers cake. For the inside either use a big bottle of baby bath, big baby drinking bottle or a paper towel tube. Also attach the ribbons around the 3 tiers as explained for the plain version. Leave away the cotton swabs - and if you feel the cake might need some (high)lights still, add them at the end.
Alternatively buy a pre-made decorate it yourself diaper cake. This is a plain, ready-made diaper cake consisting of 2, 3 or even 4 tiers. A decorate it yourself cake is a quick and dead easy project: all you have to do is to add the decoration! You can choose rather plain trimmings or also a lavish decoration, both will look classy.

No time? No experience? Two left hands? No patience?

#ad
Shop for unique homemade diaper cakes here.
Making A Diaper Cake: decorating ideas
Popular items to decorate your cake with:
pacifier and / or 

pacifier chain

small baby towel

onesie

baby hat

teether

baby spoon(s)

cardboard stickers (3D)

foam animals

foam letters / wooden letters for personalization

silk flowers / straw flowers

baby socks

baby booties

wash cloth(s), wash mitt(s)

rubber duckie

small blanket

baby comb and brush

little wrapped chocolates for mom and dad

cuddly toys

baby care products (little bottles of baby bath, shampoo, baby oil, baby powder, etc.)

more ribbons

small birthday candles / cotton swabs 
Decoration on top / for the centerpiece:
real flowers, sock flowers, craft flowers, artificial flowers

baby sign

greeting card / gift certificate / personal message

ribbon top with carnival bow

baby soft toy / baby plush toy

toy wind wheel

baby rattle

baby sneakers (tips how to attach below)


Making A Diaper Cake: tips and tricks how to fix your decorations
There are many ways to fix the items on the diapercake. Some people use pins which I actually would not recommend since they might be overseen and baby could be pricked.

For small things mini clothes pins which you'll get at craft stores do the trick. Decorated mini pegs come in all sizes, colors and with various cute decorations. You'll surely find some suitable ones for your theme. It's nice to use the same pegs on your cake but it can also be neat to have a colorful variety. It's all up to you!
If you're making a girl diaper cake it's also a cute idea to use small hair bows or hair clips to fix your items and decorate your cake with. 
For larger items such as onesies, bath towels and wash clothes, use ribbon and a baby spoon: fold the item longitudinal and as small as possible. Tie some ribbon around it and make a nice bow. Slip a baby spoon through the ribbon. Stick the spoon trough the middle of one of your rolled diapers. Arrange the bow nicely.

Some items, such as foam letters / wooden letters and foam animals, can be glued to the ribbon with just a drop of glue. Stickers can be placed on the diapers directly, since they can be removed easily without leaving any marks.  
How To Personalize Your Diaper Cake:
making a diaper cake with baby's name on is very easy, too. Simply take some wooden letters and glue them to your ribbon. Some already even have a sticky back. I like to take plain wooden letters and color them with felt pens, of course you can buy ready-made colored letters (wooden or alternatively foam letters) and fix those to your cake, too. You can also use little wooden beads, line them on a string of ribbon and then fix them with little clothes pegs (shown here on a baby gift basket). Yet another idea is to add a baby name plate to your diaper cake.


Making A Diaper Cake: how to fix small items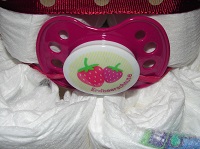 how to fix a pacifier on a diaper cake
Try to squeeze small items such as pacifiers right between the diapers. If necessary, additionally use a cloth peg to tighten the gap between the two diapers, so your items stays in place.
Items that have a hole, a handle, etc. can easily be fixed with some ribbon.
Large Cuddly Toys:
In some cases it is handy to have just one tier with a bigger diameter instead of making a two or three tier diaper cake. Then you can use the larger top for your decorations.
Here I have placed a cuddly mouse on top. To fix the mouse I have used four spoons that I squeezed right inside a diaper. Then I have taken  some curly ribbon and have fixed it on top of the spoons and 'crossed' it in front of the cuddly mouse. Finally, I have curled the ribbon ends for further glamour and shine. 
This cake has 3 layers, but you can even make 4 layers if you want a bigger diameter. 

Making A Diaper Cake: cover not so perfect spots


pimped up not so nice spot!
If you need to cover the area where you glued your ribbon together, just place a small pre-made and self-adhesive ribbon bow or a cute sticker on it - et voila the 'ugly spot' is gone! 

Making A Diaper Cake: why not add candies for the rest of the family?
Sweets, candies, individually wrapped pralines, lollipops and taffies also make a cute decoration for your cake and the new parents or siblings will like them! 

You can get candies in many colors, even pink and blue! And lollipops are available in different shapes - even heart-shaped ones.
Lollipops are easy to stick in between the diapers while individually wrapped pralines can be attached to the ribbon by using a small, decorated cloth peg.
Try to make a garland out of sweets, taffies or candies and some ribbon which then simply can be wrapped around the diaper cake. The photo shows a saltwater taffee garland in blue and green, perfect for a boy diaper cake. 

Making a Diaper Cake: the centerpiece
The centerpiece will most probably be your eye catcher. Here are some ideas of how to design it:

Great for a baby shower diaper cake: If you want to use real flowers on top of your diaper cake integrate a little baby bottle over your core tube which serves as a vase. Put fresh water in and add your flowers - so beautiful!
Just the top is also a cute idea for a baby shower decoration. Simply make it on its own: take a small baby bottle, place some rolled diapers around it, fix with a ribbon and bow and put some flowers (real or artificial) inside the bottle.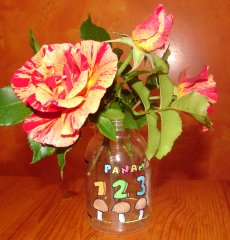 baby bottle with real roses
If you have a baby sign, a baby name plate, a congratulations card, a gift card or any similar item, you can either squeeze it right on top between two diapers or place another tube on top where you can then glue on your sign or card to display it in a nice way.

For a ribbon top, get a carnival bow or make one yourself with a bow maker. Then just place it on top. The same applies for a tissue paper flower.
Often you are able to stick or squeeze small soft toys or plush toys right in the middle. If necessary 'prolong' your tube with a piece of balled up kitchen paper towel so your item sticks out better.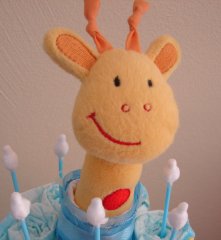 hello!
Baby Sneakers:
Another popular item to place on top of your pampers cake is a pair of baby sneakers. It is hard to really tightly fix them on your cake but actually it is not necessary to do so. I recommend two ways to just loosely fix them on top which will do the trick. If they do not have laces, just use a piece of double-faced adhesive tape and press the sneakers on top of your diaper cake. If they have laces, you can of course use that method, too. Another possibility is, to let your middle diaper stick out a bit, place the sneakers around it and then tie the laces crosswise around it.  



Making A Diaper Cake: one more tip - how to add baby products, baby books or longish rattles / toys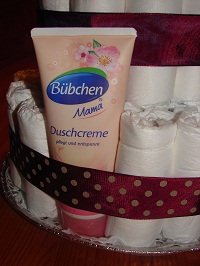 how to fix baby products on your nappy cake
Once your cake is nearly finished, remove individual diapers of the 1st tier and replace them with baby care products such as little bottles or tubes of baby lotion, baby shampoo, baby oil, etc. The same applies to long toys, such as longish rattles. Have the head stick out and an animal will peek out your cake just like the giraffe pictured above.
If you want to fix a small board book or a stroller buggy book, simply stick it down the decorative ribbon and it will be fixed. You can see this pictured below on the piglet diaper cake. 
You see, making a diaper cake or any other diaper gift is great fun and it is no rocket science at all!

Conveniently order your diaper cake supplies online here.
Special occasions call for special cakes! Here ist yet another example of what to add. This one was for a wedding where the couple also just had had a baby girl. The hearts already came on a string so I just had to wrap them around the cake.
The topper is for a real wedding cake, but so what, so handy!
The flowers had a little stem so they were easy to fix, too.
Using different but matching kinds of ribbons also is a beautiful idea.
Want to know more about this wedding diaper cake? Check it all out here.
Making a diaper cake is a great idea - but other handmade baby gifts are nice as well. Have a look here for more homemade baby gift ideas. 


Showcase your homemade diaper cake
Return From Making A Diaper Cake to Diaper Cake Directions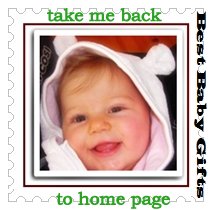 ---
---