How To Make Paper Flowers
Learn how to make paper flowers in this very easy and quick step-by-step tutorial.  Tissue paper flowers or napkin flowers are great to decorate your baby gift, your baby shower gift or just any other gift! 
They are a beautiful and cute (low cost) decoration for your room and table for a special party, for example a baby shower party!
Use them, to nicely decorate a diaper cake, diaper bouquet or a baby gift basket. More ideas are listed below.

Since napkin flowers are so easy to make, even kindergarden kids can already make them - with just a little help by an adult.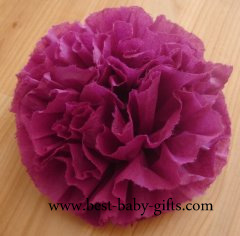 What To Use Tissue Paper Flowers For:
Tissue flowers are very versatile, you can use them for all kind of decorations such as

if you give a gift card, decorate your envelope with a paper flower

embellish any kind of wrapped gift with one or several paper flowers. Depending on your gift wrap, use the same color for all or make them colorful

spice up your

homemade (baby) gift basket

with one or several tissue paper flowers and roses

decorate a

diaper cake

with colorful paper flowers

use paper flowers as decoration for your baby shower party, preferably in the color of baby's gender; make some cute

baby shower decoration

with diapers and tissue flowers (see below) 

decorate any other party with napkin flowers

make a bunch of red paper flowers and give them for a Valentines gift 




paper flowers also can be used as Christmas decoration if you use the 'typical Christmas colors' such as white, green and red 

moms: have your kid(s) make a bunch of paper flowers for grandma's birthday  

dads: have your kid(s) make a tissue paper flower bunch for mom on Mother's Day or her birthday



How To Make Paper Flowers
What Do You Need?
What do you need to make this DIY paper flower?
Just an ordinary napkin and nothing else!
If your flower should have a stem, you additionally need a (green) piece of chenille stem. A pompom is cute for the inner part of your napkin flower but not mandatory.

How To Make Paper Flowers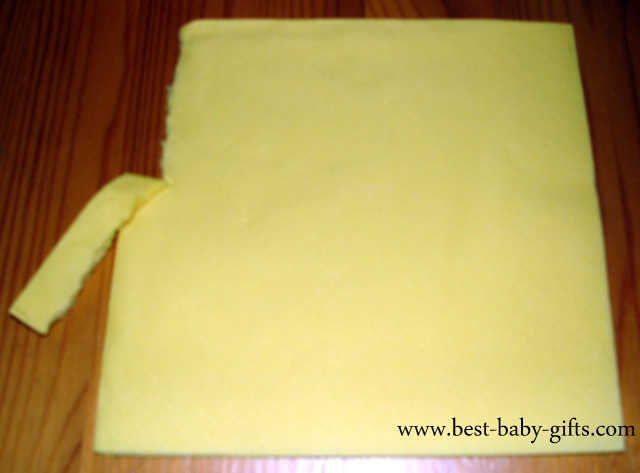 Step 1: place the napkin in front of you so the closed side  is on top. Then the left side is partially closed, too. 

Step 2: at the left side rip off a small band (approx. 1 finger wide). This does not need to be that accurate. Keep the band, you still need it. But if it should tear do not worry, you can also use some ribbon or string instead. If you do not want to tear the band off, you can use a pair of scissors instead. But if you ripp it off, the rim is a bit fuzzy which makes the flower look nicer. Optionally, also tear off a bit on the right side, to make the rim more fuzzy, too or if you want to make a smaller flower.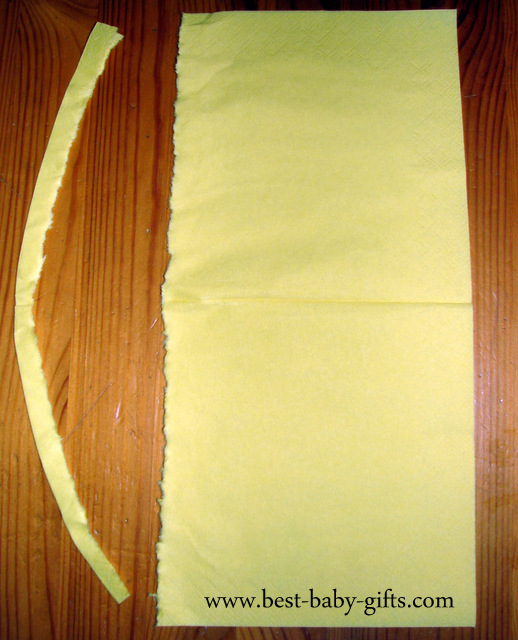 Step 3: open up the napkin by placing the lower part to the top. 
How To Make Paper Flowers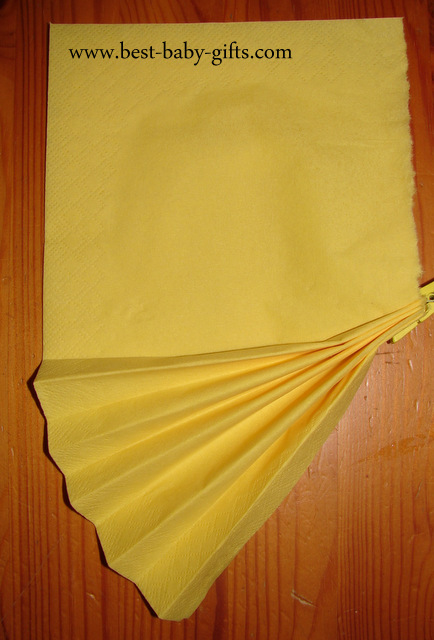 Step 4: at the short side, start to fold over a small band, turn the napkin over and again  fold a small band, turn the napkin over again and fold and so on, until all is folded up (this is exactly like making a paper fan, the folded part looks like an accordion).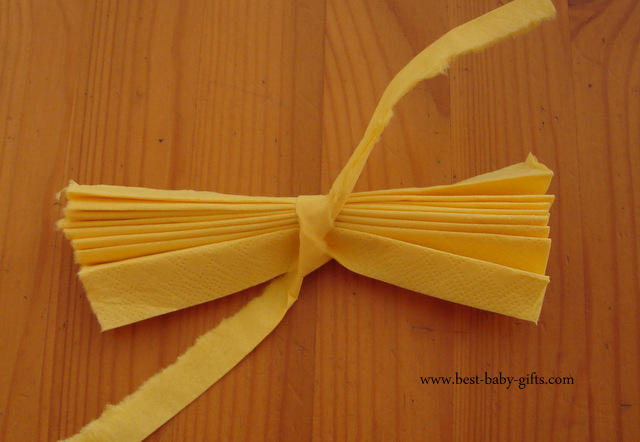 Step 5: take the band (or some string) and wrap it around your folded napkin and tie a knot.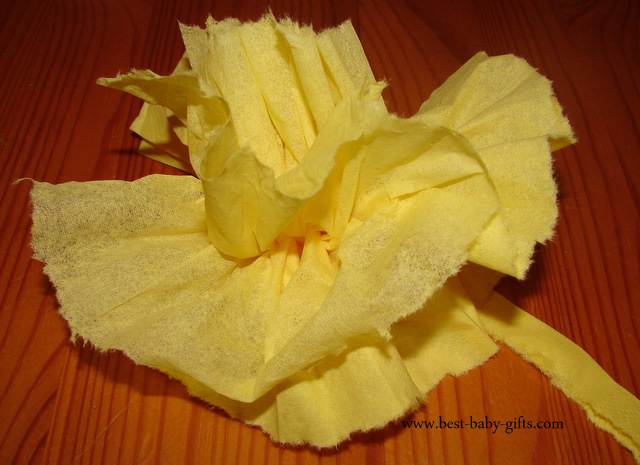 Step 6: extend the napkin at both sides  and start to pull apart the (usually 6) layers of your napkin

Step 7: arrange your layers nicely to make it look like a flower in full blossom.
This all does not need to be  very accurate - it will look great any way!
TA-DA  - my DIY napkin flower!
Doesn't it look gorgeous and isn't it really foolproof?
---

Alternative: Tissue Paper Flower
I made this beautiful blue flower exactly the same way as described above but instead of a napkin, I used tissue paper (omit the step where you rip off a band and instead use some curling ribbon to tie around).
To make a tissue flower you need approx. 8 layers tissue paper, approx. the size of a napkin. If you want to you can even use different colors or shades for the layers.
How To Make Paper Flowers - Tricks And Tips:
Do:
* as mentioned above, depending on what type of napkin you use it might be helpful to also rip off a small band on the right hand side since it makes it easier for you to split the layers later on and it makes your flower look more fuzzy

* if you want to make small napkin roses, tear the napkin on both sides (you may rip off a broader band, it's all trial and error...)

* usually it is better to take a single color napkin since patterns cannot be recognized once the layers are split, additionally sometimes the inner layers of the napkin are just plain white and do not have the pattern there, so the effect is rather dull (see photo below) 
* for a bigger and fluffier tissue paper flower use two napkins. Tear the rim on both napkins and then place one on top of the other before making the fan (step 4)
* for a flower with a stem take a Chenille stem and use it instead of the band to tie around your paper fan (step 5)  
*optionally, glue a pompom to the center of your napkin rose / flower  

Don't:

Even though this napkin seemed just perfect for a baby girl, the tissue flower did not turn out very well. You cannot recognize the design anymore and the lower layers are plain white anyway.

A plain-colored napkin just looks better...

Find photos of more DIY flowers and DIY flower tutorials here.

Return from here To Baby Shower Gift Wrap

---
---