Unique Newborn Baby Gift Baskets
With newborn baby gift baskets you never can go wrong and they always make a great baby shower gift since they are colorful and look creative! Moreover, they are easy to personalize so you may add that special touch and love. 
A gift basket is a very practical and thoughtful present which, depending on the goodies contained, can vary a lot - so two homemade baby gift baskets will never be the same and you can never have too many!

A new baby gift basket also is a great idea for a combined present for mother and baby since it can be filled up both with mummy and baby items at the same time!

For more details on specialty baby gift baskets and lots of theme ideas please see the section further down this page.

Buy Ready Made Or Make Yourself?
Ready Made: Shopping for newborn baby gift baskets is quite easy, your local baby store will have a big variety of baby gift hampers in stock. Alternatively you can buy cute baby gift baskets online. They come in all colors and sizes and, depending on the content, also in all price ranges. 
If you are pressed for time, it's best and most convenient to buy a ready made basket for baby. 
At our Green House you have the possibility to make your own organic baby gift basket online. You can also have it personalized by either adding the name on the basket or to the items included such as a bodysuit. You can have it shipped directly to the recipients. This actually is a pretty cool idea but it is pricey, too. Check it out here.  
Do It Yourself: On the other hand, a baby gift basket is one of the easiest homemade crafts and absolutely everybody can do it. You can select the items to include yourself so they exactly suit the mom and family they are made for. You can also make the DIY basket more special and thus fill it with your love. Add a unique touch by personalizing it with baby's name.  

How To Make Newborn Baby Gift Baskets
Wonder how to make a baby gift basket? This is really an easy homemade project! Making your own basket will make your gift not only thoughtful and practical but as already pointed out you also add your personal touch and show a great bit of special attention and affection!


Homemade Baby Gift Basket Ideas:
Main Ingredients: Your Basket / Container

Depending on your contents the basket should have the right size. So it is wise to first think about the contents and then to decide on the basket.  
If I use the word basket, I do not necessarily mean a 'real basket' - this could be all sorts of 'containers', bowls and buckets to hold your goodies. Let me just give you some ideas and then let your imagination do the rest!
Baskets come in all forms, sizes and materials - it is basically up to you which one to choose. Baskets made of natural fibers such as bamboo, palm leaves, willow, straw or cane usually look nice and 'baby-like'.

If you take a cloth lined basket, later on it can be used as a repository for baby's diapers on the changing table, or it can hold baby's onesies or all of baby's small utensils. And in a few years it might even serve as a storage box for small toys.

With a square or round plastic bowl or a bucket baby can play in the garden once it is a bit older. The bowl or bucket can then be filled up with water or they can be used for easy storage of baby's sandbox toys, etc.
A baby bath tub is perfect if you want to make a baby bath gift basket. Just fill it up with everything baby needs for his bath. For cute ideas see my specialty baby gift baskets section further below this page where you will also find the link to how to make a baby bath tub gift basket.
A canvas storage box or a canvas nursery bin are a great basket alternative, too.
Many ready-made gift baskets come in a Radio Flyer Little Red Wagon. It's great to hold your basket ingredients and comes on handy when baby is big enough to pull its toys in it, etc. Click on the image to check it out.
Make a basket out of a burp cloth (see below)
#ad
Low Budget Baby Gift Basket:
If you are on a tight budget, a baby gift basket is the ideal gift. See tips for  inexpensive baby gift baskets here. You will find cheap basket ideas as well as lots of affordable items for the contents.


What To Fill Your Homemade Newborn Baby Gift Basket With
Useful and suitable items for homemade baby gift hampers are for example:

- baby body care items such as: baby lotion, baby oil, baby wipes, baby shampoo, baby powder, baby bath, baby sunscreen lotion, diaper rash ointment, diapers, etc.

#ad
- baby grooming items such as: a soft baby hairbrush, nail clippers for baby, baby cotton swabs, etc.

- practical baby items such as: a baby thermometer, baby bottles, a baby bath thermometer, baby bibs (cloth, plastic or disposables), pacifiers, a hooded baby bath towel, baby towels, wash clothes, bathing sponge, etc.

- baby clothing such as: onesies, baby socks, baby booties, baby rompers, baby Tee, baby (sun) hat, etc.

- other baby items such as: teething toys, rubber duckies, animal squirting toys, baby spoons, rattles, baby board books, pacifier clips, buggy activity chains, musical toys, cute plush toys, etc.  
-cute diaper babies
Baby Gift Basket Theme Ideas 
Why not give your basket a theme? 
Here are some ideas for specialty baby gift baskets:
- gift basket for mom and baby - organic baby gift basket - baby clothing gift basket - baby tub gift basket- baby book gift basket - pampering and luxury baby gift basket - baby food gift basket - twin baby gift basket - personalized baby gift basket
homemade twin baby gift basket  and Winnie The Pooh diaper baby gift basket - simply click the images for instructions

Personalizing A Newborn Baby Gift Basket:
To personalise your baby gift hamper, personalize the basket itself with glued on wooden letters, foam letters or letter stickers. You can also make a name chain with wooden beads and attach it to your basket, for example with miniature cloths pecks. A great alternative is to have one item personalized, such as a hooded towel, a onesie, a bib or a hat and then have that item displayed in your basket in a way that the name clearly shows.
Tips For Arranging Items In Your Gift Basket:
Once you have all your ingredients together, take your basket and nicely arrange all your items in it. In some cases - if your basket is rather large that is -  it is helpful to fill the bottom of the container with some cotton balls, some baby burp cloths or even diapers or boxed wipes.
You also might have to play around a little bit until everything sits in place and looks nice. It looks more flattering if you include some layers of very thin paper / tissues and have them stick out between your items.
To make your basket more colorful, add a paper flower or two.
Give your newborn baby gift basket that last piece of perfection by using clear gift foil wrap and lavishly add colorful ribbons (see photo of gift wrapped basket above).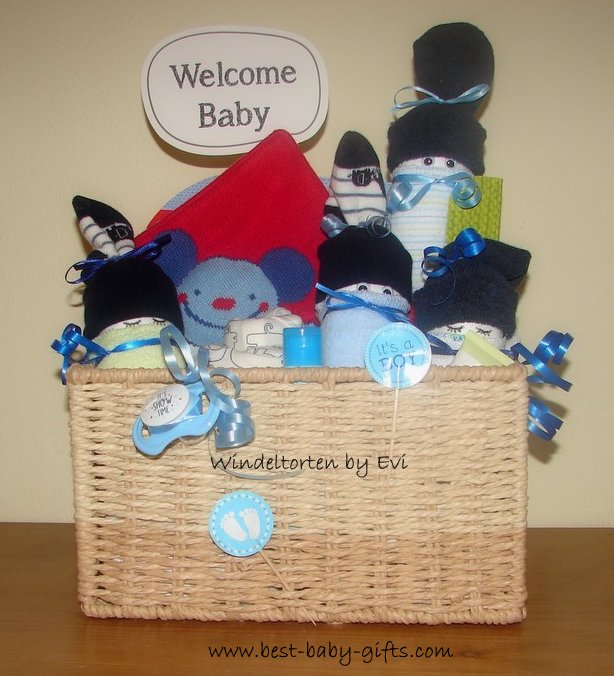 boy baby gift basket with diaper babies
Baby Gifts In A Keepsake Chest
Instead of using a basket you can also use a keepsake chest / gift box or even a toy suitcase. I found this awesome baby keepsake box at the Dollar Store and arranged my baby gifts in there. I personalized the box with baby's name, had a special onesie printed which I rolled around a diaper like a cracker and added a diaper baby. Later on the chest can be used to store baby's souvenirs such as the first tooth, the first lock, ultrasound photos, photos, etc.  

Diaper Cake In A "Cloth Basket": 
Here's another way of making a newborn baby gift basket. Arrange your items and / or diapers in a burp cloth. I have used diapers only but you can fill your cloth with other baby items and baby accessories as well. 
This way of making a basket saves you to look for a basket that will be of use to the new family. While not everybody may want or need a basket "to lie around", a burp cloth is always helpful for a little baby and in the worst case it can still be a floor or cleaning cloth. Click on the picture to see the whole idea and a tutorial. 
Return to Homemade Baby Gifts

Best Baby Gifts Homepage

---
---