Sterling Silver Baby Gifts
- Just A Little Bit Of Luxury For Baby -
Sterling silver baby gifts are very popular. They are classy and often are not only 'just a gift' but the perfect keepsake or heirloom, too. Moreover since most metal presents can be personalized they are all the more special.

Silver or silver-plated gifts for little ones such as a cup, a brush or a piggy bank may not always be functional presents but often something for the shelf.

Most of the silver baby gift ideas in my listing are also available in 'cheaper' materials - that's what makes the silver design a luxury. In case you are not sure what sterling silver gift to get browse through my recommendations to get ideas for a perfect silver baby gift for every occasion. 

Fun fact: the tradition of giving baby a silver gift was started in the Colonial Times and still lasts.


Timeless Silver Baby Gifts

Silver Keepsake Box
Silver keepsake boxes come in various forms and styles and for different purposes. There are 1st tooth and curl keepsake boxes, mere tooth fairy boxes and jewelry boxes. The forms may be round, rectangular or square with a silver relief or a little figurine (bear, rabbit, fairy, crown, castle, etc.) on top, enamel painted or even with Swarowski Crystals. They come in various price ranges and all make a great gift to safely tuck away baby's first 'treasures'.
Keepsake boxes also make a great baby christening gift, especially as you can easily personalize them! 


Silver Baby Brush
A silver baby brush or a silver brush and comb set is rather a 'girly' present. Just make sure the brush is soft enough for baby's delicate hair and skin. Baby will surely feel like a real princess being brushed with such an exclusive item! A brush is also ideal for a personalized engraving. 


Sterling Silver Baby Cups
A sterling silver baby cup or also a pewter baby cup make a very decorative gift. They come either as a plain cup with a plain handle or also in a fancier style with beads added, etc. Sterling silver baby cups are a gift that will last a lifetime and can easily be personalized.
Fun fact: silver baby cups go back to the tradition of giving a baby an opulent gift to symbolize the privileged future you hope the child will have. So this is a highly symbolic silver baby gift.


Silver Bible
A silver baby bible is a typical baby baptism and christening gift. It is a great gift for both girls or boys. It is also a perfect keepsake to hand down from generation to generation.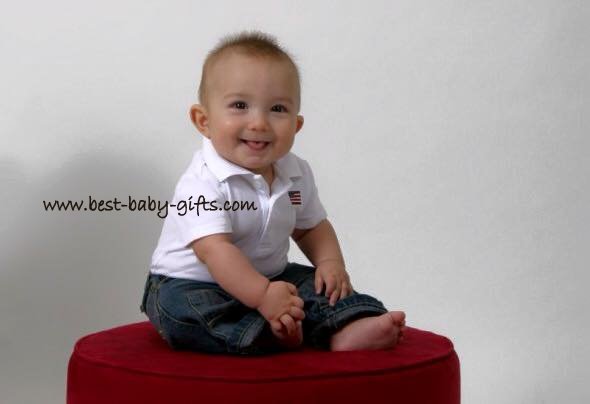 More Sterling Silver Baby Gifts:
Sterling Silver Birth Certificate Holder
In order to store baby's birth certificate both safe and in style, a silver birth certifiate holder is a great gift.
Some birth certificate holders also include little keepsake boxes for baby's firth tooth and curl. 



Silver Baby Spoon / Baby Silverware
Baby silverware and silver baby spoons come in various forms, styles and different sets. You may choose an old fashioned style spoon or a modern and contemporary spoon design. You can also get complete silverware sets consisting of fork, spoon and knife for baby or a 2 piece consisting of spoon and fork only.
In order to keep the silver nice and shiny you need to clean and polish it often. If you want baby to use your gift on a daily basis it is probably better to give a stainless steel fork, spoon and knife set. There exist cute sets with engraved animals or cartoon characters.
For baby silverware I highly recommend Reed and Barton items.
Silver Baby Jewelry
Silver baby jewelry comes in many varieties: for example a silver baby bracelet, a silver baby ring , a silver baby bangle, a silver ID bracelet, silver baby earrings or silver baby charms. The charms come in many forms such as a bear, a heart, the first letter of baby's name, etc. 
The most popular baby jewellery probably is a bangle since it is safe and does not pose a risk. Bangles and bracelets also come personalized and in gift sets for mom and baby such as the "Mom and me" double heart bracelet. The latter is a great idea since mom gets her own gift and piece of jewelry, too!
No doubt, baby jewelry makes a lovely gift and really a cute keepsake!




More Great Sterling Silver Baby Gifts:
Silver Baby Frame
A silver baby frame with the photo of baby and / or his parents surely is one of the most popular sterling silver baby gifts. There exists a great variety of frames starting from old-fashioned ones in art nouveau style to very simple and plain contemporary ones. 
Silver baby frames also come in a 'collage-style' for baby's first year with one opening for a bigger photo in the middle and 12 smaller ones - one for each month. 
This precious baby gift surely will 'hang or stand around' for years and years and years. 
---


Silver Baby Piggy Bank
Start baby's fortune with a silver piggy bank! If you have a few more dollars to spare you may as well start to feed the bank with some extra bucks. Silver baby banks come in different forms, either as the classic piggy bank or in various other styles. Some are especially for girls such as crowns or a teddy bear while others are designed for boys like race car, train, airplane and football shapes.
Here's a classical piggy bank and a baby blocks alphabet baby bank, both are suitable for girls and boys. 

Silver Pacifier Clips
A pacifier clip is something very practical since it saves you the hassle to constantly search for baby's binky. Whether it needs to be made of silver or whether a wooden pacifier clip does the job as well or maybe even better is purely a matter of taste.
One thing is for sure, a silver pacifier clip can be easily personalized and it makes a great keepsake! So if the parents do not want to use it they can still keep it as a valuable heirloom.


Other favored sterling silver baby gifts are silver baby teething rings, silver rattles and silver toothbrushes. Decide for yourself... Some of them might actually be rather 'for the shelf' than for real use.




#ad What a cute heirloom gift!
Return from Sterling Silver Baby Gifts to Luxury Baby Gift 

Best Baby Gifts Homepage 
---
---