New Dad Gifts
Congrats To The New Daddy!
Give new dad gifts because:

You are the new mum and think daddy has earned a treat, too! Many of these gift ideas also make a great Father's Day gift for dad's (first) Father's Day and for his birthday, Valentine's gift for Dad or Christmas gift for Dad from baby!
You see, there are many reasons to get a little something for new fathers! And sometimes there needs not even be a reason to give dad a little surprise... 
Also dadchelor parties, also known as man shower or baby stag are becoming more and more popular. Wikipedia tells me: Having a dadchelor party... is considered to be one of the new emerging trends for fathers in the 21st century. 
---
 June 18, 2023 is (new) Father's Day!
---
My special gift idea for Dad's 1st Father's Day, designed with love by myself, available on Zazzle:
#ad
Unique New Dad Gifts

Daddy And Me Picture Frame
Give the new dad a special daddy & me picture frame to place at his office. Every dad loves to show off his baby and Family to coworkers and clients. Of course dad can also hang this up at home! Daddy & me photo frames are available in all sorts of styles and materials and with different messages engraved such as 'Daddy & Me', 'I love Daddy', 'Daddy's Girl', etc. Have the engraving personalized and the frame makes a great and timeless new dad gift!
Also great: a 'mom + dad = me' picture frame. This is the ideal gift from mummy and baby for daddy, for example on Father's Day. 
Rockabye Baby CD, Lullaby Renditions / Sleepytime Tunes from various artists
Rockabye Baby transforms the songs of your favorite artists into instrumental lullabies. Let baby and dad cuddle up to listen to the soothing sounds of the glockenspiel, vibraphone, mellotron and other instruments. They will lull baby into sleep, and - who knows - maybe daddy, too! 
Why not get a couple of these CDs for the new father? Check these cool new dad gifts out, Rockabye Baby also offer gift bundles that include ROCKABYE onesies and baby tees.
Sleepytime Tunes CDs are equally great and also feature various artists.
Let dad and baby drift together into 'sleepland' with this new dad gift idea! 
The Rad Dad Box 
Cratejoy feature lots of unique gift boxes for all occasions such as for example the
#ad Rad Dad Box
for new fathers. Help dad to bond with baby by giving him a monthly subscription for a starter kit. Choose between the Rad Dad Box (3 to 4 items per box) and the Deluxe Rad Dad Box (5-8 items). Items in the box for daddy and baby include self-care products for the new dad, toys for baby, dad/baby activities, books and apparel for baby and dad. Monthly subscription, worldwide shipping, cancel anytime. Welcome to fatherhood! 
Funny New Dad T-Shirt / Funny Baby Onesie
Dad-oriented clothes like funny slogan tees / onesies for baby always are a great hit and a good laugh. Have a tee / onesie with 'I love Daddy', 'My Dad Rocks' or 'My Daddy Trains Harder than Your Daddy' printed on. 
Alternatively get a shirt for dad saying 'Proud New Dad' and possibly add the year. Dad will love to pose in this new dad gift...  
Get some more ideas for cute and cool slogans for your baby onesie for dad and the entire family here.  

Gag Gift: Daddy Diaper Changing Toolbox
Want a gag gift for the new dad? Then I recommend a diaper changing toolbox with lots of fun and functional baby stuff! There are various diaper changing toolboxes around and they contain 'useful' things for the dad to be such as:
* a mask with a toxic fume filter, so dad can breathe more easily  
* goggles - for better eye protection
* tongs - for easy removal of the diaper
* ear/ nose plugs - might come in handy...
* baby wipes - well, even mommy needs these when changing a diaper
* a bio hazard bag and rubber gloves - straight from the tongs into the bag will be the best thing to do with baby's diaper
DIY Daddy Diaper Changing Toolbox and other homemade new dad gift ideas.

Daddy Diaper Bag
A daddy diaper bag is such a classic new dad gift! It never can be wrong. Dad will hate to carry mommy's hip-style diaper bag with that eye-catching pattern! And maybe even in pink!? Modern daddy needs something cool and man-like! A dad diaper bag is awesome and especially designed and styled for men. A messenger bag is cool for a dad and a backpack, too. Daddy will surely be proud to have his own bag for going out with baby ;-) 

New Dad Travel Mug / Beer Glass 
Depending on the new dad's personal liking, either get him a colorful dad mug or a funny 'dad evolution' mug for his daily coffee at home and / or at work. A travel mug might be a great idea, too. Also cute: a beer glass for his (daily) beer.    

Parenting Books For New Dads
Pregnancy, labour, infants and parenting are all virgin territory for dad? Then it's about time to learn about at least the 'theoretical part' of it! Great new dad books are:
- Be Prepared: A Practical Handbook for New Dads (paperback book) by Gary Greenberg
- The New Dad's Survival Guide: Man-to-Man Advice for First-Time Fathers by Scott Mactavish
- The Caveman's Pregnancy Companion: A Survival Guide for Expectant Fathers by David Port, John Ralston and Gideon Kendall
- The Joy of Fatherhood: The First Twelve Months Expanded by Marcus Jacob Goldman

Matching Clothes For Dad And Baby
Let baby look like dad - or daddy look like baby? Try Footsteps Clothing who offer matching dad and baby pajama / playwear (shirts and pants) sets. Made of 100% cotton dad and baby will love to hang around in style together. Also available with tee prints such as 'Trouble' or 'Team Daddy'! These matching outfits are offered in various designs and sizes. Perfect for everyone!

These are really cute:

Digital Camera Or Camcorder
If the new dad does not have a digital camera or Video camcorder yet - or also if he has an outdated model only - there's no better occassion to get him (a new) one! The pictures and little films of baby will bring joy and fun for a lifetime. Also, once the baby is an adult she or he will also enjoy all these childhood memories together with the parents.
This is a really cool gift from mommy to daddy or from grandparents-to-be for their son.
Daddy's Girl Pacifier
Also a cute means to tell dad that it's gonna be a girl!
#ad
Creative gift ideas from baby for the entire family and friends.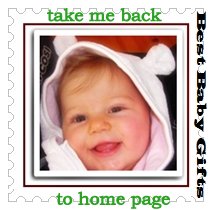 ---
---