1st Birthday Gift Ideas
Get unique 1st birthday gift ideas and find the perfect gift for the birthday girl or birthday boy. Baby's first birthday and its first birthday party sure are a big event both for baby as well as for the parents! So this calls for a special party, a special present and some special photos!
For further product information click on the images.
Green Toys Vehicles: Fire Truck, Recycling Truck, Dump Truck
All these cool vehicles by Green Toys are built in the USA from 100% recycled plastic milk containers that saves energy and reduces greenhouse gas emissions. These toys are absolutely safe and do not contain any BPA, PVC, phthalates or external coatings. They are tough and durable and kids and parents love them alike. Suitable for 12 months & up - thus, a really great gift for a little birthday boy!
Want something as cool as this for a 1 year old birthday GIRL? Get the Green Toys Pink Dump Truck or the (yellow) school bus!

#ad
Big Bobby Car
This is one of the classic 1st birthday gifts given in Europe. The BIG Bobby Car can be used both inside and outside, it is very durable and will bring fun for years to come - and also for more kids to come. 
A separate trailer to load and unload all kinds of stuff is also available. As pictured here, this is vital in order to take toddler's best cuddly friend and a drink along!
This 'fast car' will surely be a hit with the birthday kid and there's even a girls' model in pink. 

This Radio Flyer car is equally great: 
#ad
1st Birthday Diaper Cake

When a baby is one year old it will still need a lot of diapers, so a diaper cake still is a good gift idea from a friend or relative! Instead of things like lotions and powder, add little cuddly toys or educational toys. Best ask for baby's diaper size before you start your project. Learn how to make a diaper cake.
Shape Sorting Toys
Around the first birthday, a little one is able to start training of fine motor skills and hand-eye coordination and it will be able to differ between basic shapes and colors. A shape sorter will be a fascinating toy for baby around the age of 12 months to around 3 years. Shape sorters come in many forms and materials, from soft cloths sorters, wooden sorters, plastic sorters to sorter houses, cubes, egg boxes, balls, pull-along sorters and with or without making noises, etc. 


#ad
---
Here's a little birthday poem to write in your congratulations card:
One little candle, placed on the cake
- one first birthday wish to make!

---
Baby's First Phone
Baby's 1st smart phone is a practical 1st birthday gift idea since it helps you to keep your own phone safe and sound!
Around the age of one, baby's can pretty much reflect what grown-ups do: being on the phone and chatting away for hours... ;-) Now, they want to participate and imitate. If you want to give them your own, expensive smart phone, then do. But chances that they break it, are high! Therefore you better get them some nice little toy phone so they can press buttons, make it ring, play with icons, talk and interact without you having to worry. As with most baby toys of that kind, there are many models from various manufacturers on the market. Here's my best pick.

#ad
Little People Toys By Fisher Price
Meet the Little People friends and have hours of fun with their Wheelies, Places to Explore, Things that Go and Things to Build. These toys will entertain kids over a long period of time, even my 4 year old still likes to play with them on a regular basis and my two older kids will join her frequently, too! A Little People toy is a great 1st birthday gift idea, discover the world of Little People by Fisher Price here.

More 1st Birthday Gift Ideas
Little People Books / Fisher Price Books / Book Gift Basket
A baby book is an ideal 1st birthday gift idea since by around that age babies will become interested in looking at pictures, in pointing out things, in opening flaps and in turning the book's pages. So let's hear stories about the Little People and their friends. For example, visit the dentist together with Little People Michael and open lots of flaps with him. Or discover the world of #ad Fisher Price Books for babies, which are designed for ages newborn to 3.
Another cute idea is to make a book gift basket for 1 year olds. Basically this works the same as a baby book gift basket, just select more advanced books from the 1 year old and up category and also add a cuddly pillow or cuddly pal to make story time really cozy! 



Corn Popper Toys
By the age of one babies like to push and pull objects. And when these objects make funny noises while being pushed or pulled, they are all the more fun! #ad Corn popper toys are the ideal toy for this kind of play. Popper toys are available in two versions. A small version, which is a push toy with wheels, for example in form of a push-ladybug or a push-car. This is the ideal 1st birthday gift idea if you are on a tight budget. 
Then there is a bigger version with a handle to push and pull - here I recommend the Fisher Price Corn Popper Push Toy. Babies like to 'push and pop' and will enjoy the popping sound for hours and lots of parents claim this to be the favorite toy of their little ones, just have a look at the countless amazon reviews. A great gift for an active one year old (and even mummy and daddy will want to try this one out...)!    




Playmobil 1-2-3 Toys
Playmobil is one of the best-known and most popular toy companies worldwide. Formerly, Playmobil manufactured great play sets for kids of 4 years and up only. But a few years ago they introduced their new line called Playmobil 123 for 18 months and up. These great toddler toys are basic play sets around various themes such as: playground, family house, race car, zoo, Noah's Ark, farm life, truck with garage, etc. A one year old does not understand yet what's going on at its birthday. So baby won't be dissapointed having to wait 6 more months until being able to play with these cute and educating sets. Playmobil toys are made in Europe (Malta), they are color fast, easily washable, safe and fun to play with. 
#ad
#ad

Even More 1st Birthday Gift Ideas
Rody Horse
The Rody horse is a real delight for all little hoppers! Of course baby can also just sit on it. You can bounce on Rody indoors as well as outdoors. This hopping horse is about 12 inches in height, it is inflatable and grows with the child as you just add more air. This cute horse is made from soft, super strong, latex-free and phthalate-free vinyl, and comes in 13 colors, so you will find a favorite for everyone! Rody strengthens the muscles of the back, abdomen and legs, because riding on Rody exercises a good posture, balance, body coordination and body control. Be assured, Rody will stay a 'a friend' and favorite toy over years, some mum even stated on amazon Rody to be the best toy bought so far!

#ad


Play Tents
Kids love role play and to build dens. And small kids like to play peek-a-boo. Play tents are great for role play and pretending and they can be used both indoors and outdoors. Pop up play tents come in many forms and sizes, some are especially for girls such as fairy princess castles or Disney Princess tents or for boys like knight's castles, pirate tents, fire engine play tents, etc. But there are also plenty of play tents suitable for both girls and boys such as for example ladybug tents, colorful play huts and playhouse cottages. Some play tents even come with a tunnel which is even more fun to crawl through. A pop up play tent is set up in a minute and is also neatly stored away in nearly the same time so you do not have a bulky toy clogging the nursery all the time. Even if a one year old will not do role play in a play tent yet, it will have fun just sitting in the tent and playing peek-a-boo with its parents or siblings. A pop up play hut is a great gift for a one year old that will bring fun and laughter for years!



Radio Flyer Car / Radio Flyer Wagon / Kids Wagon
Radio Flyer is a true American classic: a traditional company, found in 1917 by Antonio Pasin, an immigrant from Italy. Radio Flyer is famous for its safe, quality toys that inspire active play and spark imagination. Their range comprises wagons, tricycles, scooters, and other ride-ons and you are bound to find the perfect 'vehicle' for your little one(s). A Radio Flyer toy brings smiles to babies, toddlers, kids and the whole family and creates memories that last a whole lifetime. Indeed an awesome 1st birthday gift idea! Find and choose your perfect Radio Flyer car or Radio Flyer Horse here, and your Radio Flyer Wagon here.
More kids wagons.


Rocking Horse / Rocking Toys
Who said, it always has to be a classical rocking horse? Even though an antique rocking horse sure has a lot of charm, the more modern rocking animals such as dinosaurs, puppies, zebras etc. will bring baby a lot of rocking and fun, too! Make up your own mind on whether it should to be a wooden quality rocking toy, a plush rocking animal, a rocking toy made of synthetic material, or a Radio Flyer Horse - the choice is vast and there are models for any budget and taste, and some even come with sound - in any case baby will love to rock and ride for years to come!

#ad
Haba Soft Dolls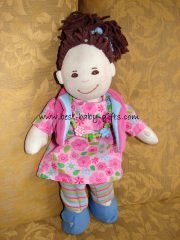 lovely Haba Paola
A HABA soft doll is another excellent 1st birthday gift idea! These colorful dolls have a soft, padded body, chenille hair, an embroidered face and great colorful clothes and are just perfect for hugging and cuddling! Since HABA sells boys characters of this line, too, these cute dolls are not for girls only! Have a look at the awesome Haba doll family. Our most loved is Paola, pictured above. Recommended for 18 months and up.
These  also  make a cute 1st birthday gift for twins! Depending on what kind of twins they are, get them identical dolls, two girl / two boy dolls or a boy and a girl doll.  
Get more information on soft dolls for babies and toddlers.

Adorable! Haba soft doll Jonas: #ad

Little Tykes Cozy Cars
| | |
| --- | --- |
| This funny little car is perfect both for playing indoors as well as outdoors. It is recommended for 18 months and up but surely a child can already just sit in there and play around by the age of 1! The #ad Little Tykes Cozy Cars have a funny face and come as a coupe, a truck, a patrol, a cab, a fire truck, a ride and rescue, a roadster, etc. They have various features such as sound patterns, flashing lights, an ignition switch and so on. A trailer is available, too and the glitter coupe or the princess version are every little girl's dream. No doubt, these little cars are great fun and make a very cute present!    | |
 See some more great 1st birthday gift ideas here. Have a summer or winter birthday kid? Also ideas for seasonal 1st birthday gifts! 



---
---