12 Homemade Baby Gifts: 
Be Creative, Make It Personal
Homemade baby gifts make an awesome present! They are unique, add a personal touch and show the recipient that you care a lot.
Home made or hand made baby gifts are coming straight from the heart and all you need is a few dollars and a bit of your spare time. Everybody can be creative and most of the instructions are easy to follow.

DIY baby gifts have the extra benefit that material costs normally are moderate to cheap. So here we go - the perfect present without a big investment!
DIY Baby Gifts
I have listed 12 home made baby gift ideas for you. They all come with detailed instructions and tips.
To make it easier for you, I have categorized my handmade baby gift ideas, so you can see right away which one is suitable for you and your skills:

EASY means that really everybody can do it.
MEDIUM requires some skills.
DIFFICULT is rather for the advanced.

The instructions provide you with step by step tutorials and photos or even videos so you can easily follow along.
Have fun - and don't give up! ;-)   
 


My Favorite Homemade Baby Gifts
1. Baby Photo Frame / Baby Name Frame - easy
All you need is a wooden picture frame, preferably with a broad border and some acrylic paint and / or some decorations / a kids puzzle.
For a simple decorated picture frame glue painted wooden letters, painted wooden stickers  and / or rhinestones to your frame. Easy, yet very impressive!
Another cute idea is to glue pieces of a kids puzzle to your frame. For a girl you might use pieces of a Disney Princess or Strawberry Shortcake puzzle, for a boy Thomas The Tank Engine or Disney Cars would be nice. And Winnie The Pooh for sure is suited for unisex. 
#ad
2. Homemade Diaper Cake - easy
Make a homemade diaper gift such as a diaper cake, diaper bouquet or diaper animal - just look at that cute diaper snail on the right! This is an easy craft that can be done in just one afternoon. And it will be a real eye-catcher at every baby shower party. Find free step-by-step instructions for diaper cakes and other diaper gifts with lots of photos here.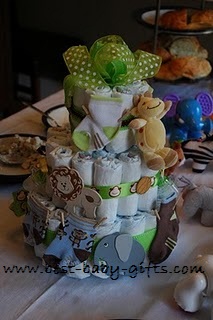 3. Personalized Baby Onesie 
- easy
Buy a plain baby onesie and get some iron on letters to create a very cute personalized baby gift idea! Print baby's name on the onesie or a funny saying, just as you like. You can also use fabric paint pens and create your own design.  Another idea: sew on buttons and write 'cute as a button' on the onesie. You can get very creative here! Check out some funny sayings to use for your self-designed onesie.
- Medium

Another way to personalize your onesie is by making your own design and customization on a platform like zazzle. How about this one, either change from here or start your own project from scratch: 
#ad
4. Baby Quilt - difficult
Making a baby quilt will need some time and also preparation time. This really is a cute gift if you are experienced in sewing. Yet, for a beginner this should be to much of a challenge. Free patterns and instructions here.


5. Baby Door Sign Plaque / Room Plate - easy 

Buy a ready-made bigger flat wooden shape such as a star, flower, doll, plane, train, car, etc. and paint it with acrylic and / or metallic paint. Add a pattern, glitter or rhinestones, if you like. Get baby's name in wooden letters. If you want paint them, too or leave them just plain. Glue the letters on your wooden shape. Et voila - you just finished a very beautiful and personal decoration for baby's nursery!  
6. Nursery Wall Letters (handpainted or decorated) - easy 
This is similar to the door name plaque. Get some big unfinished wooden letters at your local crafts store and paint them with acrylic or metallic paint (flowers, patterns, rainbows, etc.).
Alternatively decorate finished wooden letters with rhinestones or little wooden stickers.  
7. Sock Monkey For Baby - medium
Sock monkeys are a cute companion for toddlers and older kids. For a baby they are rather a thing to put in the shelf and look at than to play with, let alone to chew on.  But for a mom and dad who love monkeys and also for a jungle nursery design, a  sock monkey will be a cute baby gift to decorate the newborn's room. And once the baby is a bit older it can start cuddling and playing with it. Get your sock monkey instructions for beginners in a detailed you tube video here.

12 Homemade Baby Gifts
8. Baby Time Capsule - easy 
A baby time capsule is a great keepsake gift and it is easy to make. However, it can be very time consuming and you'll have to plan this project a few months ahead. In my opinion, this is one of the most valuable baby gifts you can make. A time capsule also is a great gift from parents to their babies. Make it while they are small and work on it as they grow up. Then give to your kids once they turn 18 or 21.
Find more than 50 time capsule ideas and read helpful tips about making a time capsule and choosing a time capsule box. 
9. Knit Baby Blanket / Crocheted Baby Blanket - medium / difficult
Look at that cute crocheted baby blanket above! I got this for my own baby shower and I absolutely love it! Depending on the pattern you choose, a knit or crocheted baby blanket is medium to difficult to make. Find instructions for knit baby blankets here and for crocheted baby blankets here.

10. Car Seat Canopy - medium
A homemade car seat canopy is a very practical baby gift. Make it special by ironing on baby's name with ironing on letters or embroider baby's name. Follow this link for your car seat canopy tutorial.

11. Baby Gift Basket - easy 
Bundle lots of useful baby necessities in a homemade baby gift basket and you have the perfect baby gift! See here what to include and how to arrange your baby things in the basket . 

12. Easy Knitted Baby Booties - easy 
These cute booties are dead easy to make. Whether you have been knitting before or not. See how easy they are to make here.
See more homemade baby gifts, especially suited for baby showers.

pimp up your homemade baby gift
My special tip for you to spice up your homemade baby gift: add a label as the one pictured here. You can get different "made with love" labels at amazon and they can either be ironed on or sewn on (or even both ways to be sure they stick and are no hazard for baby!).
These will give your present the ultimate TLC!

#ad
'Made with love' labels.
Click here for other ideas for home made baby gifts.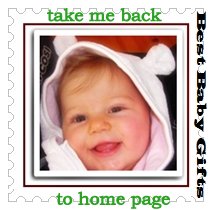 ---
---