Organic Baby Toys

Make The Responsible Choice
WHY ORGANIC BABY TOYS?

Lead containing toys, harmful substances such as PVC and Phthalates in baby toys and recalls because of formaldehydes constantly hit the headlines these days.

No good news for a parent! This is even more shocking as so-called 'accredited' suppliers and retailers as well as brand toys are involved, too.

Newborns and toddlers like to explore their surroundings rather with their mouth than with their hands. Thus they can easily absorb hazardous toxic chemicals. We need to take this into account and take care that baby plays in safe and healthy surroundings. If you provide baby with natural and green toys you may rest assured that your little one stays healthy.
Moreover you contribute to a better future since organic toys are earth-friendly and their production does not pollute the environment.

Therefore, always choose non-toxic baby toys made from natural materials like organic cotton, bamboo, wool or wood and water-based paints. these toys often are more expensive than the mass-production toys 'made in China' but the health of your little ones should well be worth that extra dollars.
I have selected a few companies and retailers that make great organic baby toys. Whether you are a parent or whether you are giving this as a gift - if you buy there, you may put your mind at rest. Since you know your toy and gift is both safe and eco-friendly as well as fun of course.


Kathe Kruse Organic Line
Kathe Kruse created her first doll in 1905 for her own daughter. The German company exists for over 100 years now and Kathe Kruse dolls are known and famous all over the world. In the mid-60s the company enlarged their doll production by also making toys for babies and toddlers. 
Meanwhile, Kaethe Kruse offer an organic line, too. Their organics are all natural and they only use materials from controlled biological cultivation (KBA) such as cotton and sheep wool from controlled biological livestock (KBT). Their little organic baby dolls, gnomes, animals, blankies and security buddies are very cute and guarantee hours of fun and safe play for baby! 

GUNDbaby - Love Our Earth Line
GUND was founded by German immigrant Adolf Gund in Norwalk, Connecticut in 1898. So, for more than a century, GUND has been creating teddy bears and other soft toys for children of all ages. Nowadays they are recognized all over the world. 
GUNDbaby have toys for infants and toddlers and offer with their Love Our Earth line various dolls, animals and blankies made of 100% organic cotton. 
#ad Shop: GUNDbaby Love Our Earth

Sigikid
This is another German based company focusing on high quality and unique design. Sigikid is around for more than 40 years now. All their products are machine washable in the gentle cycle.
Sigikid offer a vast organic line and all organic products are certified by the German labs LGA and TUV which are public corporations for independent testing and product certifications. I totally agree with the statement on their website that their products 'are fun, stimulating and cuddly and as often noted, don't have the earthy look that organic products tend to have'. View their organic and green toys at sigikid.com.
#ad


Maple Landmark Woodcraft
This small-scale company was founded in 1971 and is based in Vermont. All their products are manufactured there - made in America this is! Maple Landmark Woodcraft sell their products in nearly 2000 specialty toy and gift stores locations nationwide but also via online merchants. (#ad) Maple Landmark Woodcraft offer classic baby and children's toys such as mini cars, rattles and teethers. Their toys do not contain any toxins or harmful chemicals. And they are all reasonably priced! 
Petit Collage
Petit Collage was found 2006 by Lorena Simonovich. Originally from Argentinia, Lorena, her husband and daughter now live and work in San Francisco. Her sustainable products are free of BPA, phtalates, lead and formalehyde and have been featured by various shows and newspapers. Petit Collage's organic toys range from baby toys to school age. The baby toys are made of soft cotton and / or wood. The Petit Collage eco-friendly, organic activity toy "soft chime busy baby ball" makes a really cute gift for baby girls as well as baby boys.  
#ad

More Organic Baby Toys
Haba - Pure Nature
HABA is another German company founded in 1938 'for fine wooden products'. Today well over 1000 employees work for the company and they are famous for their wooden HABA baby toys and HABA children's toys of high quality, as well as for their children's games, furniture and rugs.
HABA's organic baby toys series is named 'pure nature'. All their 'pure nature' textiles are produced in accordance with the GOTS (Global Organic Textile Standards) and they claim their tests go far beyond the required standards to ensure the highest possible quality. 
Their organic baby toys 'pure nature' line features - small but mighty - a few little dolls, musical plush toys, guardian angels, rattles, blankis and animals.
#ad


Dandelion
Dandelion, earth-friendly goods, is a family owned company located in Florida. The company exists since 1987 offering organic baby toys and feeding items. Their product range is enormous and covers everything 'eco-ssential for baby': handmade organic rattles, natural teethers, developmental and plush toys, organic bags, organic layette, even toddler feeding products made from corn. Their 'Bamboo Zoo' line is made of bamboo viscose velour and filled with natural corn fibre. And their organic developmental toys are amazing! Dandelion, a website worth to stop by (and buy...)!
PlanToys -PlanBaby
PlanToys was founded in 1981 as a pioneer in using non-chemically treated rubber wood to make wooden toys. Their production plant is located in Thailand. The company's catchwords are: green material, green manufacturing, green mind. The PlanBaby line consists of wooden items such as a rattle mobile, baby's first block, an activity gymn, a wooden book and other small baby toys. PlanToys are known world-wide and their toys for kids of all ages are available via online shops as well as through local retailers. 


Sckoon - Organic Toys
Sckoon have a number of cute animal plush dolls. They are 100% organic cotton and are dyed with metal-free, low impact dyes and are certified by GOTS standards. Animals include elephants, rabbits, a monkey, a dog and a sheep. Check out in detail at sckoon.com. 
---
Return from Organic Baby Toys to Organic Baby Gift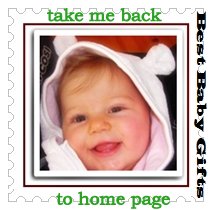 ---
---