Organic Baby Gift Ideas 
Why an organic baby gift? When buying a present for a newborn you certainly want to make sure that baby only gets the best. The best means that the product is safe and healthy. If you select a green gift for the little one you get that peace of mind because natural and organic products are eco-friendly, non-toxic and not harmful (as 'ordinary' products might be). Additionally, organic products make a difference to the future and protect the environment.  
Babies are very sensitive and may react to toxic agents when these come in contact with their delicate skin. Allergic reactions, eczema and other risky side effects may be the result. By using organic cotton clothes this can be eliminated. They are gentler on the skin and healthier for baby.

And parents also need not worry when their baby plays with organic cotton toys or chews on organic teethers such as Sophie The Giraffe (pictured above, read more about this cute teething toy a bit further below). 
While a few years ago organic items used to have a typical  'organic look', were uni-colored, dull and boring, they nowadays often are available in colorful and cute patterns and designs.
These organic newborn gift ideas are not only meant for people searching a gift, but also for parents who want to raise their kids the green way.
Producers have recognized that more and more consumers place great value on pure and natural products. Thus, there are many (online) shops emerging that carry organic items only. But also big retailers such as H&M, Walmart and GAP have started to introduce organic clothing or an organic (baby) line besides their 'regular' lines and items.

It all started with organic food and since then the organic movement has grown from its small beginnings into a large movement of people striving to lead a healthier lifestyle.  

Best Organic Baby Gifts
Organic Baby Gift Basket
With a baby gift basket you never can go wrong. And with an organic gift basket for baby neither! You can order organic gift baskets online or make one yourself. See the instructions for a handmade baby gift basket here and use organic baby products such as organic baby lotion, organic cotton baby clothes, organic bibs, organic body care, organic diapers, green baby toys, etc. Of course you should also use an organic basket, for example one that's made of organic palm tree leaves. Maybe you would also like to include one of the organic baby books mentioned below. 
And, as nice as it is, do not use clear gift-foil wrap for your organic gift basket! It's not very environment-friendly and you can as well go without it. If you want your gift basket to be a bit more colorful, simple attach a few bows or some colorful raffia straw ribbon.
Gender Neutral Organic Cotton Newborn Essentials Layette Gift Set (arrange in a basket or leave in drawstring bag) 

#ad




Unique Baby Gift Box




#ad
Organic Teether, Sophie The Giraffe
The perfect organic baby gift! The natural rubber Sophie The Giraffe by Vulli (pictured above) is a teether that has the same characteristics as a pacifier. Sophie is a classic!
This chewing and teething toy is non toxic and made of 100% natural rubber.
These days, a lot of celeb babies are seen with Sophie - not the main, but just one  more reason to get one,too!

Meet Sophie The Giraffe and her friends!  

Organic Baby Blanket
During the first year baby will spend a lot of time with the blanket, be it under the blanket, on the blanket or wrapped in the blanket. An organic cotton baby blanket ensures you of all natural materials - free of pesticides, herbicides, fertilisers and other harmful substances which can ruin baby's health. With organic materials you ensure baby's healthy and sound sleep and consequently the sleep of its parents, too! 
Companies who manufacture organic cotton items purchase their materials from organic growers. This means that the cotton hasn't been treated with pesticides or other hazardous chemicals. Pure and natural are the two main goals of organic producers and growers. Thus, the production of an organic blanket is eco-friendly.

Let baby sleep cozy, safe, healthy and sound! Your gift will be ever so appreciated - since for new parents, anything that grants them sleep is an awesome thing in the world!
---
Use an organic blanket to wrap up 
a(n organic) baby gift, making it a 'no waste' 
and useful gift wrap!
---
Organic Baby Clothes And Bibs
Baby clothes always are a nice gift since you can never have enough cute outfits for your little ones... You should just observe a few guidelines, so see my recommendations on organic baby clothes here.
However, not only clothes but also little daily helpers often available in (gift) packs such as organic baby bibs or bandanas to help absorb baby's drool or organic burp clothes are a perfect green baby gift, too.

Organic Diaper Cake Gift
Diapers are always needed and handmade baby gifts are always cute, so make an organic diaper cake, an organic diaper animal or any other organic diaper gift! Browse my pages on how to make diaper gifts and create an organic version - use eco-friendly diapers and organic accessories such as organic baby toys or green and eco-friendly baby care products.
Look at that cute organic diaper snail here. It's simple to make, homemade and eco-friendly! It wears a H&M, Conscious line, baby hat with little ears.  
Of course you can buy a ready made organic diaper cake, too. The ones from Honest are just gorgeous!


Organic Baby Gifts
Organic Baby Shoes
Babies like to chew on their toes, and if the toes are covered by shoes - on their shoes, too. So organic baby shoes are a great baby gift! A recent test in Germany has shown that lots of baby shoes contained dangerous materials that might cause cancer. To avoid that - go green and give an organic baby shoes gift! More on the test and on organic baby shoes here. 



Organic Baby Toys
Small babies and toddlers tend to explore everything with their mouth. You wouldn't want baby to lick and chew on harmful materials, would you? By selecting natural and green baby toys you can avoid that to a great extent. Get green toys for your own newborn baby or get them as an educational, organic baby gift!

Organic Baby Books
Give a book about organic cooking for baby, toddlers and the whole family, raising and feeding babies green or also about organic pregnancy. This is a great book on raising your baby and kids the organic way but of course there's lots more to choose from. Follow the link and find out:     

#ad
By choosing organic baby gifts you'll make a step towards a better and healthier world and future which baby will profit of, too.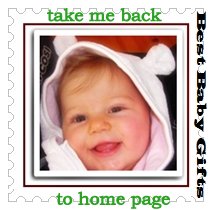 ---
---