About Eva and Best Baby Gifts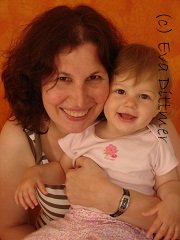 my baby and me
Hi there and welcome to Best-Baby-Gifts.com.

I'm happy you want to meet the mom behind this site! My name is Eva Dittmer and I have 3 children - girl, boy and another girl. The photo shows me with my youngest one.

With this site I want to help those who are not as experienced and up-to-date as I am, when it comes to choosing baby gifts. I am sure, my recommendations, tips and suggestions make it easy for you to find the perfect gift for that new arrival and also to find the right words when writing your baby congratulations. 

Having kids, simply by nature, I know a lot about babies, baby gear, bringing up babies and consequently also about newborn items, clothing, gear and gadgets qualifying as the 'best baby gifts'.

Blessed Hildegard of Bingen, who lived in the 11th century, once stated that 'Nothing gives you more pleasure than making gifts'. By building this site, I have changed her quote into my motto which is:  
'NOTHING GIVES ME MORE PLEASURE THAN HELPING
YOU TO FIND THE BEST BABY GIFTS!' 
Apart from being there for my family, doing the household and keeping up-to-date with the best baby gifts, I like to read, do crafts and some gardening in my free time. I also enjoy to travel. And with creating my Best-Baby-Gifts site I have taken up making and selling diaper cakes and diaper gifts of all sorts. I also try to run two to three times a week for a full hour. And I am very proud to have completed 2 half-marathons recently, yay! 


Before I became a SAHM and later on a WAHM, I studied International Business and worked in the Export and Marketing Departments of several International Companies. With my kids, this all changed but I could not be happier than being a WAHM and determining my working hours myself whenever I want and whenever I can! I have always enjoyed working with people from other countries and I love the fact that the visitors of my site come from all over the world!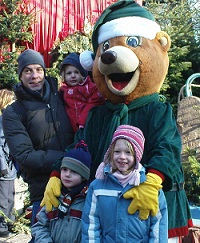 my husband and the kids at the theme park
The information that I share with you throughout my website doesn't come from books. It comes from years of parenting with 3 kids, looking after nephews and nieces, from real first-hand experience of writing and collection poems and from making creative baby gifts for family and friends and selling online.
Thank you for stopping by and visiting Best-Baby-Gifts.com. If you enjoy what you see, join me on my Facebook or my Pinterest page.
Yours,
Eva

Return from About me to Best Baby Gifts Homepage