About Eva and Best Baby Gifts
Hi there and welcome to my about me page. 

I'm happy you want to meet me and to get to know a bit more about the mom behind this website! My name is Eva Dittmer and I am married with 3 kids - girl, boy and another girl. This photo shows me with our youngest one.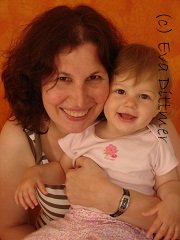 So here are some interesting facts about me and my page: Most important, the information I share with you throughout my website doesn't come from books (only)! It comes from first-hand experience: from being an au-pair for 2 little boys, from babysitting, from looking after nieces and nephews and most of all from years of parenting with 3 kids!

I also have years of real experience of writing (and collecting) poems. In younger years and during my studies I have acquired a certificate in English literature which enables me to find the right words. 
And last but not least from making creative baby gifts and selling over 2500 (no typo!) diaper cakes I have collected a lot of experience in making diaper gifts and providing you with easy tutorials! So whenever you see a diaper cake photo branded 'Windeltorten by Evi' (or best-baby-gifts.com) that's one of my creations, too. 
Event tough my website is named Best Baby Gifts, there's much more to it, I offer the whole package: creating baby shower decoration, creatively wrapping your gift, writing baby congratulations, my own baby poems, baby quotes, grandparents poems, scrapbooking messages and much more.  

With this site I want to help those who are not as experienced and up-to-date as I am, when it comes to choosing and giving baby gifts. I am sure, my recommendations, tips and experience will save your time and make it easy for you to find the perfect gift for that new arrival.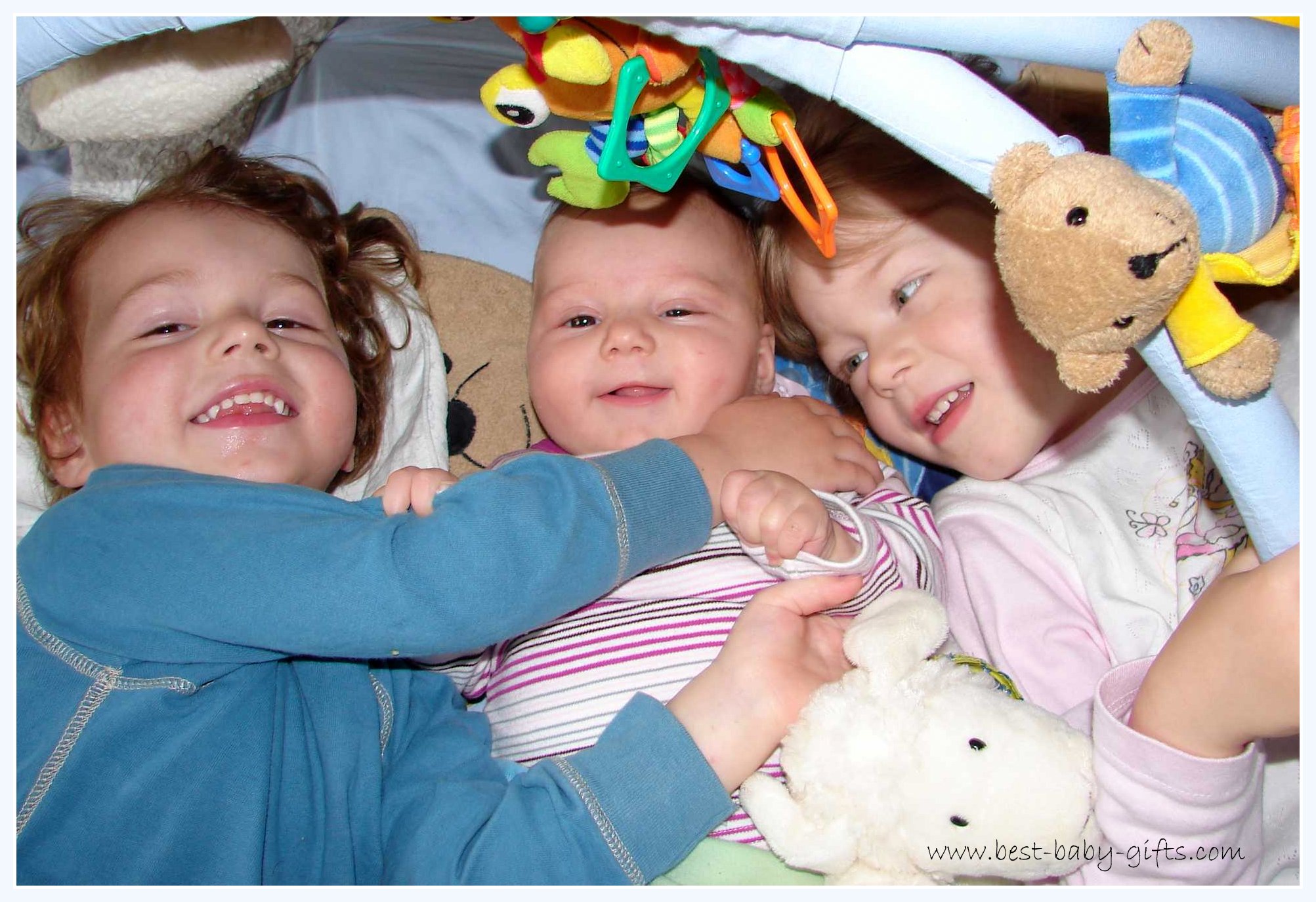 my 3 little helpers and product testers!
Blessed Hildegard of Bingen, who lived in the 11th century, once stated that 'Nothing gives you more pleasure than making gifts'. By building this site, I have changed her quote into my motto which is:  
'NOTHING GIVES ME MORE PLEASURE THAN HELPING
YOU TO FIND THE BEST BABY GIFTS!' 
Here are a few more personal facts about me: Apart from being there for my family, doing the household and keeping up-to-date with the best baby gifts, I like to read, do crafts and some gardening in my free time. I also enjoy to travel abroad, the farther the better!
I also try to go for a run twice a week. And I am very proud to have completed 2 half-marathons recently, yay! 

In my "former life" I studied International Business and worked in the Export and Marketing Departments of several International Companies. With my kids, this all changed but I could not be happier than being a WAHM and determining my working hours whenever I want and whenever I can! I have always enjoyed working with people from other countries and I love the fact that the visitors of my site come from all over the world!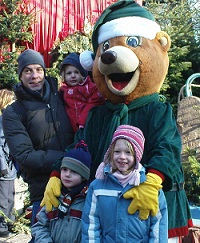 my husband and the kids at the theme park
Thank you for stopping by and visiting Best-Baby-Gifts.com. If you enjoy what you see, join me on my Facebook or my Pinterest page.
And if you have any questions please do not hesitate to get in touch with me.
Yours,
Eva
---
---