Cute, Cuter, Cutest!
What A Cute Baby Gift
A cute baby gift is not really hard to find because there is so much adorable baby stuff and baby items around that it can be difficult to decide what to get. The choices sometimes can be just overwhelming.
To make it a bit easier for you, I have selected 'the cutest' of all cute baby presents, since some are just a bit cuter than the rest... 
Slogan Onesie 

There are cute onesies in a double sense around. They look cute and also have a cute slogan printed on!
Funny Tots feature several onesies with 'cute' printed on:
- 'Cute as a button' (the button is the picture of a button)
- 'Is it cute in here or is it just me?'
- 'Property of Cute University' 
- 'Being this cute I have to wonder, who are my real parents?'

Let baby make a statement: more funny baby onesies, also for twins.
The other Funny Tots slogan onesies are very funny and cute, too! 
---
Customized Baby Onesie With Cute Baby 
#ad
---
Baby Aspen Gift Sets
Baby Aspen is a premier designer and manufacturer of baby gifts. They design baby gifts specifically to please both baby and new parents. They have worldwide retailers but many of their items are also available at amazon. com so you can easily order them online. The Baby Aspen Gift Sets are ever so imaginative and unique! Let me point out three cute items of their offering:
Their 'Bunch 'O Bloomers' for baby girls come in size 0-6 months in a "flower box" that contains three pairs of bloomers. Each bloomer has a colorful, fun flower on the bum. Their clever gift presentation has the three flowers blooming from the white "flower-box" gift box. Both, the bloomers as well as the gift presentation box are too cute! 
And Baby Aspen's Gift Set 'Let the fin begin' sure rocks, too. This 4 piece baby bath gift set for boys is perfect for the pool or a day at the beach. It comes in a cute little bucket and consists of a cute hooded shark towel, terry spa slippers and a shark wash mitt. Equally as cute is the Enchanted Mermaid 4 piece bath time gift set or their dinosaurs hooded robe. Baby Aspen (#ad) items are cute, cute, cute!
Birthday Train

This cute newborn gift idea will accompany 'baby' for the first 6 (or even 10) years of its life. At every birthday, the train is placed on the birthday table and - according to the child's age - a trailer and a candle will be added. Boys will love the train version, while girls probably will prefer the zoo caravan. This is also a cute and great gift idea for a family with multiple kids and a family 'that has already got everything'.   

Want your gift to be one of the cutest at the upcoming baby shower party? Just read on, you can't go wrong with this listing!

More Cute Baby Gift Ideas:
Baby Socks By Trumpette And Mud Pie
Ok, giving socks sounds just awful: But have you seen the baby socks of MUD PIE or TRUMPETTE yet??? They are so, so cute and look like a real shoe!
And both, Trumpette and Mud Pie offer their socks in various gift sets, so they are perfect for gift giving. Sizes are 0-12 months, and for some models also 0-6 and 6-12 months. I cannot list all of them, since there are so many cute styles. But let me just point out the Mud Pie Girls Sock Set in princess pink: it is a set of 3 pink and white socks with bow accents and tulle packed in a lovely gift set. These socks will look ever so cute on your little princess!

Trumpette Classic Johnny's come in a gift box of 6 pairs and are available either with a plaid pattern or a two toned chevron pattern. Both kinds of baby socks will look very cool on baby boy. Bottom line: baby socks can't be cuter than these!
Personalized Baby Items

Personalized baby clothing like onesies, a romper, a bib or a baby hat are always really cute and a hit with the parents. And personalized clothing also is a cute baby gift idea for twins and multiples!
But there are more baby things to personalize than just clothing.
Zazzle offers a lot of cute baby gifts to personalize with baby's name. This adorable baby blanket (#ad) is just one option of many! 
CLOUD B Nightlight or Soother
This baby nightlight comes as a turtle, sea turtle, a ladybug, a bunny, and a unicorn and I do not know which one is the cutest! Absolutely everybody loves them - mum, dad, baby, toddler and kids are equally thrilled. The nightlight comes with an adoption certificate and a constellation guide.
The soothers come in various animal shapes, too such as a monkey or a sheep. They have various sounds to calm baby down and are great to cuddle with, too. 
Aw - such cute baby gift ideas.
Baby Onesie Monthly Milestone Stickers And Signs

The idea behind these stickers and wooden signs is just cute, practical and so easy. Whenever you take a pic of your little one attach a sticker on baby's onesie or place the wooden sign anywhere near to make memorable keepsake photos! What a brilliant way to create a month-by-month record of baby's first year! And what a cute baby gift, too. Now available in many cute designs and shapes, such as neckties for boys!
True Religion Baby Clothing Sets 
True Religion offer very cute and fashionable denim sets consisting of a shirt and a matching short for summer or a baby hoodie, a onesie and a baby jeans for winter. The have sets for baby girls and boys. 
Just a True Religion jeans also is a very cool gift. The jeans normally have the iconic 'U' embroidery on the back pockets and also the paper backed Buddha patch at the waist. They are available for sizes 6-12 months and 12-18 months. I'd opt for the 12-18 months size since these will fit longer (length can be cuffed, adjustable waist) and mum will hate baby to grow out of that cute jeans, let me tell you... 

These are the perfect cute baby gift for every fashionable baby - and mom...!
Diaper Animal
Diapers are always, always needed and you cannot have enough of them. A diaper pack is not cute - but if you wrap / disguise diapers in a diaper animal these make a very practical and cute baby gift at the same time!
Consider that a diaper gift always is a good idea for a second, third, etc. baby since the family probably already has most of the baby things, clothes and gear needed.
If you want to learn how to make such a cute diaper snail and other diaper animals, click on the girl diaper snail image.
Adidas Baby Infant Tricot Sets / Hoodies
An awesome sports sets makes a very cute baby gift both for boys and girls. Let baby dress in Adidas or Nike sports style and look just like mom or dad!
There are various Adidas sets for infants available and one ist cuter than the other! The (hooded) jackets and pants usually have the famous Adidas brand 3 stripes on the sleeves and pant legs. Not to forget the Adidas logo. A real classic for any baby! 
Skip Hop Treetop Friends
- Hug & Hide Owl: what a cute activity toy! Owl's wings open to reveal a baby owl, mirror and more. The toy crinkles, squeaks and rattles and more than 10 developmental activities and lots of hidden surprises will keep baby entertained for hours. It also is a great huggable pal. Also available are a dog, a monkey, a lamb and a bear.

- Activity gym: this is so colorful, bright and adorable! With 17 developmental activities, 5 multi-sensory hanging toys and lots of crinkling and squeaking baby will enjoy endless hours of joy and fun. For ages 0+.
All Skip Hop Tree Top baby items (#ad) are just super cute!

Even More Cute Baby Gift Ideas
Kathe Kruse Waldorf Dolls And Cuddly Toys
The charming Kaethe Kruse line offers dolls and cuddly toys for babies, handmade in Germany. The often feature an ultra-soft cotton body and are suitable for newborns, such as the Gugguli dolls. 
Kathe Kruse's adorable Schatzi boy plush dolls are 14 inches tall and handcrafted in Germany, too. This award winning doll has blonde hair made from mohair wool and it's made from all-natural materials with sheep wool stuffing. Schatzi gender neutral dolls are always a favorite and make the cutest newborn gift!
Crafted with tradition in mind, Kathe Kruse toys and dolls are  destined to be baby's favorite companion.
Haba Mobile 
HABA mobiles and mini mobiles are all so cute baby gifts and baby will love to watch them in motion. Hang it over baby's crib or also over the changing table. Since HABA's mobiles are all so adorable, cheerful and unique I can't possibly point out just one but you will have to choose which one best suits your baby or as your baby gift! I mention just a few: - HABA Sunshine Mobile - HABA Flutterflies Mobile - HABA Mobile Twitterlings - HABA Maisy Mouse Mini Mobile - HABA Little Sheep Mini Mobile 
The Baby Bunch 
The gifts sets of Baby Bunch look ever so cute that you'll need no extra wrapping! They are folded in a lollipop or cupcake shape and are colored accordingly - for a moment you could even think they are real!
Lollipop: shower the little one with sweets of another sort, a Lollipop onesie, made of 100% cotton. It is cleverly rolled and wrapped in cellophane and tied with a ribbon. The onesie fits babies 0-6 months. Available in pink and white stripes, red and white stripes or blue and white stripes.
Cupcakes: packaged really cute and unique you can get these cupcake onesies as a box of 2 or a box of 4. Each dotted bakery box opens to reveal 2 or 4 onesies made of super-soft 100% cotton, to fit infants from 0-6 months. Each onesie is garnished with a decorative element such as a flower or fruit.
I could go on and on with cute baby gifts but somewhere I have to cut the line ;-)
So, which one is your favorite?
I'd love to hear what you think is the cutest baby gift ever! Is it one I mentioned on this page or do you favor another cute baby gift my visitors should know about? Please send me a message via the contact me page.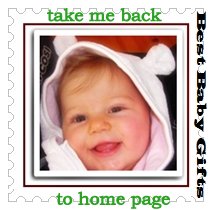 ---
---