Take The Right Step: Organic Baby Shoes


When should a baby start to wear shoes?

Why are organic baby shoes so much better?             


Why/when do baby shoes make a great newborn gift?
When should a baby start to wear shoes?
Experts say, baby socks should be the only thing your baby wears on the feet for a long time. In general, during the first year, baby shoes are a fun accessory for special occasions, but not at all for everyday use. When baby starts to crawl you can either use non-slip baby socks or special crawling shoes. These are ideally made of soft organic (vegan) leather and have a non-slip sole. Once the first steps become more and more secure, you can switch to baby walking shoes so your child can start to conquer the world outside.

Why are organic baby shoes so much better?
Babies tend to take everything in their mouth. They like to nibble and chew on their toes and - if they wear shoes, moccasins or booties - also on these. 
Most time of the year and even on cooler summer days you can't just leave a baby barefoot which actually would be the best. When it's cold and freezing you need to keep these little feet warm and cozy. And when your baby starts to walk you also need to protect its delicate feet from little stones, glass, dirt, etc.
So you need a pair of "healthy" (vegan leather) baby shoes. If there are harmful substances in the shoes, the little one can easily absorb them and get ill or develop eczema and in some cases even cancer as various tests revealed as explained in more detail below. Organic baby shoes give you peace of mind that this does not happen.
Lightweight, soft (vegan) leather is a popular choice for organic baby shoes and they are comfortable and breathable. Fully-flexible rubber soles are also vital since the bones in a baby's foot are still very soft at this age. Therefore it is very important that their feet are not prevented from moving in their natural rocking motion.


---
Why/when do organic baby shoes make a great newborn gift?
Baby's first shoes and/or soft booties make a great keepsake to keep and treasure. They are also great to include in a baby time capsule together with other "baby's firsts". Would you believe, my parents are still using my first walking shoes to decorate their bedroom?
However and obviously, just buying a pair of baby shoes to give at birth does not make sense. So you've got these options.
Buy a really nice and high-quality pair of organic baby booties that will fit baby from birth to the crawling age. 
Alternatively give a voucher for baby's first pair of shoes. This voucher will only be redeemed some time later but then your gift will be appreciated all the more. When baby starts to walk you might even take baby and the parents to a quality shoe shop and pay for baby's first pair of shoes.
And if you think giving a pair of (organic) baby shoes is too early at baby's birth, you might like to consider to give them as a Christening gift or as a baby's first birthday gift.
---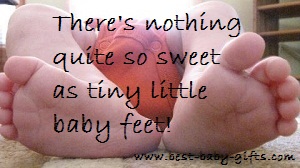 There's nothing quite so sweet as tiny little baby feet.
Keep them safe and healthy!

Tests revealed hazardous substances in baby shoes!
Oekotest is a German magazine that evaluates and ranks various consumer products for its effect on health & environment. A test in February 2011 by Oekotest revealed that out of 19 baby leather shoes and leather baby moccasins tested just one was rated 'good'.
Many of the baby leather booties and moccasins contained Chrome VI (Chromate), PAK and Formaldehydes which are known to trigger allergies and may even cause cancer. 
Consequently, in 2011, C&A had to recall 15.000 leather baby booties since they contained Chrome VI.
Hazardous chemicals are a serious issue and unfortunately Chrome- VI in baby shoes still poses a problem. In the beginning of 2014, another 23 pairs of baby shoes and children shoes were examined in Germany. Out of these, 6 pairs exceeded the Chromate limit allowed by far. And only half of the products were totally free of Chromate VI.

Another Oekotest result was done and published in their April 2015 issue. In this study, 13 sneakers for toddlers and kindergarten kids were tested. Unfortunately the outcome of this test was equally shocking! In 2017 yet another test concluded that Chrome-VI in leather products still was a major issue. 
Consumers can neither see nor smell whether a baby leather shoe contains Chrome VI. Also, unfortunately origin and price of the product are not a distinctive criteria either.
Thus, the best way to avoid any harmful substances is to look out for organic baby shoes and baby shoes with trustworthy safety certificates and seals.     
Learn more about Chrome VI in leather shoes and leather goods.

Where To Buy Organic Baby Shoes:
Here are a few organic baby shoes brands that are available in shops and at online dealers. They offer organic baby booties and moccasins that are safe and natural and free from harmful substances and chemicals such as Chrome VI. 
Bobux Shoes
When it comes to organic baby shoes made of quality leather, Bobux from New Zealand are a great choice. Did you know these beautiful baby, toddler and kids shoes are around since 1991 already? By now they are available in over 18 countries all over the world. Bobux baby shoes are made from 100% eco-leather and with environmentally friendly non-toxic colors. Bobux shoes are Chrome-free and they are safe even if babies put them into their mouth.
Due to a unique elastic system, Bobux shoes slip on easily and off but at the same time stay on. And all Bobux slippers and shoes are even washable!
Kids of all ages love these breathable leather shoes because they are absolutely comfortable. Pediatricians, physical therapists and orthopedic surgeons recommend these soft shoes because they come very close to barefoot running.

For pre-walkers and first walkers Bobux offer the Bobux i-Walk Junior shoes with a special two-part split sole. They are extra soft and light as a feather, and are suitable for baby's first steps. A unique split sole provides flexible, slip-resistant protection for first walkers and cruisers. They are primarily for indoor use since the sole is not waterproof.

Bobux i-Walk children's shoes with soft flexible rubber soles are perfect for little walkers. The 100% eco leather uppers and 100% eco leather linings allow for maximum breathability of a kid's foot all season long. With the full sole the shoes may be worn in wet weather, too. By choosing i-Walk you give your kid's feet the best start!

#ad Bobux Eco Shoes for babies and toddlers.



---
Safinio -
2021 Etsy Design Award Finalist
Look at these cute leather booties for baby! They are not only cute but made of chrome-free and eco-friendly vegetable tanned leather, containing no harmful substances for baby whatsoever.
Check out handmade Safinio leather baby moccasins on Etsy by clicking on the photo. They offer lots of different designs both for girls and boys as well as unisex designs in various sizes even for toddlers and younger kids.
Made in Germany: Safinio are based in Germany and are shipping their handmade leather baby moccasins worldwide.
These strawberry design baby leather booties have been chosen for the 2021 Etsy Design Awards Finals!
By the way, there's more small businesses selling organic baby booties on Etsy. You can search for organic baby shoes and booties there and if in doubt, contact sellers to inquire about their products.
---
Pololo
Over 15 years in business: Pololo organic baby shoes, handmade non-skidding baby and toddler leather slippers that come in a great and super cute variety. Hand-made in Germany!
Pololo shoes are 100% ecological and made from ecologically-tanned (vegetably tanned) nappa leather. Besides ecology this company also places great importance on fair-trade and sustainability . Pololo shoes have been awarded several eco-friendly certificates and seals.   
For details visit their very informative website which is available in English, too: www.pololo.com

As of today their online shop only ships within Europe with retailers in Australia, South Korea, China and Hong Kong. 
NEW!!! Select Pololo baby shoes available on amazon.com!
---
Burt's Bees Unisex Organic Booties 
Burt's Bees organic adjustable infant booties for pre-walkers: These cute booties are made to stay on baby's feet with 2 adjustment options. They are made of 100% cotton. They are machine washable which is very handy with baby booties. Burt's Bees organic baby booties come in six colors and sizes 0-3 months, 3-6 and 6-9 months. 
---
Daisy Roots
Daisy Roots - manufactured in UK: handmade soft soled leather baby and toddler shoes, made from genuine, Chrome-free tanned leather.  Their range is for infants and toddlers aged up to 4 years old and they are sold in over twenty five countries worldwide. Shipping to the USA is available for 8 $.
Check out their website at daisy-roots.com.
---
Robeez Eco Collection
Robeez was found in Canada in 1994. The story is short and convincing: a mother handcrafted a pair of soft-soled leather shoes for her own son. Starting with only a few pairs of shoes from her home in Vancouver, BC, the company has grown and Robeez nowadays is known across the world. In September 2006, Robeez was acquired by Stride Rite Corporation.
Robeez Eco Collection is made of green materials only, that is naturally tanned suede, naturally tanned leather, 100% organic cotton canvas and water soluble inks. Their 1st Stepz Eco Collection has a sole made from 30% recycled rubber. Available sizes are up to 24 months.
---
Anna & Paul
Anna & Paul are a German company that manufacture organic baby shoes and crawling shoes made of high-quality natural leather, made in Portugal.
Their products are simple adorable! The leather they use is free from chromium, formaldehyde and azo dye. In the aforementioned Oekotest they were the only company whose shoes were rated 'good'!
Anna & Paul have a wide choice of adorable leather slippers from 0 to 2 years. The slippers can be ordered via their online shop and are also available at exclusive dealers in Germany, Belgium, France, The Netherlands and Switzerland (see more details at annaundpaul.de).
Anna & Paul baby shoes have been featured in various magazines and they meanwhile offer worldwide shipping, at a very high rate, though. Also, so far their webpage is availabe in German only.  


---
Owlux Baby Booties
Owlux organic baby booties are proudly designed in the USA. They fit for 0-6 months and come in one style but in five adorable designs for girls and boys. Made of 100% organic cotton with non-artificial dyes and machine-washable. 
---
More cute organic baby shoes and booties:
---

Vegan Baby Shoes
More and more people and parents are going vegan so here are also some thoughts on vegan baby shoes. Vegan baby shoes are typically made from synthetic materials like cotton, canvas, faux leather or other non-animal alternatives. AS for the non-vegan baby shoes and booties make sure the materials used are free from harmful chemicals, dyes or substances that could potentially irritate your baby's skin or cause allergic reactions.
Take this advice from an expert:
As so many potentially hazardous pollutants have been found in baby and kids shoes, babies and children should always wear long socks in their shoes. And it is best, to have your kids walk barefoot as often as possible. Dr. Carl Heinz Ullrich, Orthopedist and Sports Physician, explains that this is also more healthy because it strengthens the muscles and the coordination of the lower limb.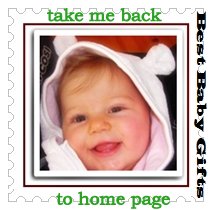 ---
---