Organic Infant Clothes
More and more parents make a point of buying organic infant clothes and conscious, eco-friendly products for their family. Thus, a growing number of retailers carry organic clothing for little ones and for the whole family. 

Some retailers solely specialize in a vast selection of organic clothes while others offer a smaller organic line besides their conventional clothing. Nowadays organic clothing is available in a reasonable choice, in reasonable designs and for reasonable prices both online and in stores. Organic clothing no longer looks dull and boring but is colorful and en vogue!


This is your guide to organic baby wear and conscious baby fashion!
Here are some well-known retailers that carry organic infant clothing of great quality at fair prices, either in store or online or even both.

Organic Baby Clothes Brands
Did you know: Many of the shops / brands mentioned here do not only sell organic baby clothes but also a large range of organic baby products, organic baby shoes, organic baby toys, etc. So it's always worth to have a closer look. 

Organic Baby Clothing at Amazon:
Amazon have a large range of organic baby clothing from various organic labels, often at relatively low or even at reduced prices and under 10$. Here are just a few examples, feel free to browse their complete offer. Choose the category 'baby' (alternatively baby girl / baby boy) and enter 'organic' into the search bar.
H&M:
While H&M online shopping was available in Europe for a longer period already, it is now also in the US! H&M has been using certified organic cotton since 2004, when they began to mix organic cotton into selected babies and children clothing. Since 2007 they have garments made with 100% organic cotton in all departments. All clothes made with organic cotton have a hangtag with the 'Organic Cotton' label.
Additionally they have established their 'Conscious' line: H&M Conscious is the brand name for all their work for a more sustainable fashion future. Shop at: H&M.com or in store.


Organic - 100% Natural and Pure Love!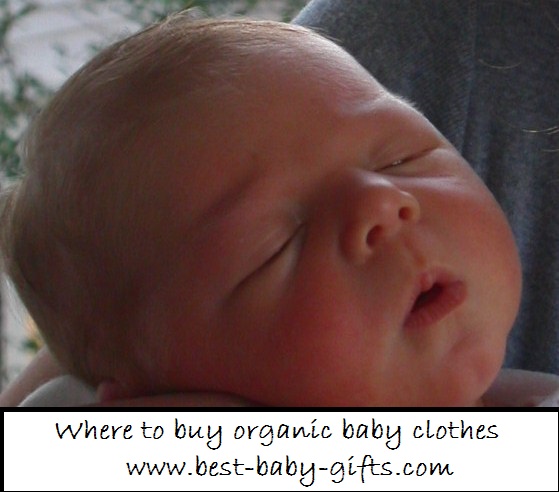 Where To Shop Organic Infant Clothes
Our Green House:
Our Green House started out as a small organic boutique in Connecticut over a decade ago. Today it is a growing online shop that provides fair trade and earth-friendly products for the whole family, including organic baby products and gifts. You can even get organic supplies and gifts for pets. Our Green House even ship internationally so you can also send an organic gift abroad. Check out their cute offer for organic babies and the whole family. I think this is the coolest gift idea, you can make your own gift basket, even with the name on.   
#ad
Our Green House - natural & organic products for the home and baby.




Walmart:
Walmart carry Faded Glory's and Gerber's organic infant clothes lines both online and in store. Additionally they offer also other organic labels.
Gerber have great organic basics such as 3 and 4 pack bodysuits with short or long sleeves at a reasonable price. These are also available online: 

#ad
Burt's Bees Organic Baby Line:
In 2012 Burt's Bees Baby was created bringing natural and organic infant clothes and homewares free of chemicals and pesticides to market. They offer a number of cute baby and kids clothing basics and sets as well as organic blankets, bedding, storage and more. So this is one label to look into if you exclusively want to raise your baby organically. Stop by their website www.burtsbeesbaby.com or shop  at amazon:
Green Sprouts:
This company has  gone a long way with the founder, Becky Cannon, living in Japan and the US, being in business for over 40 years and growing from a mail-order operation to an international business. First called Woolies, then Family Clubhouse, then i play., Inc. and finally on to Green Sprouts. They offer a vast range of natural baby products, including toys, feeding items, baby care products, and apparel. Also, if you are looking for a swim diaper, you'll love their patented triple-layer design with its outstanding functionality. 
#ad
https://greensproutsbaby.com/

Nohi Organics:
Most of Nohi Organics baby clothes are made of organic cotton, viscose from bamboo and lycra blend. Their conscious baby clothing has bold colorful prints made using low-impact, water based inks. They also have cute organic sleep sacks in their range. 
Sckoon:
Sckoon carry a vast assortment and various collections of organic infant clothes which you can mix and match. Sckoon is designed in New York and made in factories in Egypt, India and Japan. Sckoon conscious baby clothes are all made of 100% certified organic cotton and are dyed with eco friendly dyes. Their 'Ha-ha Collection' is very cute and fancy! You will surely find a cute organic baby gift there. Check this out at sckoon.com.

GAP:
Buy at your local store or online (gap.com): GAP also carry a small organic baby line with baby basics mainly in creme, red and grey colors. Especially cute are their organic velour bears hoodies.
Two Owls:
Two Owls have organic infant clothes basics such as tees, bibs, pants, bloomers, skirts, and rompers. This line gives basics an updated modern look with playful and imaginative details like contrast stitching and colorful hues. Two Owls has made it a priority to bring production back to the USA, reducing carbon footprint and supporting local small businesses. Their line is made from certified organic cotton and low-impact dyes: shoptwoowls.com.
Target:
Target have a small online selection of organic baby clothing, some at really reasonable prices. Alternatively, browse for their organic baby wear offerings at your local store where you can often get some great organic baby clothing bargains. 

 Learn why eco-friendly baby clothing is important. 
No matter which brand you buy for your organic baby clothing gift or for your own baby. Organic cotton baby clothes always make a wonderful and cherished gift.
And this gift literally shows 100% natural and pure love!  


What's your favorite organic infant clothes line? One that's mentioned above or another? Please let me and my followers know by getting in touch with me.
Return from Organic Infant Clothing to Organic Baby Gift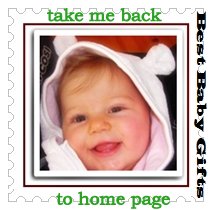 ---
---