Easter Baby Gifts 
Happy Easter with a selection of cute and unique Easter baby gifts for baby's first Easter! Of course brought to you straight from the Easter bunny ;-)
The newborn Easter gift ideas listed here are all somehow Easter or bunny related, but of course you can also browse my other baby gift ideas and if baby is around one year old also my 1st birthday gift ideas. You'll definitely find unique baby gift ideas that fit Ester as well as any other occasion.
My tips qualify both for parents who are looking for a baby gift for their own offspring as well as for grandparents, other relatives, friends, godparents, etc. that are on the lookout for a cute and/or practical newborn gift at or around Easter time.

Best Easter Baby Gifts


Baby Easter Books
Pack a basket of Easter board books, Easter lift-the-flap books or Touch and Feel Easter books for baby. It will become a valued and treasured tradition to get these books out year after year and to read them and look at them together around Easter time.
It is cute to add a cuddly bunny to your book basket. Or give a gift set such as a plush Peter Rabbit and Peter Rabbit board book. 
Here is a small selection of my favorite Easter books for babies and toddlers, feel free to browse amazon for even more:
 


Hide N Squeak Eggs
This educational hide and squeak sorting toy by Tomy is a classic! It is great for babies and toddlers aged 12 months and up. If you break the egg you find colorful chicks that beep when you press them down. The egg carton packing turns this entertaining toy into a shape sorting game since each egg has a differently shaped bottom and only fits in one place. This cute egg sorting toy guarantees fun for many hours.

---
---


Baby Easter Outfit
Get baby a cute outfit to wear at and around Easter. There are clothing items available having an Easter print such as onesies and bibs saying 'My 1st Easter'. Equally cute are bunny outfits or hats with bunny ears. Mudpie, Carter's and Rare Editions have a really cute clothing range especially for Easter. Take a photo of Baby in this outfit and you'll have the perfect baby keepsake!  
Easter Time Is Spring Time: So Let's Go Outside With A Kids Wagon!
For Easter and spring time a kids wagon is an ideal gift and also a great combined gift for two from parents to their toddlers or grandparents to their grandkids!
Kids love to be outside but walking and carrying stuff is soooooo exhausting and simply boring. Being tucked into a kids wagon and being pulled along is so much more fun, believe me! ;-)
Go here to see lots of great kids wagons, also for 2 and 3 kids. Makes all these cool outdoor trips and activities even more enjoyable!

Goodnight Moon Bunny Blankie & Beloved Board Book Easter Baby Gift Set
The all-time classic by Margret Wise Brown comes as a baby gift set together with a super-soft and machine washable bunny blanket. What a cute Easter gift set for babies and toddlers!  
Alternatively you can buy the board book and get the Goodnight Moon Bunny Plush Snuggler / Security Blanket or the cute beanbag stuffed Goddnight Moon Bunny shown below - both by Kids Preferred - with it.
Peter Rabbit
Look who's back in style and even was back again to the cinemas recently. So he's really up-to-date right now and actually always! And what character goes better with Easter than cute Peter Rabbit and his charming friends? Peter Rabbit comes in all 'forms and sizes' for a baby. Be it a Peter Comfort Blanket, one of his numerous (baby) books or some dishes for baby featuring Peter and his friends. The Peter Rabitt Easter Basket Playset is soft and huggable and appropriate for 1 year and up. The dishes (mug, plate, bowl, egg-cup) are available in various sets in porcelain or as a practical 5 pieces melamine dinner set.
More Cute Easter Baby Gift Ideas:
GUND: My 1st East Basket Baby Playset 
This Gund plush baby basket playset is so sweet for Easter - and any other time - it consists of a basket that holds various other plush  items such as a carrot, a bunny, an egg and a little chicken. The bunny makes a cute hopping sound when you press its button, the carrot is made of crinkle material, the egg is squeaky and the chick has a little rattle inside of it. So lots of features to try out! There's other manufacturers offering similar sets but Gund always is a good choice. A great Easter gift for babies and toddlers.
Rabbit, Sheep and Duck Toys
Rabbits (bunnies), sheep and ducks are the animals associated with Easter. So get a cuddly friend or cuddly rocker for baby.
Cuddly baby friends for Easter: The Baby Gund Thistle Bunny is very soft and looks just cute. Babies, toddlers and even older kids will love this 13 inches tall, machine-washable cuddly friend! Also check out the Baby Gund Flora animated Plush Bunny. Gund also have cuddly sheep, so a bunny and a sheep would make a nice pair, too!
The gender neutral Baby Gund fun lamb rocker with a sturdy wooden base is a cute gift for baby's birth. But it also makes a wonderful Easter gift from the parents (or grandparents) to their little one. It makes a great addition to any baby's nursery.  
A pull-toy duck is a great and relatively inexpensive gift for Easter, too. Look out for natural wood material and non-toxic water based paint! Baby will love to pull his/her cute new little friend!
Easter Baby Gift Basket
A Baby Easter Gift Basket is put together in no time and a real eyecatcher. My choice of colors for an Easter gift basket are fresh spring colors such as yellow, light green, orange, pastel pink and pastel blue.  

Do's for your Easter gift basket: buy an Easter gift basket (or even a normal one to which you attach a cardboard Easter bunny) and fill it up with all kinds of items and gifts for baby such as Easter baby books (see my favorites above), baby bath, shampoo & lotions, diapers, rattles, cuddly bunny, cuddly lamb or cuddly duck toy, diapers, wipes, etc. Decorate the basket lavishly with ribbons in spring colors.
Dont's for your Easter gift basket: better do not include chocolates, Easter eggs or candies in an Easter basket for a baby. Do not use Easter basket grass if the baby is old enough to unpack the basket itself.
Cute to gift on its own or to use for your Easter baby gift basket: cuddly Peter Rabbit toy, Peter Rabbit Finger Puppets and Bunnies By The Bay carrot rattle.
Find more gift ideas for Easter for babies and toddlers.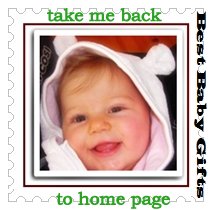 ---
---