How To Make A Diaper Animal
Making a diaper animal actually is easy and simple! And while diaper cakes meanwhile are sort of standard at a baby shower party, animals made of diapers still are something special. So if you are looking for a creative, homemade baby gift, try one of these! 
                  Pampers Animals - The New Diaper Cakes!
They are perfect for every baby shower and baby party! But of course you can also give them as a gift after baby's birth.
Learn how to make cute diaper animals here.

Diaper Snail
These homemade diaper snails will make such a cute baby gift! They nicely wrap things like a baby romper, a baby hat, a wrist rattle, etc. and of course some baby pampers.
Your pampers gift can be varied since you can also craft a plain snail without hardly any accessories.
There's also the possibility make a bigger diaper cake with a diaper snail on top. 
Make your own diaper snail. Free and detailed instructions here!

Now that makes easy and cute pampers animals, doesn't it!?
---
Diaper Caterpillar

As for the snail, you can make this beautiful caterpillar as a 'simple' diaper gift only or you can add lots of goodies in the middle of the various segments or on top of the segments.
This 'Very Hungry Diaper Caterpillar' pictured here is just a plain version made of approx. 15 pampers, size 2, and 6 baby spoons for the legs.
For the 6 to 8 body segments roll up one diaper and another one around it, fix it with a small piece of scotch tape. For the head, take 4 diapers, one rolled up and the other 3 rolled around, one after the other, also fix with scotch tape. Around the diaper bundles, then roll crepe paper in different green shades and red for the head. To fix, just use one drop of glue or also scotch tape.
Then glue the rolls together. Place some a bit higher than the others to make it look wiggly. Add the eyes and the feelers. You can easily stick the baby spoons (best in green and yellow colors) inside your diaper bundles with the spoon-handles first.
More Diaper Animal Ideas
Diaper Owl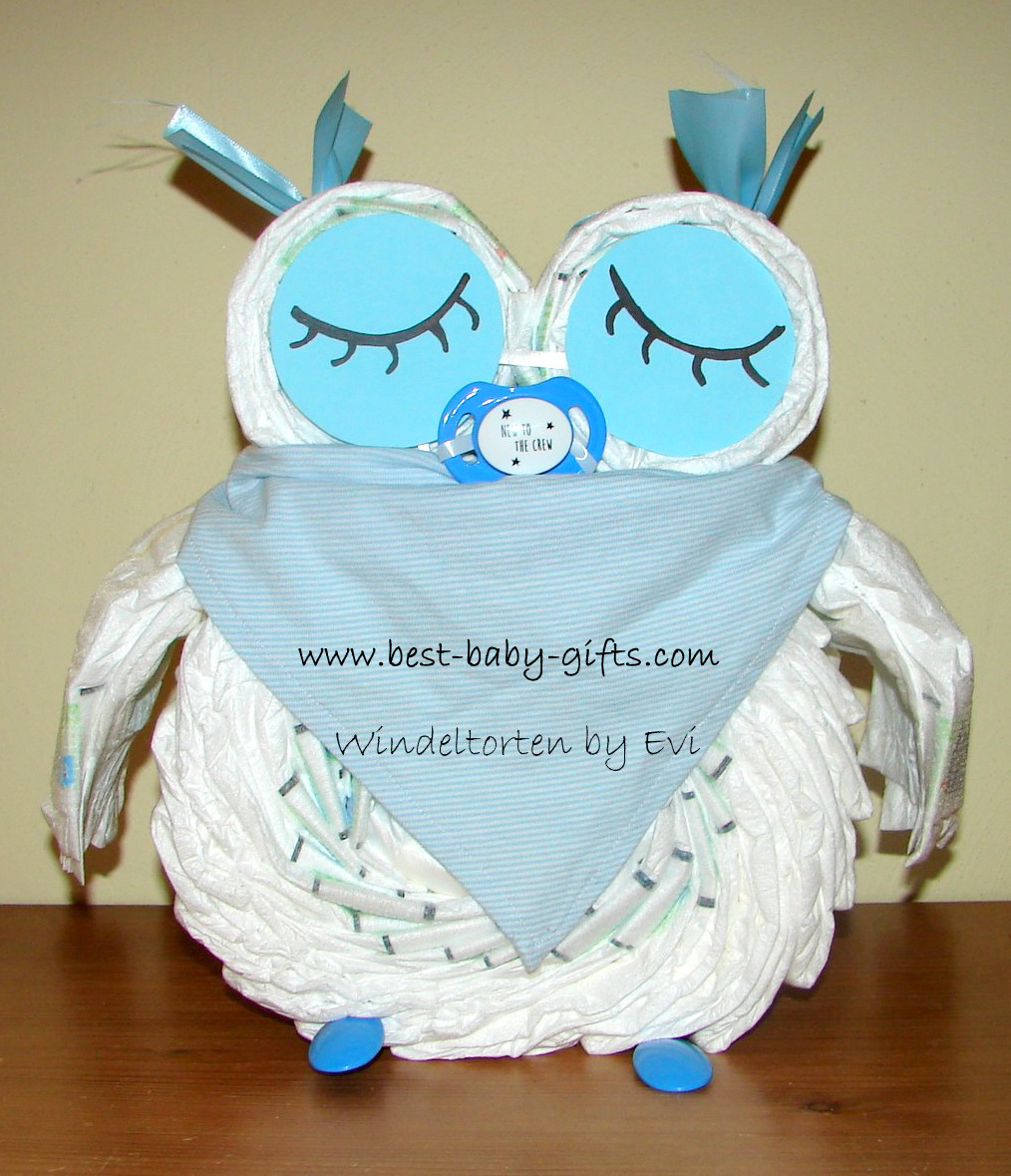 Since owls as a baby shower theme, for baby clothes, for the nursery, for baby accessories, etc. are a hot trend right now, I have created this cute little owl diaper cake for a baby boy. You can 'hide' clothing like a baby romper or a onesie in the owl belly. This owl diaper gift contains approx. 30 diapers size 2, a baby bandana, a pacifier and e baby spoons.
Want to learn how to make this little cutie? Click here for my free diaper owl instructions! 
---

Diaper Cat / Cat Diaper Cake


After having made lots of diaper snails and diaper owls, I have started to experiment a bit. So - just do try, too! I found this really cute baby girl cat hat by Esprit Baby and had the idea of making a diaper cat. It is made very similar to my diaper owls and diaper snails. The body / belly is made exactly like the snail's house and the owl body. I added two diapers as hind legs and put some pink baby booties on there. For the forelegs I used a pair of socks (with a cat design). The hat contains some rolled up diapers, fix the cat's head either with some ribbon or with the hat's cords. The cat's tail is a pipe cleaner. I have rolled a body and pant into the cat's belly, but that's not compulsory. 
Here are some accessories to use for a really cute diaper cat / kitty diaper cake:
You can make similar diaper animals with all kinds of animal baby hats, such as dogs, dragons, bees, ladybirds, bears, owls, rabbits, etc. 

---
Diaper Butterfly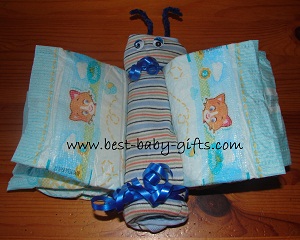 This awesome little diaper butterfly has been made of a rolled up baby onesie, two diapers, a chenille stem / pipe cleaner, wobbly eyes and some ribbon. If you need just a little something for baby this is a cute homemade and quick gift. Of course you can also make several of these or also roll up other clothes than a onesie.
These cute little fellows even are an easier diaper butterfly version, made of two diapers and two pipe cleaners each. These make a great baby shower decoration, you can even hang them up or have them dangling from the ceiling.

---
Diaper Mouse
A diaper mouse is made just as the diaper snails above. Use the same tutorial and simply add a tail. For the tail you can use some curled ribbon (left) or a pipe cleaner (right). The mice pictured here both contain a Minnie Mouse / Mickey Mouse baby clothing set consisting of a hat, a onesie and a pair of leggings. You can roll the onesie and leggings inside the mouse's body or also fix them on top. For the Minnie Mouse one I have formed a bow out of the leggins and have fixed the bow on top of the mouse.  
For a Minnie Mouse diaper cake / Mickey Mouse diaper cake, alternatively make a 3-tier diaper cake and decorate it with Minnie Mouse / Mickey Mouse accessories. 

Animal Diaper Cakes

A great alternative to a diaper animal is making a diaper cake with an animal theme. Just put a cuddly baby animal toy on top and decorate it with more animal apparel, accessories, toys, etc.! Get ideas of what else to include in an animal diaper cake here. For diaper cake instructions follow the link 'How To Make Diaper Cakes' below:
Lion Diaper Cake: baby gear and toys to include.
Giraffe Diaper Cake Accessories.
Kitten Diaper Cake: cute kitten baby gear, cuddly cat baby toys and other accessories to include in your kitten cake.
Duckie Diaper Cake: everything you need.
Safari Diaper Cake: things to possibly include for baby.
What to include in an Elephant Diaper Cake.
Diaper Babies
These are not exactly diaper animals but nonetheless very cute!

Return from Making A Diaper Animal to How To Make Diaper Cakes
Return from here to Best Baby Gifts Homepage