Cheap Baby Clothing
Tips on how to find and where to get cheap baby clothing of good quality - for gift givers and for frugal moms, too!

You really can save big bucks - my advise and know-how will help!
If you are looking for an inexpensive newborn present you might like to search for cheap baby clothes. I'll show you how to best do this. But my recommendations are not only for those of you who are looking for a cheap baby gift. They are also for savvy moms who are on the lookout for affordable baby clothes but do not want to miss on quality.

If you are up to it you can spent a fortune on quality baby clothes. But you don't have to! If you know a few 'tricks' you can make really great savings and get outstanding bargains! 
Tip 1: Buying Anti-Seasonal
Buy winter clothes in spring and summer clothes in autumn during the end of season clearance sales. However, always consider how much baby / your kid will have grown by then. With the American size system (newborn, 0-3 months, 3-6 months, 6-12 months, etc.) this is not too difficult. In other countries where you might have just sizes without any indication of age this might be a bit more of a thing to figure out. So get familiar with your country's size chart first and you're good.
If you want to give baby clothing as a present it is actually even better to buy something bigger. Many people give newborn sizes of which the family then tends to have too much. Believe me, I know that first-hand! During the first few weeks babies grow so quickly that they outgrow their outfits in no time. Hence, it is well-considered to give something for age 6-12 months or even older. By then, babies do not grow that fast anymore, they can wear your gift for a longer period. And if you buy anti-seasonal you get that adorable outfit often for more than half of the original price!
Buy costumes like this super-cute chicken costume anti-seasonal respectively shortly after this year's Halloween at a reduced price for next year's Halloween.

For costumes, the size is not that important. If in doubt, always opt for the bigger one since legs and sleeves always can be rolled up.




Tip 2: eBay
Babies outgrow newborn outfits extremely fast. In no time brand new clothing does not fit anymore. So what does the modern family do? They sell it on eBay! And that's your chance to snatch new baby clothes often at a fraction of the original retail price (as well as everything else for baby by the way)!
Once you are logged into eBay select 'baby' as category and enter the item wanted in the search bar (body, onsie, romper, outfit) etc. and NEW or NWT which stands for 'new with tag'. Do not forget to review the sellers' customer feedback - which should be impeccable - before bidding and buying. 
Use the 'Buy It Now' option if you need the item soon, otherwise go for the auctions since these usually grant better bargains.
Happy bidding and good luck! Enjoy your cheap baby clothing deal!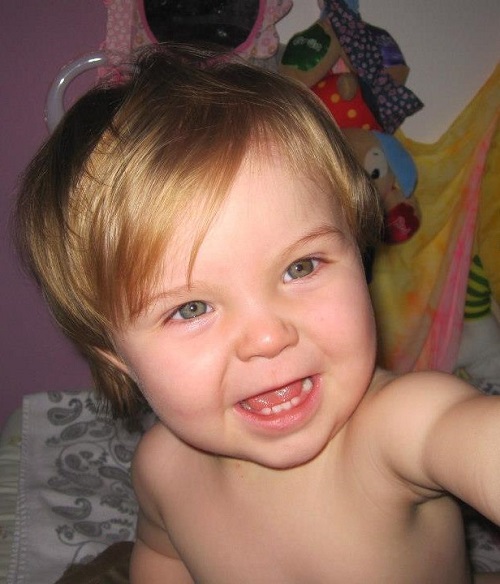 poor baby's got nothing to wear ;-)

Tip 3: Amazon
Amazon constantly offers great deals on reduced and cheap baby clothing. It is always worth to have a look there. Buying on Amazon also has a few more advantages. First, shipment is usually quick. Second, if you do not like the goods you can send them back - often even free of charge! Third, frequently you can find a customer review / reviews and see what other people think about this item. And forth, some items qualify for free shipping. To check what kind of marked down stock Amazon offers, go to Amazon and select 'sales & deals' at the top. At the left bar choose the 'baby' category. Then tick the size needed. If you want, you can also enter a keyword (body, onesie, romper, etc.) into the search bar. After that, select sort by 'price: low to high' at the sorter bar at the right hand side. Start browsing the offers. This is how you normally detect the best deals. It involves some searching and patience but it often is worth it! It may also be worthwhile to select the regular baby category and see which items are on sale there.
It is also possible to view and shop a price range. This operation sure is worth to check out!
Also,  amazon often have special offerings such as 'year end deals', Holiday specials, lightning deals, coupons, etc. These offer great savings, too.
Amazon has an outlet store, too! Find low prices on overstocks and markdowns at the baby section all year round! Just click the link:
#ad
Shop Amazon Outlet - Clearance, Markdowns and Overstock Deals

Tip 4: Shopping Clubs
Online shopping clubs are becoming increasingly popular. Invitation-only or by request only online private sales sites can be a terrific tool for saving money when shopping for inexpensive baby clothes and other baby gear. Favored US shopping clubs are for example Gilt, Rue La La, HauteLook, bTrendie, Zulily and Totsy. These sites offer deals on certain brands or products that are only in effect for a limited time, usually for 2-4 days. Before you can shop there you need to sign-up respectively request membership. But that is really easy. It is typically free and can be as simple as providing a name and e-mail address.

In regards to shopping clubs, be aware of the following:

the delivery time can be very long (everything between 3-8 weeks), so before you buy check this out. The estimated time of delivery always is indicated with the deals.

by all means, check their return policy for the item(s) you want to buy.

you can indeed save a lot of money when buying at private sales sites but that must not always be the case! So before you do a big investment there, double-check whether that particular item isn't available cheaper anywhere else on the net.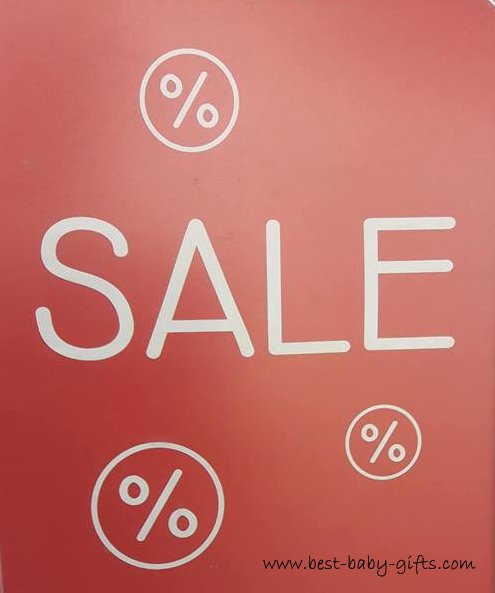 Who doesn't love sales?
Cheap Baby Clothing
Tip 5: Coupons And Special Online Offers
If you are a first time buyer or if you sign up for a newsletter, many internet shops give you a 10$ coupon or a 10-20% discount for your first purchase. So that's your first saving. Next time you buy there - since often only one coupon can be redeemed at a time - be on the lookout whether there isn't an online coupon available. Often you can also get free shipping. You can do so by some simple google query: enter 'coupon' together with the name of the online shop and you'll find pages that display the coupons. You won't always be lucky and find a coupon but nevertheless it's always worth a try! Pages that display coupons are for example saving.com or dealtaker.com so you can also check directly there. The latter also informs about all sorts of current deals. Dealtaker.com has a 'baby' category displaying lots of deals of various online shops with regards to inexpensive baby gear, cheap baby clothing, cheap layette, baby toys, etc. So if you are not sure what gift to buy for baby and just need some ideas for bargains browse dealtaker.com. The odds of finding deals on cheap baby clothing are not bad!

Tip 6: Outlets
This last tip is simple and short. Whenever you can, shop at outlets. Whether you shop outlet stores at the mall or online outlets. You will often find cheap baby clothing of good brand quality there!

Return from Cheap Baby Clothing to Cheap Baby Gifts

Return from Cheap Baby Clothing to Best Baby Gifts Homepage


---
---