Best Gifts For New Moms
It's always nice to give special gifts for new moms and not 'just' a gift for the baby because:
Everybody thinks of the new baby first. But mom has done the hard work before baby's birth and will most probably do most of the hard work after baby's birth. So mom simply deserves a little (or even big!) something just for herself, too!

The new mom might be your daughter or your sister or your bff and you want to get something very special for her. 

You are the new dad and think mom has earned herself a special treat, also called a 'push gift' or 'push present'. Score big points with a unique new mom gift ;-)

Most of these ideas are also great gifts for mummy's first Mother's Day, her first birthday after the baby was born, her first Christmas with baby, etc.!
---
March 27 (UK and Ireland) &
May 8th, 2022 (USA, Australia, Canada, Germany)
is "New" Mother's Day!
---
Unique Ideas For New Mom Gifts
Mom and Baby Jewelry
Most women and moms just love jewelry, so a piece of mummy and baby jewelry in sterling silver or gold almost is a safe bet!

My recommendations:

Pea In A Pod Jewellery: Pea pods are a symbol for the close bonds we share in our family, with our children, our partner and our friends.
'Pea in a pod' jewelry is available in many designs and pieces of jewelry such as earrings, necklaces and armbands. Get a mother of twins or a mother of two a 'Two Peas in a Pod' necklace, and a mom of triplets or a mom of 3 some 'Three Peas in a Pod' jewelry.   
#ad
For Moms of Baby Girls: Mom And Me / Mother & Daughter Bracelets:
Get matching bracelets for mother and daughter! There are several Mom and Me bracelet sets available, made of Sterling Silver, Gold or Platinum, with freshwater pearls, birthstones, silver heart charms, coordinating cross charms, diamonds, etc. The baby bracelets are for ages 0-12 months or also for 1-5 years. This is a beautiful keepsake for mother and baby to memorize baby's birth. 

#ad
Baby Charm: Get the new mom or mummy-to-be a charm for her charm bracelet or charm necklace. If she hasn't got a charm bracelet or a charm necklace yet, you need to get her that, too ;-) There are so many cute sterling silver charms available to add to a bracelet or necklace. For example baby shoes, baby carriages, baby footprints, pacifiers, son/daughter charms, mother children charms, hearts, etc. Some even have a birthstone included. These charms also make great push presents from daddy for mommy.  



Mom (And Baby) Gift Basket / Gift Certificate To The Spa
Get the new mommy a gift certificate for the spa, the hairdresser, a manicure and pedicure or just for some time out etc. and offer to look after baby during that time. See more details about this "pampering time for mommy" gift idea here.
Alternatively, buy or make a new mom (& baby gift) basket. Mom has definitely earned herself a bit of pampering! Include your voucher for a manicure and / or pedicure for mom, a gift card for a massage at a nearby parlour or a gift card to a spa or a hair salon, etc. in your basket. You can also add a babysitting coupon to look after baby during mum enjoys her beauty treatment. Find all ideas on what to include in your mom and baby gift basket here.
Mom Poem On Canvas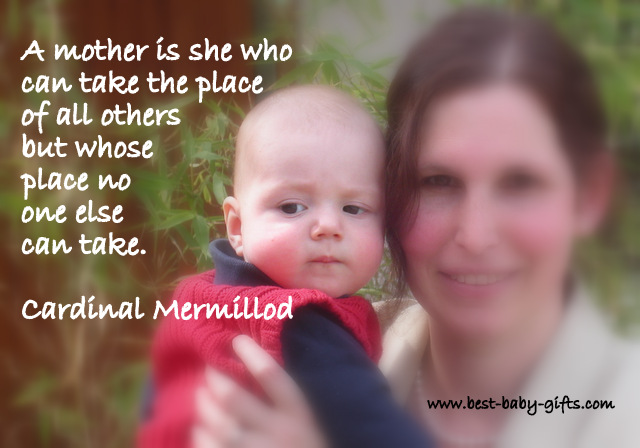 A mother is she who can take the place of all others but whose place no one else can take. (Cardinal Mermillod)

Take a picture of mom and baby and add a new mom quote. Put it in a frame or have it printed on canvas.

New Mom Gift Ideas
Stylish Diaper Bag
Maybe you think giving a diaper bag might be sort of a boring gift idea. But let's face it: Apart from baby, a diaper bag and its contents will be THE object mommy will need to carry around for most of her time for the next couple of years, if not longer! Therefore mom needs a decent diaper bag, not just looking great but also being practical, comfortable and well-thought-out! Read here what to look after in a diaper bag that qualifies as best diaper bag!
Only the best is good enough for mom, so how about a designer diaper bag so mommy can feel like a 'little celebrity'...




Mommy's Time Out Wine Glass By Lolita
These are such a cute gift for mummy to sit down and enjoy a glass of wine. Also good for non-alcoholic drinks! The glasses are handpainted and have a really unique design. They come in a beautiful gift box and I just love them. These also make great Mother's Day gifts for new moms! 




Postnatal Workout DVD
This gift could be a bit delicate and I wouldn't neccessarily recommend a husband to give this to his wife... Nevertheless, if you know the new mother very well and if she's a sporty person doing workouts or Yoga on a regular basis this might actually be a great gift. There are Yoga and workout DVDs for mom only but also workout DVDs with instructions for mom AND baby. Sounds like fun and means mother and baby can bond while getting some great exercising at the same time! Check out the best postnatal and post-pregnancy workout DVDs here. 


#ad
Postnatal workout DVDs.


Baby Countdown Timer
This little gadget counts the days until baby's due date. Every expecting mum will be excited to count the days, minutes and seconds until baby will be there - once set, this clock does it for her! 
Some countdown timers can later on be used to count the days till Christmas, baby's first birthday, etc. 


More Gifts For New Moms


Pacifier: I love Mommy / My Mom Rocks
How about a pacifier saying 'I love my mummy'? Other cute mom sayings are available, too.  
Which mom wouldn't love this? ;-)
Such a pacifier is also a cute little something to give with a gift certificate or an invitation for mom to eat out together.
Mom And Me Picture Frame
Give the new mother a special mom & me picture frame to place at home or at her office. Every mom loves to show off her baby to coworkers and clients. Of course mommy can also hang this up at home! Mom & me photo frames are available in all sorts of styles and materials and with different messages engraved such as 'Mom & Me', 'I love Mommy', 'Me And My Mom', etc. Have the engraving personalized and the frame makes a great and timeless new mother gift!
If you also want to include dad in the picture frame gift, get a 'Mom + Dad = Me' photo frame!
A 'Mom + Dad = Me' picture frame also is an awesome Mother's Day gift from daddy and baby for mommy!

#ad

More Ideas: Gifts For New Moms
Gift Card(s) To Restaurants With Take Out
This idea falls into the category practical gifts for new moms: In the beginning the new mother will have to think about so much and she'll need to get used to so many new situations all the time. So if she does not have to bother about food shopping and preparing meals she'll certainly appreciate if that's taken off her. In general, anything meal related like meals delivered, a casserole to freeze, gift cards to a restaurant or to a take-away are a great new mom gift. A thoughtful new mom gift that every new mother certainly will more than appreciate!




Mom Slogan Baby Onesies / Tees
Give the new mother mummy-oriented clothes for baby like funny slogan tees or onesies for baby. Gift a tee or onesie with a mommy slogan such as 'I Love Mommy', 'Mommy Rocks' or 'I am cute, mom is cute, dad is lucky' printed on. Alternatively get a shirt for mom saying 'New Mom 2021', 'Happiness is being a mom', etc.

More ideas for funny slogan baby onesies.


#ad


Matching Clothes For Mom And Baby
The alternative to funny mom slogan tees or onesies are matching clothes for mom and baby. Let baby and mum look pretty much alike by gifting matching clothes. Try FOOTSTEPS CLOTHING who offer matching mom and baby pajamas and playwear. Also with short sleeves and boxer shorts. And if you like, even for the whole family! Made of 100% cotton mummy and baby will love to hang around in style together. These cute matching outfits are offered in various designs and sizes. Perfect for anyone - especially the adult lady bug / kid little bug and baby bug outfit are just adorable!
Another great website to visit for matching family clothes is matcheez.com. They have matching tees, baby onesies/tees, hoodies, caps, headbands, bracelets and much more for the complete family including your pets. You will surely find some awesome clothing gifts for new moms there! 

Tough Mama / Tough Cookie, available in 6 colors! #ad

Even More Gifts For New Moms
Bestseller Novel And LED Book Light
Get mommy a bestseller novel together with a LED book light. In order to relax, the new mum might like to read - maybe a thriller, maybe a romance, maybe a nonfiction book. Get her a LED book light together with her favorite kind of book so she can read while baby stays and sleeps right beside her. If mom is not such an avid reader an audible is a great alternative she can also listen to in the car. 


If you do not know what the new mom is into, this hilarious book about the ups and downs of parenting is a really good read! Or simply check out amazon's bestsellers. #ad
For more great ideas for gifts for new moms click here.


Need gift ideas for the new dad? Get them here!
What gifts for new moms did you receive or give to other moms? Let me know by simply filling in the comments box below. Thank you!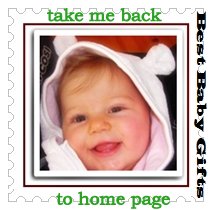 ---
---