Always Appreciated!
Practical Baby Gifts 
Practical baby gifts are a good pick! Let's be honest, something for the shelf can be pretty and nice - but if you give a practical baby present you can be sure that it is actually used. Often with thankfulness and good memories, too.
My recommendations include some special and unique practical baby gifts. And also some of which the new parents never knew they existed unless they hadn't gotten them as a present. At my baby shower I received some pretty cool stuff of which I did not know before and whenever I use these extremely beneficial gifts I am really grateful I have them.
I hope you enjoy my best finds on practical baby gifts!
Pimped Up Diapers And Wipes
There are lots and lots of 'common' useful baby gifts around such as diapers, wipes, bibs, onesies, socks, bath time accessories, etc. And there is absolutely nothing wrong about giving something like this, especially if it is nicely presented such as in form of a gift basket, a baby sock bouquet, a diaper bouquet, a diaper animal or a diaper cake. Find free and easy instructions for various diaper gifts, such as the beautiful diaper cake pictured above, here.



Travel High Chair
Chances that the new parents have already got a highchair are high. But did they think of a portable high chair, too? If you know the couple likes to travel or go out for dinner a lot or even that mummy needs to take baby to work from time to time, a portable highchair surely is a great practical baby gift! Restaurant high chairs often are dirty and gooey and not very 'trustful'. If you bring your own you know for sure the chair is safe and clean. There are models that fold easily and are just clamped to the table. The Phil & Ted's Lobster high chair is lightweight and made of aluminum and nylon. It comes in red or black and is suitable for toddlers up to 37 pounds. Parents call this super practical travel chair 'a must for going out and travelling'. 




Baby Carrier
A carried baby  is a happy baby!

A baby carrier is not only a good thing when you are on the go. It also gives a mom or dad a little bit of freedom at home because baby is in a safe place and mom / dad has two hands free! 

Ergobaby is a leading baby consumer products company that creates innovative solutions to give both baby and parents the maximum comfort. Ergobaby carriers are the ultimate in ergonomics and comfort, allowing a parent to carry the baby from the early days to toddler (12-45 lbs.).

Ergobaby have a vast range and you can choose from over 30 carriers in 4 categories. Check them out!
Baby Hangers / Baby Closet Organizers
It may sound strange to you to give baby clothes hangers as a gift but normally new families tend to have 'just' plastic hangers while you could give one-of-a-kind handpainted wooden hangers such as the cute baby hangers from Kidorable.

Also a great practical baby gift idea are baby closet dividers. They help to keep baby's closet well arranged and sorted by sizes. So mummy will find what she needs in a sec.
This is one of the helpful products I was not aware of before I saw it at a baby shower!
The Delta 24 or 48 Piece Nursery Closet Organizer Sets come in various baby colors. These unique kits help a new mommy to perfectly organize baby's closet.
For details click on the images!

Nosefrida - Nasal Aspirator
The Nosefrida is a nasal aspirator helping baby to breathe better when its tiny nose is congested.  It is recommended for ages 0-3.
This review on amazon says it all: ...I used to get up to soothe my baby every couple of hours on those nights... now I get the Nose Frida and he sleeps the rest of the night. It is amazing! I am buying this for every baby shower I go to from now on.' 

And even though this product sounds gross and nasty, it really helps and most users claim this nasal aspirator to be the best product on the market.

Babies and toddlers can not independently blow their nose, this has negative effects on their sleep and food intake. And often the entire family is 'suffering' with baby and has sleepless nights, too. The Nose Frida snotsucker effectively helps when baby's or toddler's nose is congested and makes breathing easy again.

Products To Help Baby Sleep Better
See gift ideas helping babies and toddlers to fall asleep more easily. Let baby, and consequently the new parents, slowly drift away into a peaceful slumber with these practical sleep aids for babies.

Bathing Accessories In A Baby Gift Basket
The Aquatopia Deluxe Safety Bath Thermometer Alarm is a fun bath thermometer that comes in the form of a turtle. It activates automatically, reads the bath temperature every two seconds and alerts you with an audible alarm if the water is too hot or too cold. This makes bath time safe and fun! For a baby bath gift basket add some bathing ingredients such as baby shampoo, baby soap, a sponge, a bath cloth, squirting toys, etc. A great addition is also a Shampoo Visor / Foam Visor / Bath Visor.  No more tears and no more tantrums when washing baby's hair! This visor prevents the foam to run into baby's eyes.
Add a hooded baby towel and your practical baby bath gift basket is perfect!

Pull Along Wagon
A kids wagon always comes in handy whether for a trip to the zoo, the park or any other outdoor activity. It sure makes a practical gift and at the same time it brings fun and entertainment. See various models of kids pull along wagons and choose the one right for your needs here!
The Happiest Baby on the Block and The Happiest Toddler on the Block
(Not only) celebrities like Madonna, Michelle Pfeiffer and Pierce Bosnan praise Dr. Harvey Karp (a pediatrician in Santa Monica, California) and his approach to calm crying babies and help newborns sleep longer! Available in several languages as a book or DVD. This review on The Happiest Toddler on the Block: How to Eliminate Tantrums and Raise a Patient, Respectful, and Cooperative One- to Four-Year-Old just says it all: 'At birth, this book should be included as a "manual"! This would spare many parents a lot of grief and anger. It is simple, clear and entertaining. Had I read this earlier, I could have done without all the numerous other books.'

Practical Baby Gifts
Twilight Turtle Nightlight - Twilight Ladybug - Twilight Carz - by Cloud b
This baby nightlight is just awesome and so cute at the same time! It's hard to decide which nightlight to choose as a gift as they are all so adorable. The Cloud b Twilight constellation nightlight comes as a turtle, a sea turtle or a ladybug. 
And absolutely everybody loves it - mum, dad, baby, toddler and kids are equally thrilled. The Cloud b animal nightlights project star constellations onto the ceiling at night and soothe babies and kids who are afraid of the dark. It uses batteries but will turn off after 45 minutes to preserve battery life. The nightlight comes with an adoption certificate and a constellation guide.
The bubbly Octopus To Go nightlight is equally as cute and projects stars or images no matter whether you are on the go or at home.
Click on the photos below to find out more about this absolutely beautiful practical baby gift! 

Baby Bouncer - Baby Swing - Baby Playmat
How about a colorful baby bouncer, baby swing or baby playmat? These keep baby entertained and safe for a few minutes so mummy can quickly have a phone call or do some cooking while having at least her hands free. Some of these bouncers and swings even come with a built-in entertainment center or a musical toy.     

Check out
baby bouncers
suitable from birth and up.


Bumbo Baby Seat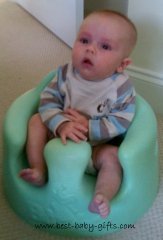 The Bumbo Seat is a floor seat where a baby of approx. 3 months and older can sit up on its own - this makes mommy's (and daddy's) life just a little bit easier! Now it is possible to involve baby into family life and have him or her see what goes on, keeping baby busy. Check it out!
More Practical Baby Gift Ideas
Nursing Cover
A nursing cover is a great gift for moms on the go. It gives the nursing mom privacy and freedom to breastfeed in all places and situations. The cover sort of looks like a stylish apron and comes in various styles and designs. Some breast feeding covers are plain-colored and unobtrusive while others are colorful and eye-catchingly patterned. And some even come with frills! So there's something for every type of mommy. Most of the covers are either made of 100% cotton or microfiber. They are multifunctional and cannot only be used as a nursing cover but also as a baby blanket or a sunshade for baby. And they are so small, they fit in any diaper bag. Check out the ones from Bebe Au Lait or Hooter Hiders, as these make especially practical baby gifts! Of course you may also get these just for yourself ;-)
Baby Photo Onesie Monthly Milestone Stickers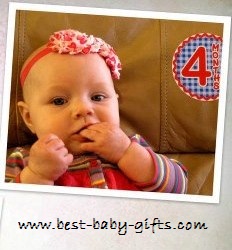 These stickers are so practical to remember baby's age of your keepsake photos. Just stick the appropriate number on baby's onesie and take a pic. These colorful sticker sheets contain a sticker for every months from 0-12. Very cute, very practical and a very nice gift - many parents surely do not even know something cute and practical like this existed...  


Boppy Pillow / Boppy Nursing Pillow
A nursing pillow is not only great for nursing but also for letting baby rest comfortably and fully supported. The versatile Boppy Pillow lifts the baby to an ergonomic position for comfortable feedings, then transitions to the perfect spot for propping, tummy time and learning to sit. Most Boppy Pillows have a removable slipcover which zips on and off for machine washing. The Boppy Nursing Pillow is also available with a 100% organic slipcover. Lots of positive reviews on amazon confirm that the Boppy Pillow is one of the best nursing pillows around, and it makes a practical baby gift for sure.

Amber Teething Necklace
An amber teething necklace can help when baby teethes and is in pain. A happy baby means happy parents, so this is a practical gift, too. Read about all the benefits here.



In my twins baby gifts section I have listed some more practical baby gifts which are not only helpful for twin parents but also for singleton parents! View more practical baby gifts here!


And in my modern baby gifts section you will find even more useful baby gift ideas!


Return from Practical Baby Gifts to Best Baby Gifts Homepage