Best Baby Gifts For Twins
When it comes to selecting baby gifts for twins or even for triplets or multiples, you should definitely think a bit more practical rather than adorable and cute! The parents will have all hands full with their new pair of bundles and time for other things and activities will be extremely short.

What Do Twin Parents Want?
If you ask parents of baby twins what they would appreciate the most, two things top their wish list:

1. something practical for the babies
2. help in the household and with supervising the little ones.
Great ideas for twin baby gifts are listed below - now it's really easy to find the perfect baby gifts for twins and multiples!
Practical Baby Gifts For Twins
Homemade Frozen Dinner
A ready-prepared homemade dinner is THE practical baby gift for twin parents and parents of multiple kids. The idea is simple and yet so smart! And it needs not too much extra effort if you have a family of your own. During the first days, weeks and maybe months at home, the new parents most likely won't have much time to cook, Even if they should have time, they'll probably be too exhausted. That's when your (frozen) dinner comes in handy. All they have to do is heat it up and voila sit down and enjoy your meal!
First you need to buy a few food containers which are suitable for food storage in the fridge or for freezing. Then, once you cook a dinner for your own family, cook some more servings and put these in your freezer. Cook and freeze as many dinners as you want for the new mommy and daddy. If you like, put your frozen dinner in a cool bag so the new parents have an insulated lunch bag for their first family trip with the babies. Check out PackIt for very practical cooler lunch bags!


Diaper Gifts, Diaper Cakes, Diaper Gift Certificate
Diapers, diapers, diapers... Have a look at these creative ideas on how to give not just a pack of diapers but a real eye catcher and a little piece of art - really a practical but at the same time very cute baby gift for twins!

With baby twins in the house, diapers will be one of the most needed items in the household and parents will be grateful if they always have enough diapers in stock. Although giving a pack of pampers hardly ever can be wrong, some parents might prefer a special brand of diapers or more ecological friendly diapers. Therefore, if you want to give a pack of diapers, you might check on the parents' favorite brand and on the required size first.
An alternative to giving a pack of diapers, is giving a diaper gift certificate for a local shop or for an online shop such as diapers.com. Having diapers delivered is a great help since shopping with two or more little babies can be very exhausting.    
Your diapers make not only a practical but also cute baby gift for twins if you present them nicely. How about making a diaper cake or any other of my diaper gift ideas?

Homemade Baby Gifts For Twins Made of Diapers:

Diaper snails for twins
These snails do not only look cute, they also wear cute baby hats and can carry little baby toys. I you are curious how to make these snails click on the left photo.
Twin diaper owls

| | |
| --- | --- |
| You should have a bit of experience when making these cute diaper owls. They make a great twins diaper gift. For instructions for the owls as well as for other diaper animals such as the diaper mice pictured below, simply click the image. | |
Twin diaper cakes with diaper babies

These two diaper baskets / diaper cakes are an easy and quick to make baby gift for twins, even if you have never made a diaper gift before. All you need are two storage baskets, a pack of diapers, two burp cloths, some diaper babies, some ribbon and other decoration. These are personalized with wooden letters which makes the icing on the cake :-)
Combined diaper / money gift for twins
The picture shows a money gift for triplets but you can make this for twins just as well: diaper babies in cots (boxes filled with diapers) and a washing line to hang your money bills. 

More Practical Baby Gifts for Twins
Babysitting / Housekeeping Coupon
With two or more new babies in the house a babysitting coupon or a housekeeping coupon will be all the more appreciated.
Also cute is a coupon booklet for the new mom. Give it on its own or as an addition! Just make a 'New Mommy Coupon Book' yourself and include coupons like for example: a twenty minute baby break, one evening of babysitting, a bragging session about the new baby, a potful of tea and adult conversation, etc. I am sure you'll come up with many more witty mommy coupons - especially if you are a mom yourself!

Read more on this topic here.

Hands Free Bottle Holder For Twins
They're various little "helpers" to make feeding twins easier. For example, the Bebe Bottle Sling: According to (twin) parents and their online reviews they are a real life. The bottle sling is fixed to the infant car seat handle (they are designed to fit any model), then the baby bottle is inserted so the little one can feed itself. The bottle always is at the correct position for hands free bottle feeding and the baby is encouraged to grab and play with the sling which helps to develop the hand eye coordination. Eventually, baby will learn to hold the bottle on its own. For twins the Bebe Bottle Slings come in a twin pack and they truly are a great practical twin baby gift.
This self feeding cushion answers the same purpose and will help feeding twins in a more relaxed way. It's for use in a baby lounger.
Baby Infant Floor Seat
Get one or two for the twins - it will help the parents get their hands free for just a little while.
Get one and the new parents will have their hands free to feed or hold and cuddle with the other twin while one of them is sitting in there. Or get two seats and give the new parents the possibility to have just a few minutes of freedom from time to time. An infant floor seat is absolutely perfect for babies who cannot sit up on their own yet but are interested in their surroundings. Babies can happily sit in a floor seat and watch what's going on or play with toys that you can clip onto the seat.
Decide for yourself whether to get the Bumbo Baby Seat or a Hugaboo (click on the photo for more information).

Itzbeen Pocket Nanny Baby Care Timer
A very convenient twins baby gift and a must have for tired parents of twins ist the Pocket Nanny. With the help of these baby care timers the new parents will never forget when to feed, to diaper or to give medication to the babies. This multi-purpose tool and scheduler helps new parents to better coordinate the daily life. The large display shows the elapsed time since the last feeding and diaper change, and also how long baby has been awake or asleep.
For first time parents as well as for twins and multiples parents this will not just be a nice gadget but will immensely help to organize the daily routine. The Itzbeen Pocket Nanny comes in three different colors: green, blue and pink. A cheaper twin pack is also available. If you are interested google for Itzbeen Pocket Nanny.

Twin Diaper Bag
It's a sixty-four-dollar question whether twin parents actually need a twin diaper bag.
A spacey singleton diaper bag might do the job, too. Well, it's probably also a question of trial and error and a diaper bag always is a handy gift. So make your own choice on whether you need to give a special twin diaper bag or just a roomy 'normal' one. There are so many different styles and sizes of diaper bags around that you'll surely find just the right pick! If not, have a look at the Ju-Ju-Be BePrepared which comes in many marvelous designs and looks just great! Alternatively try the Skip Hop Duo Double Deluxe which is not quite as pricey.
Our best pick - the Twinneroo Twin Diaper Bag, especially designed for twin babies:

Baby Gifts For Twins: Kids Wagon
Kids Wagon
A kids wagon helps cruising around with twins in style, plus it offers storage room for everything needed for a fun day out. What a convenient, helpful and great twin baby gift! Check out the best kids wagons here.
There also are bigger options for triplets or for twins and an older sibling: Look for the Step 2 Choo Choo Train or the Radio Flyer Triple Play Wagon. 


More Baby Gifts For Twins
- not of pure practical nature -



Personalized Twin Baby Gifts
How about personalized baby gifts for twins? Even though they are twins, each baby has its own personality. Bring this out and give a baby gift with the twins' names, monogram or initials on! This could be personalized pacifier chains, personalized ID bracelets for the twins/multiples, personalized plates, personalized onesies, room plaques, personalized baby blankets, personalized growth charts and so on.  


Twin Baby Clothing
Twins will need more clothing than singletons and some cute clothes in a double pack always make great twins baby gifts. Especially for twin babies there are some nice twin clothing gift sets around which are always good for a keepsake, too. There are also some pretty hilarious twin onesies with funny slogans and images around. Here are a number of tips and ideas for twin clothing gifts.
More funny twin onesies.
Twin Baby Gift Baskets
With a baby gift basket you never can go wrong. It will make a great baby gift for twins, too. The basket can be filled with all kinds of useful goodies for the twin babies. You can buy the twin gift basket at a local store, order it online or - more personal - make one yourself, which is a piece of cake, actually. Or make two, one for each baby, and personalize them with the babies names.  For free instructions click here.



Angel Dear Cuddle Twin Set
Whether giraffes, kittens, bears, lions, hippos, bunnies, mice, poodles, sheep and many more - Angel Dear have it all (34 varieties!)! Their Cuddle Twin Set consists of two identical blankies with an animal head at the top. One for each twin packaged in a cute box. At the back and the sides of the box there's also some text about being a twin, etc. Really a cute and unique baby twin gift!

Twins Books
Whether it's picture baby books for / about twins to read to the little ones or a special baby guidebook to having and raising twins, this gift will be helpful! You could also combine both and make a twins baby book gift basket.
Here is a list of excellent twin baby books (#ad) and twin baby guides. Click the link to see the reviews and comments, these will make it easier for you to choose the best book for your needs. 

Baby Gifts For Twins
Let's sum it up. When it comes to baby gifts for twins, the most appreciated presents are either your time and help or gifts of a more practical nature that make the life of the new parents at least somewhat easier.

In case you still did not quite get THE twin baby gift idea, feel free to browse my other categories for even more ideas! 
---
What to write in your baby twins congratulations card. View messages to use for baby twins, triplets and multiples, baby twin quotes, baby twin poems and more.



---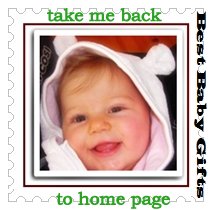 ---
---