"Bake" A Wedding Diaper Cake! 
I made this modern wedding diaper cake when my nephew recently got married. He and his bride had just had a little baby girl a few weeks before so this diaper cake was the perfect gift idea to give for the birth and wedding together with our money gift.  
cute as a wedding gift, bridal shower gift, baby shower gift and baby shower decoration
Even if - at first thought - it might seem a bit odd to give a diaper cake as a wedding gift, it can make sense: The wedding couple might already have one or even more babies or they might expect a newborn soon. But even if you just know they want to have a baby in the near future it's a cute gift to give for a wedding - on it's own or together with a gift voucher or cash. 
A wedding diaper cake is the perfect wedding gift for an expecting couple or for a couple that just had a baby. It's also a nice and modern decoration for a bridal shower or for a baby shower. So it makes a cute bridal shower gift and baby shower gift as well. 
My intention was to make this diaper cake as plain as possible, without any accessories or big embellishments. It should be elegant and modern, and should simply go with the style of the whole wedding. 
And I think I did well, didn't I? It took me about 3 hours all in all and everybody at the wedding complimented my handicraft talent :-)   

Wedding-Style Diaper Cake for Baby Shower
Of course you can also make a wedding style pampers cake for a baby shower (without a wedding in sight). New moms or moms-to-be will also be excited over a diaper cake just looking like a real cake! It looks classy and will be a real eye-catcher. People might even go and touch your cake since they want to make sure it's made of diapers and not to eat :-)     

How To Make A Wedding Diaper Cake
Of course there's not just one way to make a diaper cake for a wedding. So - as in line with most of my other diaper cake instructions - I rather aim at giving you some ideas and inspiration than providing you with step-by-step instructions. Nevertheless, you'll find a basic diaper cake tutorial on my website. So first see my directions for a plain 3-tier diaper cake. A diaper cake with 4-tiers is made just the same just with an additional tier!     

How Many Diapers Do I Need For My Wedding Diaper Cake?
Depending on the diaper size (I suggest size 2 or 3), brand and properties of your diapers, you'll need approximately 94 diapers. In this case 3 single packs with 32 diapers were perfect! For a cake like that I prefer diapers with only little or without a motif or design. Here I have used pampers in size 2. They are mostly white and only have just one little band with a design at the upper part. I had asked the mother of the groom about the brand and size of diapers the new parents use. And it was quite fortunate that their favorites do not have an allover design. Of course you can make a cake with colorful diapers, too but then it's hard to make it look elegant. However, not  a problem if your diapers should have a design. Just use your accessories and ribbons to fit and your cake will turn out perfectly!
For a 4-tier diaper cake you need:
approx. 48 diapers for tier 1
approx. 26 diapers for tier 2
approx. 13 diapers for tier 3
approx.   7 diapers for tier 4, the top
Special tip: Roll your diapers the day before and let them stay overnight with the rubber band on. When you then arrange them and take off the rubber bands they will be perfect.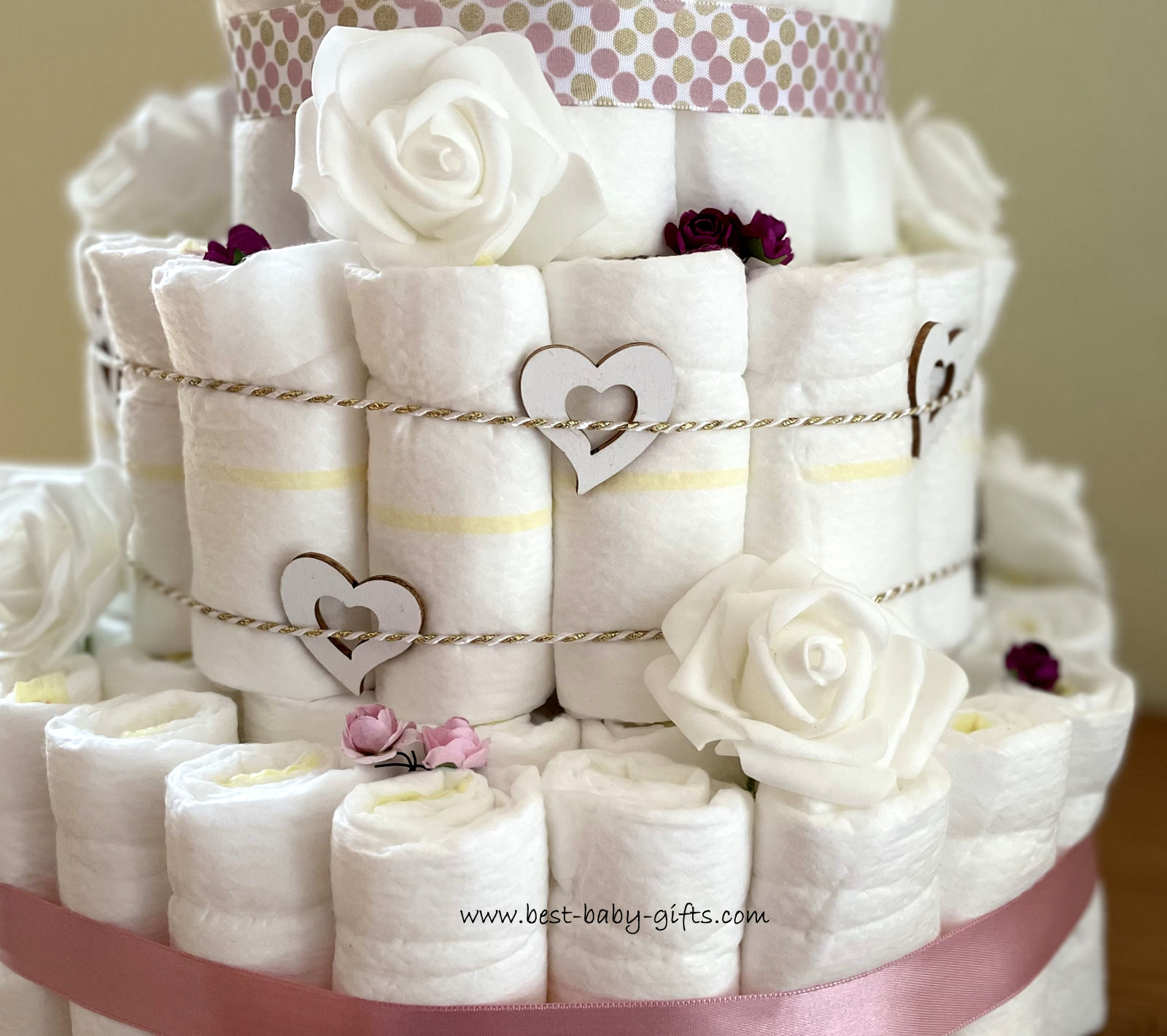 wedding diaper cake decorated with roses and wooden hearts

Which Accessories To Use
Ribbon: The 3 ribbons I have used have been sold as a set and go really nice together. They differ in design and structure giving the overall look more diversity. Of course you can use the same ribbon for all tiers. Lace ribbon might also be a cute idea. 
Roses: I also got 12 white craft roses and some small ones in various shades of pink (for details see photo above). Check out amazon or Michaels for the roses. Search for: craft flowers, craft roses, artificial roses, rose flower heads, artificial flowers, satin rose flowers, paper roses or fake flowers.
Topper: For the top I have used a wedding cake topper which is meant for a real wedding cake. It was really easy to fix at the top and I needed nothing further to make it stick and stay up there. You can get various motifs, also some with 2 kids and even with cats and dogs added in the silhouette. 
Fixing the decoration also was a piece of cake! The artificial roses have got short wire stems so you can easily stick them between the diapers. And the wooden hearts stick and stay perfectly between the diapers and the thin ribbon.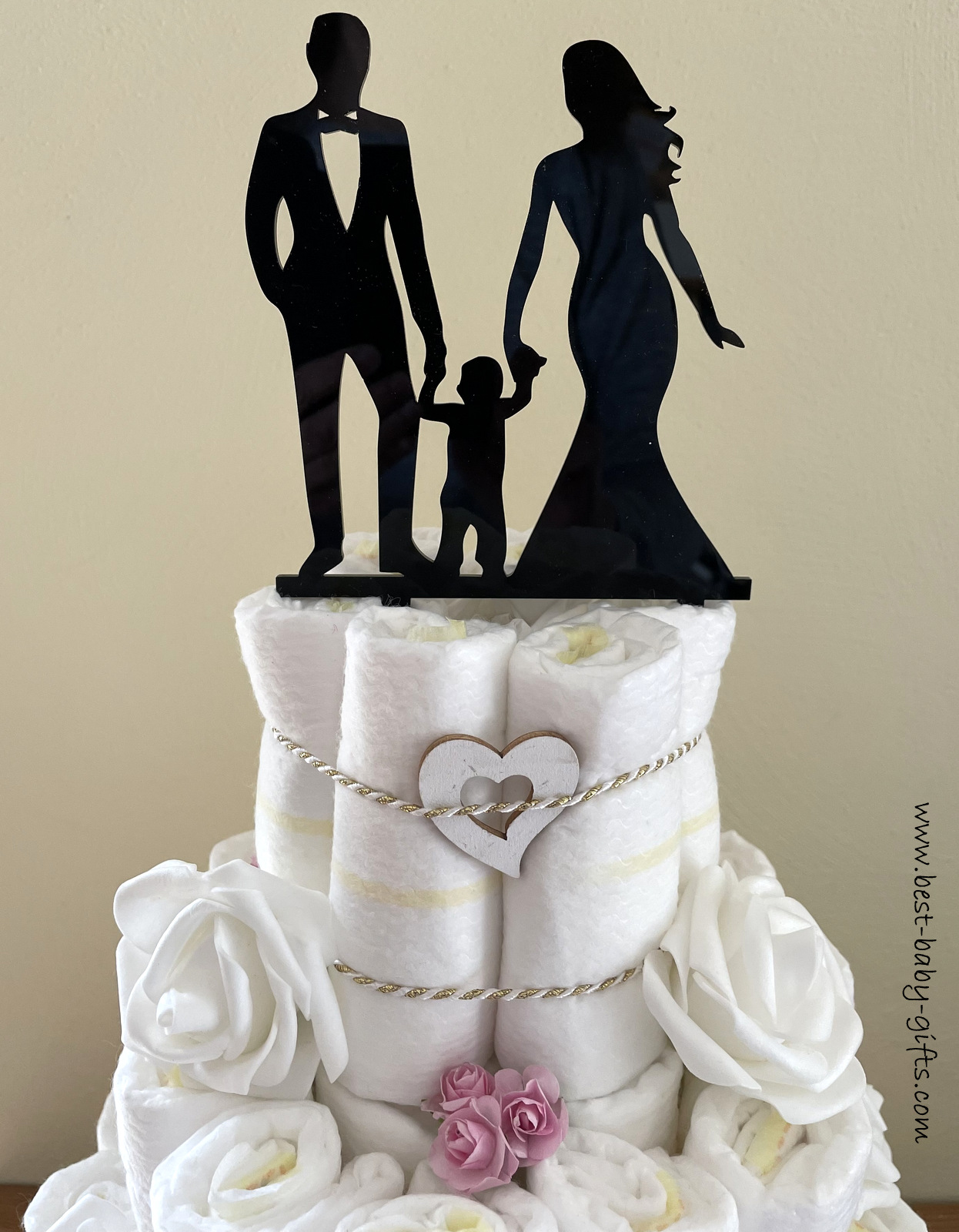 cute diaper cake topper: couple with baby
diaper cake topper, pregnant bride & groom #ad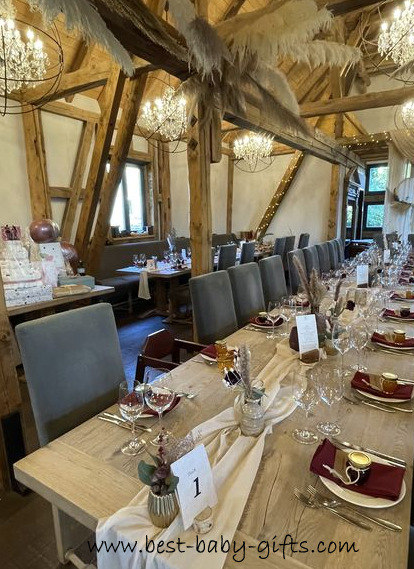 let's get the party started!
The wedding diaper cake looked even more stunning and elegant once it was wrapped in foil. Since I was not sure how transport in our car and on the freeway would work out I left the foil open on top. So had it been necessary, I could have quickly rearranged the items on the cake. But everything stayed in place perfectly and no harm was done so I did not even need this precautionary life hack.
back to home page
---
---