Welcome To The World Of Little People Toys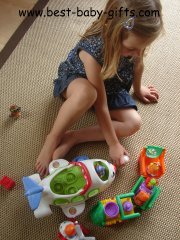 Little People toys are a great gift for kids one year and up. Meet the Little People and their friends and emerge into their world of play. These imaginative toys will entertain kids for hours and over a long period of time, my 4 year old still likes to play with them on a regular basis and even my 6 year old and 7 year old will join in frequently, too! And - this is actually a dark secret - I myself like to press that funny noises producing buttons myself when cleaning up the kids' rooms...

The 'Little People' name was registered and trademarked by Fisher-Price in 1985. Their current product line consists of playsets, mini-sets and accessories, books, CDs, and DVDs. Their main characters are named Eddie, Sarah Lynn, Michael, Sonya Lee and Maggie and kids of all ages are invited to join them in their daily life and in little adventures.
Educational Little People Toys
for 1 Year Olds and Up:
LITTLE PEOPLE AIRPLANE - FISHER PRICE AIRPLANE (LIL MOVERS)
12 months - 4 years


I got the Fisher Price airplane for my youngest child's 1st birthday. Actually, I bought it out of desperation - we already had all sorts of toys and I did not know what else to get, but then I needed a gift anyway... And there was that Fisher Price airplane at a reduced price. Little did I know what a great toy this was! My daughter (and my two bigger kids) loved the airplane at the first sight and it was a great buy! The Fisher Price airplane comes with a pilot, two passengers (Mia and Roberto) and a piece of luggage. Two of the three passenger seats as well as the pilot's seat move up and down and wiggle and wobble as the plane is pushed along the ground. The plane has a side door which opens and the top is cut out for easy access to the passenger seating. Press down the pilot and the plane makes either noises, says a 'welcome to your flight' message or plays a funny little song. Also, red lights at the wings flash in conjuction with the sounds. The plane has an easy-carry handle, making it easy to lift up and let it fly through the air. Just come all aboard, we are ready for take-off to a wonderfull vacation... My kids and their friends really love their Little People airplane!
LITTLE PEOPLE SCHOOL BUS - FISHER PRICE SCHOOL BUS (LIL MOVERS)
18 months - 4 years
The Little People School bus comes with three cute characters: Maggie, Michael and Carlos, the bus driver. Push down on the seated driver and start the different actions: lights, sounds and a fun sing-along song. The seated figures wobble, wiggle and bounce up and down upon the bus moving. So tell me, who isn't looking forward to drive to school with us today?
LITTLE PEOPLE FARM - FISHER PRICE FARM with animal sounds
12 months and up
Welcome to the Little People animal sounds farm! 
Join farmer Jed and his horse, goat, pig, sheep and cow on a busy day at the farm. This durable Fisher Price farm offers lots of educational activities for 1 year olds and up. They can activate and learn the animals' sounds, play hide the animals down the silo and sing along 'Old MacDonald had a farm...'. Again, with this Little People toy great fun for hours and years is guaranteed - indeed!
LITTLE PEOPLE TRAIN - FISHER PRICE TRAIN - ZOO TRAIN
12 months and up
Choo, choo - here comes the 
Fisher-Price Little People Musical Zoo Train
This train is a 'must-have' toy that both kids and parents love (well, our family definitely does!). Get all in! The exotic animal friends tiger, giraffe and parrot as well as Sonya Lee invite you for a round trip! When the train is pulled along, the giraffe spins in a circle, the parrot and tiger are able to tetter- totter or alternatively the parrot swings back and forth on his perch. Press Sonya Lee in the driver's seat to hear music. The tiger roars, the parrot squawks and the giraffe munches his lunch. The train comes in three pieces which attach and detach easily so your kids can play with them separately. Also, one of the tailboards can be opened and closed. Another favorite of ours and great Little People toy by Fisher Price!
LITTLE PEOPLE PIRATE SHIP - FISHER PRICE PIRATE SHIP (LIL PIRATE SHIP)
2 - 5 years
Let the adventure start, let's set sail and set off for a small unknown island in the Carribean to find a hidden treasure with the help of our treasure map... 
The Fisher-Price Little People Lil Pirate Ship
opens wide for play and folds closed at the end of the day with everything stored neatly inside. The pirate set features a pirate captain and his first mate and the pirate Ship with sleeping and eating quarters, a cannon, a parrot,a cannon ball, a treasure map and a chair. Press on the parrot for music and sounds, swing the hammock back and forth, shoot the cannon and move the gangplank in and out by turning the wheel. Endless hours of fun and play are guaranteed with this Little People toy!
LITTLE PEOPLE NOAHS ARK - FISHER PRICE NOAHS ARK
12 months - 4 years
This cute Little People Noah's Ark set includes the ark, Noah and eight animal pairs (two lions, two zebras, two giraffes and two elephants. 
More animals are available separately - so if you give this as a 1st birthday gift, you can stock it up with more animals on toddlers 2nd birthday! There are still more versions available of the Little People Noahs Ark - before you buy, check carefully what's included. A great gift!

Little People Toys - Christmas Gift: 
LITTLE PEOPLE NATIVITY PLAYSET - FISHER PRICE NATIVITY PLAYSET
1 year and up
Will this be baby's 1st, 2nd or 3rd Christmas? Then you just found the perfect Christmas gift for baby! The Little People Nativity Set consists of 11 figures and a manger. The figures are Angel, Mary, Joseph, Baby Jesus, 3 Kings, a sheep, a donkey, a camel and a cow. This set offers great educational value and will definitely be a hit with the kids - Christmas after Christmas and year for year! And, when baby has its own nativity set to play with, it might leave alone your valuable heirloom nativity set. What a cute and thoughtful Little People toy! See more ideas on great baby Christmas gifts here.


Little People by Fisher Price offer endless hours of fun and educational play for little ones. All Little People toys can be combined and mixed together so the possibilities are even wider and imagination can start to grow...
Little People toys make a great gift and will bring joy and delight to every kid!
Return from Little People Toys to 1st Birthday Gift Ideas

Return from Little People Toys to Best Baby Gifts Homepage