Natural Rubber Sophie Giraffe

The natural rubber Sophie giraffe is baby's star! It is also known as Sophie the Giraffe or in her home country France as "Sophie La Girafe" and babies just love this natural baby teething toy! This organic teether is made of 100% natural rubber and food color. Sophie is BPA and Phthalates free. 
Learn all about Sophie here, meet her friends and see baby books starring Sophie!
Sophie The Giraffe shows the same qualities as a pacifier. Thus, safe and healthy play is guaranteed when baby explores her by chewing on her. 

Sofie also makes noises, she "laughs" (squeaks) when you press her belly. Thanks to her long neck, her long legs and her round head, she is easy to grab and to manipulate. This cute giraffe is 7 inches in height. 

Sophie is hand-made in France and simply a CLASSIC!



Picture This: Natural Rubber Sophie Giraffe
Babies love Sophie.
All babies pictured here are kids of my friends and they all love Sophie and enjoy to play with natural rubber Sophie Giraffe! Since baby girls and baby boys alike like the Sophie The Giraffe teething toy it makes a great unisex baby gift. 


History And Features Of Sophie The Giraffe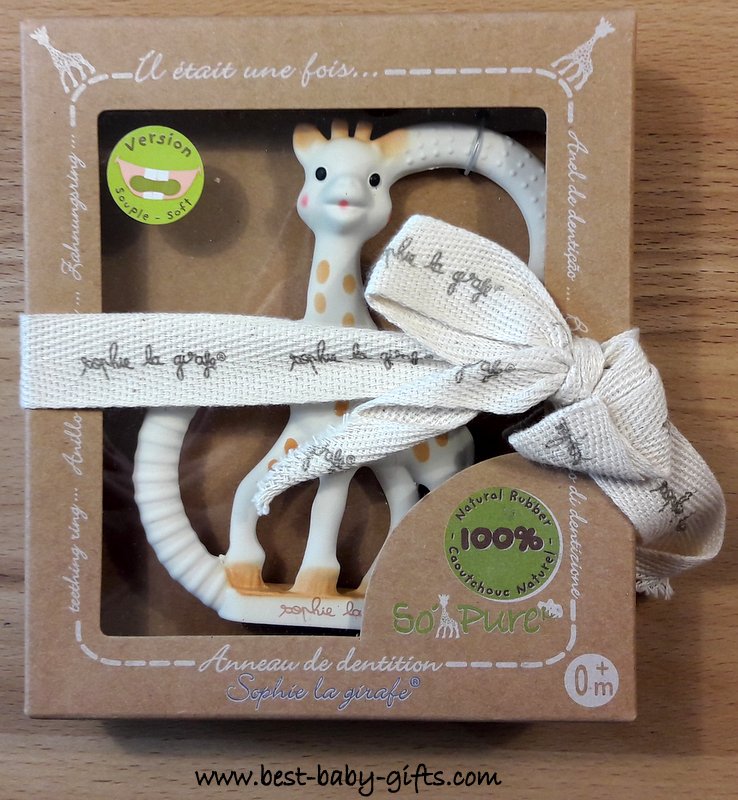 Natural rubber Sophie giraffe 'was born' in France in 1961, meaning she's actually older than 55 years! Since then she has gradually conquered the world of babies all over the world. Her success is legendary with millions of units sold worldwide.
In her home country France, Sophie is a popular baby gift as these figures show. For example, in 2003, 780.000 babies were born in France of which 550.000 got Sophie The Giraffe as a toy and talisman to play with!
And Sophie The Giraffe by Vulli is not just an ordinary teething toy. She also stimulates baby's senses: 

- At the age of 3 months, a baby's eyesight is still limited. Yet, the dark and contrasting spots on Sophie provide visual stimulation and soon she becomes a familiar object for baby. 

- The squeaker stimulates babies hearing. Later it helps baby to understand the link between cause and effect.

- Sophie's soft texture and chewable parts (ears, horns, legs), are perfect for soothing baby's sore teething gums.

- The giraffe's soft feel stimulates physiological and emotional response that soothe baby.

- Sophie the Giraffe has just about the right size for baby's hands. She is very light and easy to grip.
Lots and lots of people confirm that Sophie is worth every penny. Sophie is sold on amazon, go and see over 6.500 raving reviews there - just click Sophie's image below to get there.


Celebrity Sophie The Giraffe!
Famous Sophie has appeared in numerous US magazines and newspapers as well as in a scene of 'Sex and the City' (Miranda and Steve's baby son has one). Natural rubber Sophie Giraffe has also been featured on Martha Stewart as a baby must-have!
And nowadays many celebrity mums and dads are pictured with their baby and Sophie such as Nicole Richie (shown here), Naomi Watts & Alexander Schreiber, Isla Fisher, Kate Hudson, Dennis Quaid, Miranda Kerr & Orlando Bloom, Sandra Bullock, Elton John, Hillary Duff, Kim Kardashian and many more. Google for "Celebrity Sophie Giraffe" and you will be absolutely amazed how many pictures of celebrity parents and Sophie you will find!


Natural rubber Sophie giraffe is a great baby gift. She comes in various packages and boxes, also as a baby gift set with a rattle and a colorful book or in a special Christmas gift pack.

Sophie Just Got A Lot Of New Friends!
Giraffe Sophie also has some adorable friends: first there are Chan, Pie and Gnon - like Sophie they are made of 100% natural rubber and food color. Apart from that they have the same properties as Sophie, too. They wake up all of baby's senses. They are safe to chew on, easy to grip and the natural and special smell of the rubber tree plant helps baby find exactly this toy amongst the others. 
Collect all three of them - they have a lively color and are a real eye-catcher for baby!



NEW! Even more natural rubber toys by Vulli.
Just recently Vulli added a whole bunch of more funny natural rubber teether friends for Sophie such as:
Sophie Books or Peekaboo Sophie!
Sophie is so popular and famous that she even has her own baby books! So join Sophie and her friends for a game of Peekaboo, learn first words, the colors or the ABC with them or enjoy their colorful touch and feel Playtime Book. Or maybe even all of them :-)

Also look out for  the book gift sets including Sophie or the Sophie teether.






Because of their versatility, Sophie and her friends are one of the best organic and natural teething toys - if not the best!
Find other organic teethers and organic baby toys here.
Return from Natural Rubber Sophie Giraffe to Organic Baby Gift