Best Baby Boy Gifts
Enjoy a selection of the best baby boy gifts, also for baby twin boys. 
People often say, it is easier to shop for newborn girls - which might or might not be true. In any case, I can assure you that these ideas will help you to find the perfect gift for that 'little man'!
While many presents qualify for both newborn girls and newborn boys, with sometimes just a color variation in blue or pink, there are many gifts available that are exclusively and especially for little baby boys.
Scroll right down for twin baby boy gift ideas!  

Best Baby Boy Gift Ideas
Everything With A Boy Theme
'Everything' with a typical little boy theme. Onesies, bibs, baby bottles, towels, rompers, hats, baby sleeping bags, diaper bags, baby bedding, nursery decoration and so on usually are available in a special baby boy design. 
As a typical little boy theme qualify pirates, trains, race cars, construction vehicles, sports, dragons, police force, fire fighters, dinosaurs, motorcycles, tools, etc.  
And not to forget little boys' favorite cartoon characters, like for example Bob the Builder, Disney Cars, Thomas the Tank Engine, Fireman Sam, Chuggington, Land Before Time, and many more.

Here are some examples:
Baby Gift Baskets for Boys
Baby gift baskets always are a good gift idea. They are nice to look at and provide the new family with practical and fun items. Adorable baby boy gift baskets can be ordered online - but to make one yourself is much more personal and unique. So get creative! It's very easy to make a gift basket, simply pick special boy basket items or baby items in blue colors and arrange them nicely in your basket. See how to make unique and practical homemade baby gift baskets here!
Boy Diaper Cakes, Boy  Diaper Animals And Other Boy Diaper Gifts
Boy Diaper Cakes: a new family, respectively a new baby, always is in need of diapers, diapers, diapers...
A diaper cake is not only pretty to look at but also a very practical gift, especially for a multiple mom or a family 'that has everything'. Of course you can buy a diaper cake online or at your local store, but making one yourself is so much more individual and special! And, it literally is a piece of cake to craft one on your own.

I provide you with easy and step-by-step diaper cake instructions and I have put together many unique diaper cake ideas especially for boys. Whether it is Disney Cars, pirates or a boy bath diaper cake, you'll find it here! Just see how simple it is to come up with a stunning homemade boy diaper cake!  
A cute alternative to a diaper cake also is a boy diaper bouquet, like the pirate diaper bouquet pictured here.
Click the image to get step-by-step instructions and more photos for making a really cute diaper bouquet.

What about a boy diaper animal such as this whimsical diaper owl or that cute baby boy diaper snail here? Make two and you have an awesome baby twin boy gift! Simply click the diaper owl image for instructions.

Buy a ready-made boy diaper cake online!
Baby Boy Guardian Angel Doll
HABA used to have a Guardian Angel called Toni. A cute cuddly doll especially for boys. Seems it is not available anymore but only the female version called Tine. This is made of high-quality, organically farmed cotton and stuffed polyester filling and is part of Haba's 'Pure Nature' series, washable and hygienic.
Suitable from birth, this guardian angel is a great baby doll - also for boys - for holding and snuggling and will soon be baby's best companion.
If you want a special boy version, Haba now offers Anthony, a guardian angel wooden clutching toy and teether, made in Germany.
Baby Boy Christening Gift
Baby boy's christening is a special day, that calls for a special baby gift! Follow this link for unique gift ideas for baby boy's baptism. 

Activity Toys For (Wild) Boys
Boys need action, how about a cool rocking toy or a ride-on toy? Get some ideas here. Even though these toys are not suited for the very little ones yet, they still make a great gift for baby's birth or christening. They also make a cute decoration for the nursery until baby is ready to ride them. 
Canvas Handprint Set Blue - For Boys
A canvas hand print set for baby boy's nursery is a great decorating item and also a cute way to capture memories. The handprint tower of time contains five stacking oval tins with plaster and directions. You can keep the molds in the tin or display. This set allows the parents to do 5 handprints for example from age newborn to 5 years. This unique gift will be a really cute keepsake to last forever.
John Deere Baby Boy Toys And Boy Clothing
The name 'John Deere' is famous and John Deere merchandise is popular all over the world. John Deere offer unique and awesome baby boy clothes and baby toys. Click here to see what they have in store for little tractor lover boys and their parents - and even for little girls, too !


Harley Davidson Baby Boy Gifts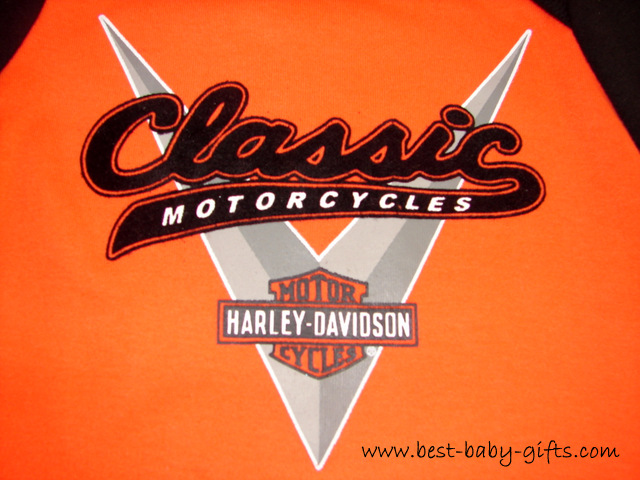 A Harley Davidson baby boy gift is the perfect gift for every Harley and motorcycle lover! See here what Harley Davidson have in range for babies and little biker boys in training: Harley Davidson baby gifts. 
Baby Gift Ideas For Twin Boys
For a baby you need lots of diapers, for twin babies you need even more diapers! So a gift certificate for diapers is a very practical baby gift for twin boys - or, if you want it more personal, make a diaper cake yourself, or even two! You will find links to various diaper gift instructions further up that page. 
Alternatively, give a baby boy gift basket with lots of useful baby supplies mommy can stock up on! A baby boy gift basket also is a cute idea for twins since you can include both fun and practical things which the new twin parents will certainly be in need of.
If you are into twin clothing  there are very cute twin boys gift sets available consisting of two boy onesies with funny slogans. For example 'he did it / he did it','I was planned / I was a surprise', 'feed me first / feed me first', 'I rock / I roll', 'Thing 1 and Thing 2 by Dr. Seuss' and many more.
Of course you can also choose any of my baby gift ideas for twins - simply select the boy version or boy color(s) wherever possible!
Last but not least, personalized baby gifts for boys such as for example personalized onesies, T-shirts, blankets, pacifiers, etc. always are a good idea, especially for twins!

Browse my cute baby gift ideas for even more baby boy gift suggestions!