5 Designer Baby Gifts Perfect For Gift Giving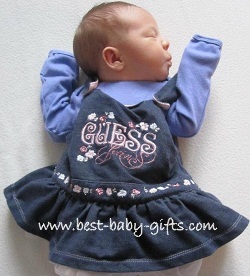 Cult, cult, cult - designer baby gifts!
Many designer brands feature cute infant gifts and special baby sets for gift giving. Here's a listing of the 5 best newborn designer gifts for 2015!
Most designer baby (gift) sets are gender specific but there are also unisex ones available. The choice and cuteness are vast! So let baby hang around, eat and sleep in style and let baby have its first luxury!
Designer Baby Gift Ideas
7 For All Mankind
A denim brand that mommies love! Jeans, jeans, jeans - that's what 7 For All Mankind are famous for. So get one of the 7 For All Mankind signature jeans sets for baby. Available sizes normally are 0-3 months, 3-6 months,  6-9 months and 12 months. For more details simply  click on the images.
Small Paul - Paul Frank Baby Gift Sets
Designer Paul Frank have a cute infant line labelled 'Small Paul'. Who doesn't know that cheeky monkey!
The Paul Frank Infant Feeding Set is made of recycled material, it is BPA free and dishwasher safe. The red and blue design is perfect for both girls and boys, so it makes a great unisex baby gift. The set consists of a feeding bottle, a fork, a spoon, a spill proof sippy cup, a teether and a milk powder container. It has the cute Paul Frank signature pattern all over.
The Paul Frank Infant Care And Grooming Gift Set comes in pink with the Paul Frank signature pattern. It includes a feeding bottle, a comb and a brush, nail clippers, safety scissors and a medicine nurser.
Steiff Sleep Well Bear Gift Set
This is such a cute designer baby gift for girls and boys alike! The Steiff Sleep Well Gift Set in a suitcase, consisting of a little Steiff suitcase, a cute cuddly Steiff bear and a long-sleeved Steiff sleep set. It comes in white (white and grey stripes), pink or blue. The little suitcase later on would be an awesome box for baby's firsts and keepsakes to store!
timi & leslie Abby Diaper Bag Set
The practical and stylish timi & leslie Abby Diaper bag set consists of the actual diaper bag plus 6 accessories. As I said it is very stylish and actually does not look at all like a diaper bag. It is made of polyurethane (faux leather) and includes the diaper bag, a clutch for mommy's belongings, a pair of stroller straps and a detachable shoulder strap, an insulated bottle tote, a zippered wet bag and a baby changing mat. The dimensions are 15,5 x 5,2 x 13,5 inches.
Also check out the other fashionable timi and leslie 7-piece diaper bag sets (models Dawn, Sophia, Rachel, Annette, Hannah, Madison).
Little Marc Jacobs Bodysuit & Bibs Set
Little Marc Jacobs is the baby line by Marc Jacobs. They have various cute and stylish clothing items for baby girls and boys and also beautiful gift sets that are just perfect for gift giving. The sets come in a special and unique gift packaging and contain extremely cute bodysuits with short or long sleeves and two matching bibs. 
For more designer baby gift ideas check out my pages on
and

Where To Shop For Designer Baby Gifts:
So where do you best shop designer baby gifts? Other than the a.m. items which are all conveniently available online at amazon.com, here are the best shopping tips:
Check out small baby boutiques in your area.
If you live in the US or in Ottawa, Canada, visit your nearest Nordstrom Store. They have a vast selection of baby designer brands and designer baby gear. If there's no store near you, visit Nordstrom.com, they also ship internationally.  
Another great department store baby designer gear and clothes is Bloomingdales and their online store bloomingdales.com that ships to over 100 countries.
If you live in the US, check out T.J.Maxx for the occasional designer brand baby gift. You shouldn't look there for anything special but just check the offering and maybe be lucky to find a perfect designer newborn gift or gift set.
Diffusionkids.com is based in the UK and ships internationally, too. 
Browse alexandalexa.com, based in the UK, offering free delivery on all international orders over $160 and free returns from selected countries.
Another great online baby designer shop with worldwide shipping is childrensalon.com. 
Happy shopping!
If you are looking for designer baby clothes, browse here. 


 Return from Designer Baby Gift Sets to Best Baby Gifts Homepage