Creative Pregnancy Announcement Idea
This creative pregnancy announcement idea will wow your partner, parents, sister, brother and simply the whole family! It is so unique, creative and awesome and very easy to make. 
A baby is on the way? Congrats if you just found out you are pregnant! Here's a fun way to tell your family you're expecting and that they are going to be a

dad
grandma
granddad
grandparents
aunt
uncle
big sister
big brother
cousin
soon!
Here are some cute ideas on how to reveal your pregnancy.
Congrats on becoming a mom and congrats to the daddy to be!
This little  sleeping baby in a burp cloth is a really cute and unique way to tell your partner he's going to be a dad soon! And it's sort of practical, too. Use a pair of "I love daddy" socks and once the baby is there, the little one can wear these  socks while the new dad feels flattered. And having his "very own" burp cloth will allow you to pass on baby to daddy without any excuses!   
This little diaper doll is also suitable and ever so cute for a dadchelor party gift. Add a gift card and you're set!
These creative pregnancy announcement ideas are great to inform your family and friends: 
Yay, we are pregnant and we are going to be parents!
You are going to be grandparents - grandma and grandpa!
You are going to be an aunt!
You are going to be an uncle!
Ask: Do you want to be my godmother / godfather?

How To Make This Creative Pregnancy Announcement Idea
For the diaper baby you  just need a "fluffy" and ideally white diaper, a pair of socks, some ribbon and a felt pen to draw the sleepy eyes with.
If there's a prominent design on the diaper, the baby's face will not look nice and cute but rather stained. So a plain diaper is the best. Here's the diaper baby tutorial, go to the "sock diaper baby" section.
For your "sleeping bag", all you need is a square burp cloth with an approx. size of 30 x 30  inches. If you only find rectangular ones, that's not a problem, just fiddle a bit with your folding. Moreover, it's nice if the cloth is made of organic cotton but not a must.
For folding your cloth, the baby's sleeping bag that is, follow the arrows on the photos below. Lay out your cloth and fold it over once (step 1), then fold it a second time, so it roughly has a width of about 7-8 inches (step 2). Afterwards fold in the bottom and then the top (step 3). Make sure your design is correct so later it's not upside down on the finished diaper baby.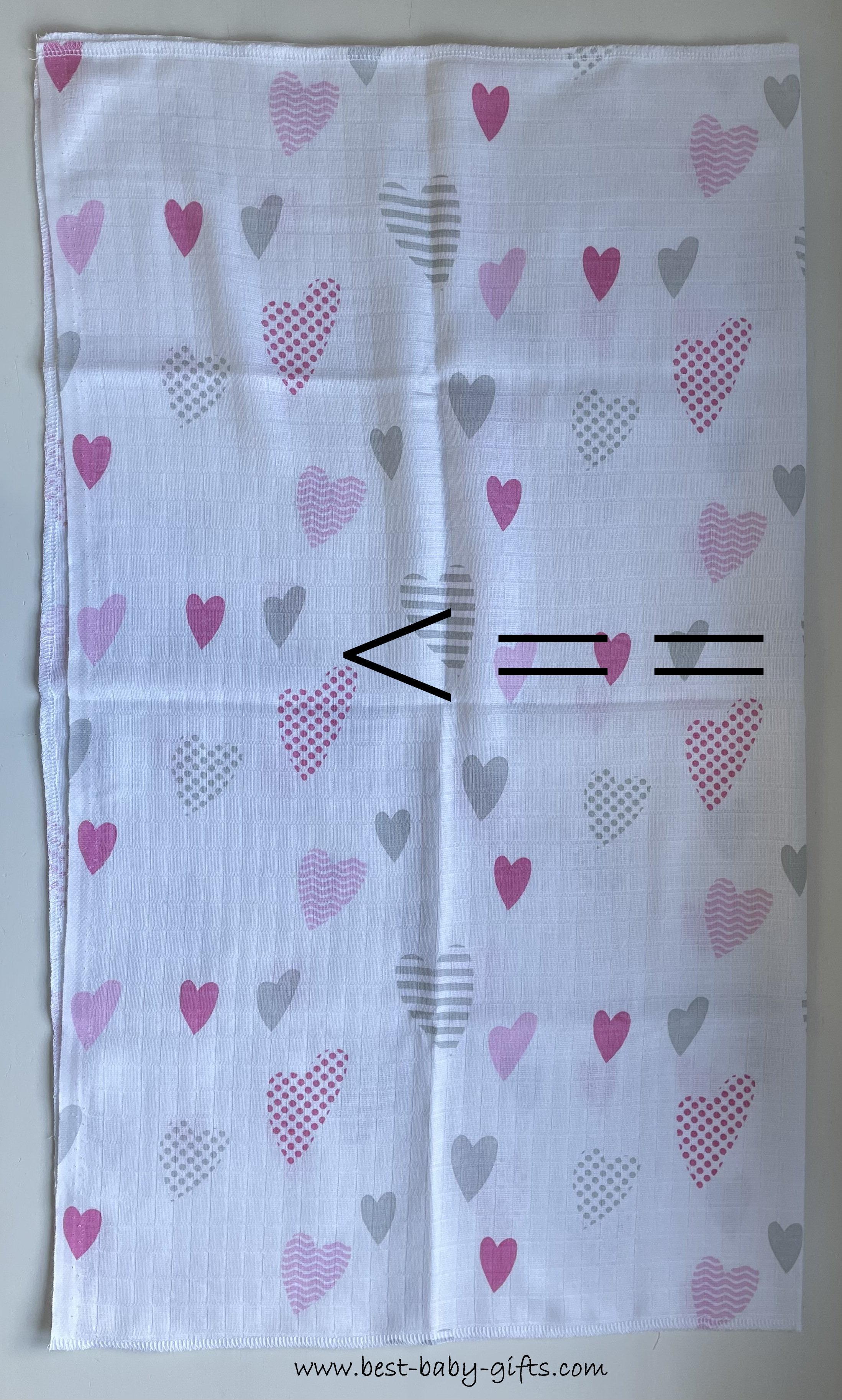 step 1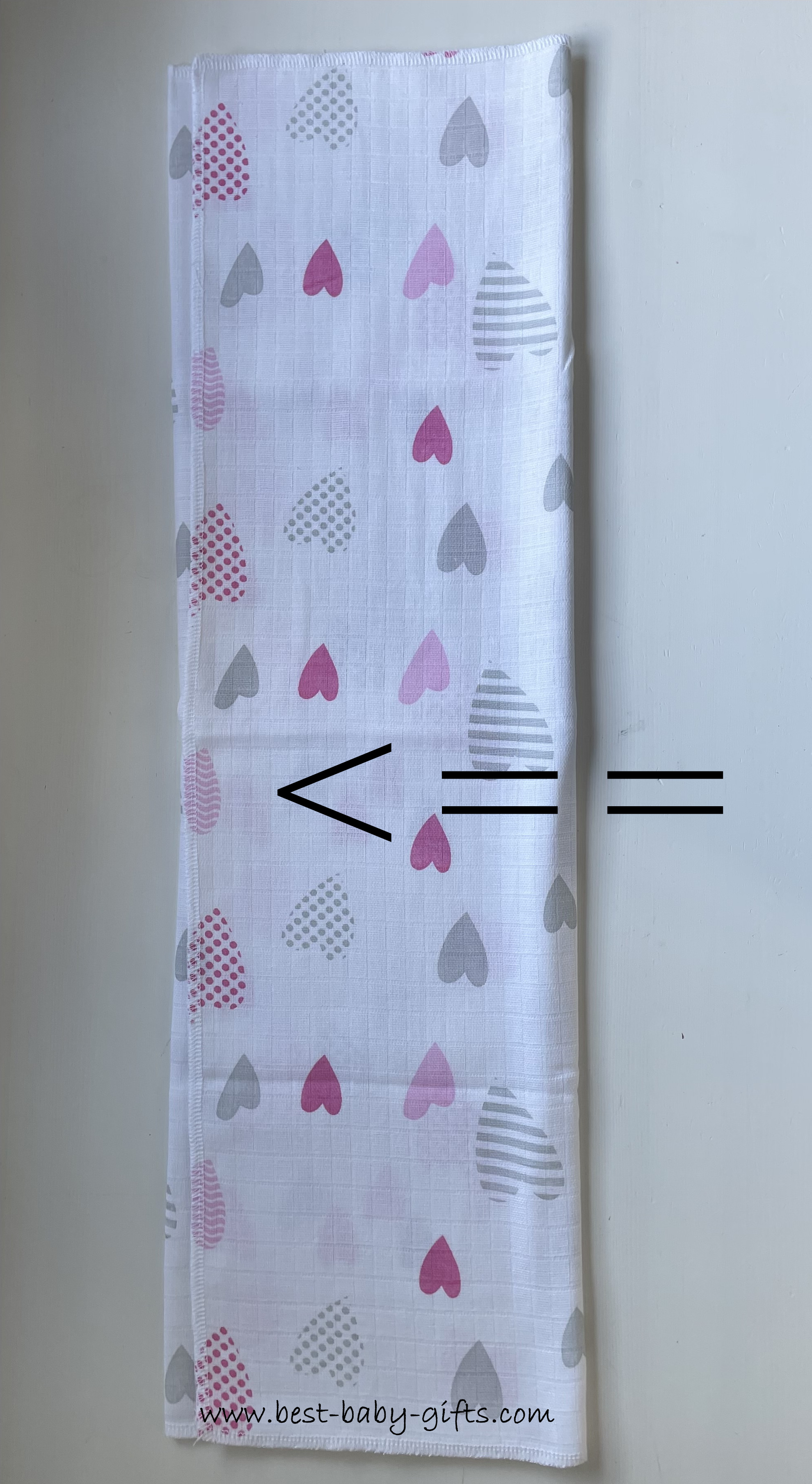 step 2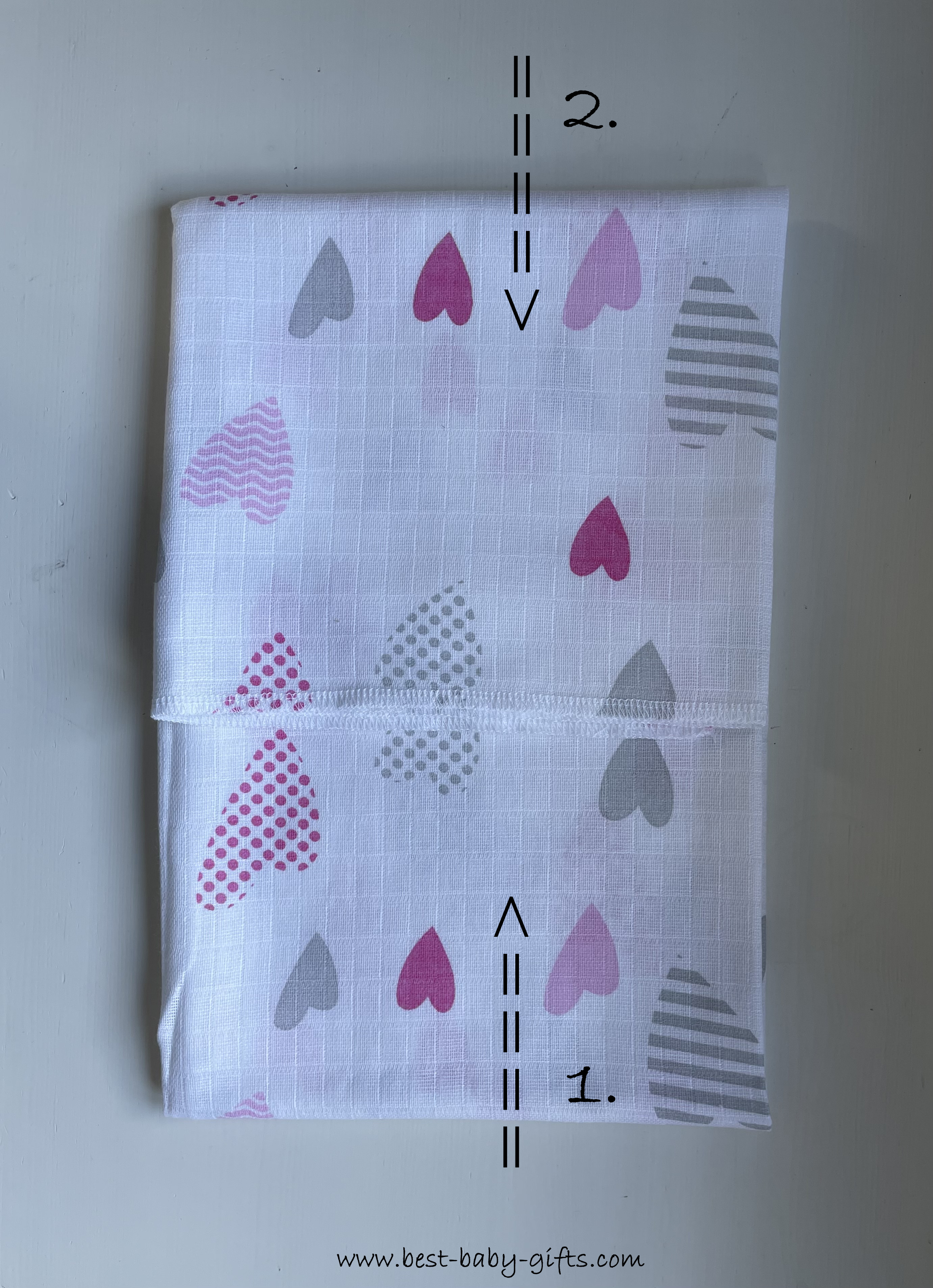 step 3
Next, place your sock diaper baby on top of your folded cloth (step 4). And finally fold the bottom of your cloth over the baby's belly, wrap a nice ribbon around and - if you have one - place your bear sticker beside the baby. Then add your message such as "You are going to be a daddy" and have fun presenting it to your surprised family members! 
---

We Are Going To Be Parents! Mom & Dad Est. 2023
You want to tell your husband / partner that you are pregnant and that he is becoming a dad but you are not into making things yourself? So how about buying this adorable set?
Then make breakfast for your boyfriend / husband, use these cups and have your partner unpack this cute "adventure awaits" onesie and arrow bib. The baby set is available in two versions with a neutral green or yellow bib. 
---

Godparents Proposal Idea: Will You Be My Godmother / Godfather?
This also is a sweet idea for your godmother, godfather or godparents proposal. Even if you have already given birth you can still use this diaper baby in a burp cloth idea to ask "Will you be my godmother", "Will you be my godfather" or "Will you be my godparents"?
Since you know baby's sex by then you can make a pink or blue baby accordingly and also use a girlish or boyish burp cloth for your godparents proposal.

Your Message: Creative Pregnancy Announcement Idea 
You can do your stickers by hand: Just cut a round or heart or any other shape using some cardboard or thicker paper. You can also buy colorful sticky post-it notes in various shapes.
Writing down your message: Use a black felt pen for your message. Letter stencils are also great for a neat writing. There's also sets to master calligraphy and hand lettering in no time.
Alternatively create your writing online (for example with power point) or design and order your (ready-made) stickers at an online shop.
Design your personalized stickers here:
#ad

You're going to be a... - another creative pregnancy announcement idea
Design your own baby onesie, mug, t-shirt or any other product and let the dad-to be, your parents and parents-in-law, your sister or brother and the whole family know that they are going to be a dad, a grandma, a grandpa, grandparents, a great-grandma, a great-grandpa, great-grandparents, an aunt, an uncle, a cousin etc. soon! 
Here are some more ideas on how to tell your hubby or family that a baby is on the way. Some of these can easily be combined with my "baby in a sleeping bag" idea! 
---
---