Giving Gifts From Baby

Say 'thank you' or send best wishes with gifts from baby.

Whether it is for Christmas, Valentine's day, Easter, mum's birthday, dad's birthday, grandma's birthday, granddad's birthday, Mother's Day, Father's Day, a relative's or friend's birthday or just a small present to bring for an afternoon visit: browse great gift ideas baby can 'make' and you can make with baby!  
Yes, even baby can make a gift now - and not just receive gifts ;-) Grandparents will be pleased about a handmade gift and photo gifts are very popular with them, too. Get cute and creative ideas for gifts from baby for the whole family and friends here!
By the way, some of these gifts are also suited to let your your parents / in-laws know that they'll become grandparents soon...!


Gifts From Baby For Grandparents
Baby Countdown Clock
This one is too cute! Baby on the way, countdown to our new baby. This is a great gift idea to tell the future grandma and grandpa that there is a granddaughter / grandson on the way! Get the baby timer, set it to your due date and give it to your parents and / or in-laws so they can always see how long they still have to wait for that little addition to arrive. Without doubt, granny and grandpa will be delighted about this gift from baby!
#ad
Photo Album Of Baby's First Pictures
Make an online baby picture book and have it all ready printed. If you have never made a photo book before, try shutterfly.com. 
Alternatively buy a photo album or scrapbook and add baby's first pictures and some baby keepsakes like its first curl.
Add some inspiring grandparents quotes.
Grandma and grandpa will want to browse through your photo book thousands of times... 

More verses to personalize your gift from baby: grandma quotes and grandpa quotes.

Handprints Canvas Art
Mommy or daddy can get creative with baby and both do their handprints and / or footprints for your partner or the grandparents.
You can also create great and colorful art pieces with baby's hand or footprints like transferring footprints into a butterfly:

This set contains non toxic paints and comes in pink for girls and blue for little baby boys. A great keepsake that all parents and grandparents will love. 


#ad
Classic Children's Books For Grandparents To Read Aloud
Get the grandparents a couple of classic children's books they still know from their own childhood. Whether it is fairytales by the Brothers Grimm, Goodnight Moon or the Three Little Pigs, grandma and granddad will love to read these well-known stories over and over again to their grandchild(ren).
Personalized Photo Mug - For Grandparents, Dads, Aunts, Mothers,...
Choose your best smiling baby picture and have it printed on a coffee mug. Add a slogan like 'Hello Granny!', 'Good Morning Grandpa!', 'Coolest Dad', 'I love my Aunt', 'Best Mom' - the ideas are endless - and you have a gift that will make these proud parents and relatives happy every day! 
Personalized T-Shirts
Get those new grandparents a cool T-shirt with a funny slogan like 'Best Grandma', 'This is what a cool grandpa looks like', 'Grandpa gone wild', 'Grandpa is my name, spoiling is my game', '#1 Grandma',... Thus, everybody can see, this person is a proud grandma or grandpa! You can also get personalized tees saying 'Emma's Grandpa' or 'Luke's Grandma', etc.
If you want to design and personalize a shirt yourself, I recommend using Zazzle. You can either start your own design or use a design and do some alterations or add a name, etc.  

Framed Photo Of Baby In A Slogan Onesie
Get baby a slogan onesie like 'I love my grandma', 'If you think I'm good looking you should see my aunt' (or uncle), 'Mommy rocks', etc. Take a picture of baby wearing it, frame it and give it to the grandparents, aunt, uncle, mommy, daddy, etc.
More ideas for funny slogan onesies to give to mom, dad, grandma, grandpa, aunt, uncle and friends.

---
Special - gifts from baby for Xmas: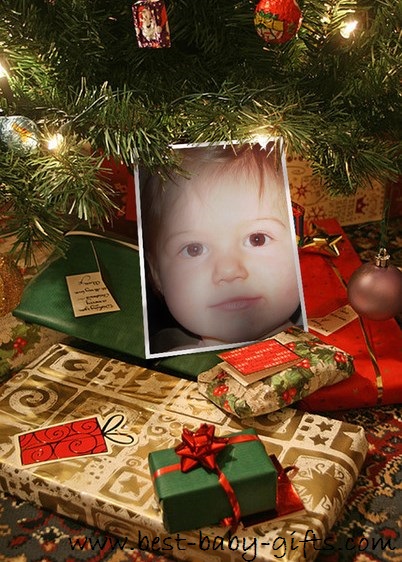 ---
Mother's Day, Father's Day and Valentine's Gift From Baby
Most of the gift ideas above also very well qualify for Mother's Day, Father's Day and Valentine's gifts from baby. But since these days have sort of a special 'love meaning', consider the following variations.

If you want a 'low budget' gift from baby just buy a nice card - for Mother's Day, Father's Day or Valentine's Day -, write on it how much baby loves his dad or his mom and sign it with baby's handprint or footprint (ordinary watercolors will do for that purpose and they easily wash off baby).  

On Mother's Day / Valentine's Day dress baby in a onesie saying 'mom's little princess', 'I love mom' or anything similar. Mom will be ever so pleased and flattered!




Precious Moments have a wide range of little figurines for moms. The one pictured below is called 'I love mum'. It is also available in a girl version. Click on the image for further details.




Get a DIY snow globe (see above) where you can insert two photos. On one side insert a photo of your baby (or baby and yourself), on the other side a note saying 'I' or 'We love mommy'.





How about a cute 'daddy's girl' picture frame. Take a photo when daddy plays with baby or when he is changing diapers - anything dad interacting with baby will be great for that purpose!




Also cute: baby's hand and / or footprint in clay with 'daddy's girl' carved in.




A personalized pacifier 

saying 'I love my dad' in pink or blue is a very cute Father's Day or Valentine's Day statement from baby, too.  



Gifts From Baby - Exchanging Gifts With Siblings Or Cousins
Give baby a good start into the family by exchanging gifts with an older sibling or cousin. Once daddy and the sibling(s) come into the hospital to see the new baby for the first time, have little gifts from baby for the big brother or big sister. This doesn't have to be a big thing but just a little something. How about a cuddly teddy bear for the brother or a (small) doll for the sister so they can have a 'baby' to look after and care for, too? In return the sibling brings a little something for the new baby - how about a cute pacifier or baby rattle? By exchanging gifts the new sisters or brothers can start to bond in a cute way.

Cute Gifts From Baby For Everyone
Magic Photo Mug With Baby's Photo
Create a personalized magic photo mug from your favorite baby photo. Check out Snapfish or Walmart for this fancy gift from baby. The magic photo cup looks just like a 'normal' unicolor mug. But once you pour a hot beverage into the mug you can watch baby's photo appear as if by magic! It's simple to create, just choose the photo you want to appear on the mug and let Snapfish or Walmart, or any other photo service offering it, do the rest. A really unique gift idea especially if the presentee never has seen such a mug before!


Travel Mug With Baby Art
| | |
| --- | --- |
| Buy a 'Create your own tumbler'/ 'Design your own travel mug' and insert either baby's photo or print its hand- or footprints or even both as well as some nice text to personalize it. With a bit of creativity you can come up with a great and cute artwork everyone will love. The DIY tumblers and travel mugs come in various colors and with various designs to do your artwork on.    | #ad |

Baby's Photo As A Jigsaw Puzzle
Choose just one or several baby photos, customize with some text and have a puzzle made. Most companies offering photo gifts have this in their range but how about using the famous Ravensburger puzzle manufacturer? Check it out at ravensburger.us. The Ravensburger personalized photo puzzle comes in a gift tin and really makes a cute gift.  



Giving gifts from baby is so much fun!

Do you have more cute ideas for gifts from baby? Please let me know by using the contact me form. Thank you!


Gifts for new moms from baby.

I love dad! More present ideas from a newborn to dad.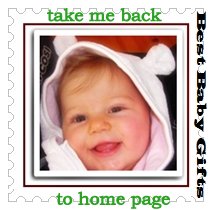 ---
---