Family Fun With A Kids Wagon!
A kids wagon can be so much fun and entertainment for the whole family! It makes long walks as well as trips to the park, zoo or anywhere else a lot easier both for parents and kids.

A pull-along-wagon for a baby, toddler or sibblings makes a great and unique gift from the grandparents to their granddaughter, grandson or grandkids. And no matter whether for baby's birth, baby's christening or for a 1st birthday or even later, it'll always be a hit and bring lots of fun for the whole family!  
being pulled is so much better than having to walk... ©depositphotos
(Not Only) Summer time is wagon time!
A great gift idea from grandparents to their grandchildren!
When it comes to selecting a buggy to pull (your) kids in, you are spoiled for choice. But maybe you are also at a loss because you cannot decide which one to buy due to the great variety, the special features and the smart technology solutions on the market. 

This page reviews and compares wagons suitable for toddlers and kids made by various manufacturers such as STEP 2, Kettler, WonderFold, Little Tykes and more. Because of their wide range, Radio Flyer wagons are listed separately, please follow the link at the bottom of the page! The most valuable features and unique properties of each cart are listed below so you see at one glance whether this wagon is right for your needs.

What to consider before buying a kids wagon / your checklist:
Important! Before you choose your pull-along cart for your kids or grandchildren think about these details: 
How many kids do you need the wagon for?

What age do the kids have?

Do you want / need molded seats in your cart?

Do you want / need seat belts?

How much storage space do you need? 

Do you want to take the wagon in your car with you? And if so, how much space do you have in your trunk?

Should the wagon have a canopy?

Are you taking the cart for walks and trips with the kids only or for transporting stuff around the farm, garden, yard, too?  

Where / what terrain do you mainly want to use the vehicle on? 

Do you favor a certain material (plastic, wood/steel, fabric)?
Having read these questions you will agree there cannot be a 'best kids wagon' but you have to choose the one that best fits your personal needs!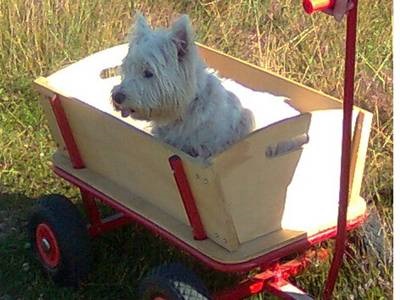 one spoiled doggy ;-)
Comparison of the best kids wagons:
- note that Radio Flyer Wagons are listed on a separate page,
follow the link at the bottom! -
- information has been revised and updated for 2023 -


Made By STEP 2
STEP 2 NEIGHBORHOOD WAGON
Recommended for 18 months - 8 years
Product dimensions: 20 x 39 x 17 inches
Suitable for 2 kids plus storage

Price approx. 70 $
This practical kids wagon by Step 2 seats two. It is well built, easy to assemble, very sturdy and has deep seats for safety as well as seat belts. The seats are permanent and do not fold down. There is no door. The long handle makes it easy to pull and folds under the wagon thus transport (provided your car is big enough for the wagon body - dimensions see above) and storage are no problem. The wagon has molded-in cup holders and a large storage compartment that is built-in under the hinged rear seat. The wagon turns smoothly. The wheels are made of plastic and work great on paved ground, grass and dirt trails. They do not work that well on sand. A great wagon for two little ones, making a trip to the park easy and fun for everyone!

STEP 2 WAGON FOR TWO PLUS
Recommended for 18 months - 5 years
Product dimensions: 15 x 19.8 x 39.2 inches
Suitable for 2 kids (plus separate extra storage trailer available)
Price approx. 70 $ (storage trailer excluded)
The Step 2 Wagon For Two Plus comes in blue or willow green, and it easily accommodates two little ones. It is easy to assemble and has two seats with seatbelts, the seats do not fold down. There is some storage room underneath one of the seats. The wagon features a latch door making it easy for the little ones to get in and out. The long and convenient handle folds under the wagon thus neither transport nor storage are a problem. The long handle makes it easy also for taller people to pull the wagon. The wheels are made of hard plastic and also work fine on thick grass and dirt.  A Tag-Along Trailer Plus is available separately, it measures 14 x 32 x 19.5 inches and adds a lot of extra storage. The extra trailer is not meant to carry a 3rd kid, however!   

STEP 2 PUSH WAGON
Recommended for 18 months - 4 years
Product dimensions: 
19 x 45.5 x 34 inches, 17 pounds

Suitable for 1 kid plus storage

Price approx. 75$ 
Step 2 have several push car models. These push cars are for just one child, meaning you push the wagon in front and cannot pull behind. Since people tend to ask whether it can be pulled, too. No, it can't. So, if you have just one toddler 'to transport' this might be a cool ride for the little one because this car pretends the kid is in control of where to go. The car also has a horn to blow. The push car has a safety belt to keep the toddler secure. The handle bar folds under for transport and easy storage. Some models come with 'whisper wheels'.  Spacious storage is available under the car's hood and cup  holders for toddler and parent are available, too. 
Need A Kids Wagon for 3 or even 4?
Check out this wagon if you have more than 2 kids. Great for twins and a sibling or for triplets or even for (little) quadruplets! 
For bigger kids and 4 kids check out the marvelous WonderFold Models (see below)! 
STEP 2 CHOO CHOO WAGON

Recommended for 18 months and up to 5 years 


Product dimensions: 

38.2 x 53.5 x 19.5 inches, 27.8 pounds
Suitable for 2 and 3 kids or even 4; plus storage
Price approx. 110$ (wagon) and 50$ (additional trailer for 3rd kid) 
Here's the wagon for 3 or even 4 little ones. And each kid rides in a separate wagon! The Choo Choo Train Wagon has a red and a blue wagon that cannot be detached. So with just one kid you will always have to pull the second seat around with you, but that's totally okay and valid for most wagons. You might like to transport any additional gear in it. The additional trailer for kid 3 (and another one for kid 4) is orange. This wagon is great for 2, but if you have 3 babies / toddlers or even 4 to transport, it is one of the best. You can get this as a combo with 2 wagons and a trailer. There is under seat storage in the wagons and the trailer as well as seat belts and molded cup holders. The wagon is sturdy and has a decent turning radius with quiet wheels.
Note: Step 2 does not promote this wagon for 4 little ones but reviews from customers have shown that it is well possible to have the wagon plus 2 trailers. It's just a little harder to pull ;-) Customer statement on amazon: "I have 5 cars on mine. It's heavy, but if you stay on flat roads/sidewalks, it's not too bad. I probably pull 120lbs between the 5 cars." 
Watch the Gardner Quadruplets on their Step 2 train wagon ride!
So cute! Actual train ride starts at minute 4:30.
Check your local dealer or online for the choo choo wagon and choo choo trailer.
If you are interested in a kids wagon for three also check out the Easy Go Folding Wagon below.
Made by WonderFold
and suitable for 4!
 
WONDERFOLD W4 ORIGINAL 4 SEATER QUAD STROLLER WAGON WITH REMOVABLE RAISED SEATS AND SLIDABLE CANOPY
Recommended for - 6 months plus
Product dimensions: 50 lbs
Weight capacity: 300 lbs
Suitable for 4 kids or 3 kids plus storage
Price approx. 595$
Alas, a manufacturer that makes wagons with 4 seats - they have even more models for 4 kids (type W4) - but also some for "only" 2 (type W2). Yes, you read correctly, this WonderFold wagon is made for 4 kids!
And no, they are not exactly cheap, but if you read the reviews you'll see they are worth every single penny... Check this one here as well as all the other WonderFold models with all their outstanding features out on amazon. 
Made by Kettler

KETTLER CLASSIC FLYER AIR TYRE WAGON
Recommended for 18 months to 8 years
Body dimensions: 40 x 19 x 14 inches, 30.5 pounds
Suitable for 2 kids
Price approx. 160$
If you don't like plastic, this metal / wooden wagon might be the kids pull-along-wagon for you! This sturdy cart is made by the well-known German company Kettler -even though the wagon itself is made in China. The Classic Flyer Air Tire Wagon is suitable for every terrain and made of natural wood. It has four removable real wood slats and thus can be customized as needed. The Kettler Classic Flyer has a 34 inch metal base. The pneumatic tires make it absolutely silent on paved surfaces while the contoured resin hand grip enables easy pulling, even for longer distances.
The cart does not have molded seats nor seat belts, thus toddlers should be 18 months and older to sit in it safe. But since it lacks these features also one or two older kids (up to 8 years and up to 200 lb.) can comfortably sit in there which makes it more spacious than most other wagons on the market. So that might be well worth the extra bucks.
Made by Learning Curve

LEARNING CURVE: JOHN DEERE - 36" STEEL WAGON WITH WOODEN STAKE SIDES / 36" STEEL STAKE WAGON
Recommended for 24 months - 6 years


Product dimensions: 

46 x 21 x 34 inches, 39.8 pounds
Price approx. 175$
The John Deere steel wagon with wooden stake sides by Learning Curve comes in the famous 'John Deere green'. It is suitable for toddler age (recommended for 2 years and up). There are neither molded seats, nor are there seat belts. But this makes it also easier to use it for heavy loads around the yard and bigger kids can still have a ride or will enjoy hauling stuff around the garden with it. The edges and corners of the wagon are rounded for safety and it has steel wheels with rubber tires guaranteeing smooth rides also on rough terrain. The body is made of rust-resistant steel, the wood is not treated. While the wagon is very sturdy, the turning radius is rather wide and the handle does not fold completely under the wagon. So if you want to put it in your car's trunk it is not very practical since you need to remove the sides and the handle.  
Also perfect for your little outdoor princess: for girls this wagon is available in pink, too! How cool is that? It even has added flower decals (stickers) to decorate your real John Deere gem! A dream for every little girl - and her parents / grandparents ;-)
Made By Ever Advanced
EVER ADVANCED Foldable Wagon for 2 kids plus cargo
Recommended for 2 to 7 years
Product dimensions: 42 x 27 x 46 inches, 33.1 pounds
Suitable for 2 kids
Price approx. 280$
This gray premium stroller wagon is made of nylon and steel. It's collapsible yet sturdy and very easy to fold and unfold. The canopy helps to keep your kids in the shade but it can also easily be removed. A large backpack storage pocket and a cover pocket offer lots of storage space.
The wagon has many more features such as a push and pull handle, harnesses, cup holders, a food tray, etc. Make sure you watch the little product video on amazon! 
There's more models of Ever Advanced wagons to check out, also one foldable into a bag and one convertible into a bench (side-unzip). 


Made By Hauck
HAUCK ECO WAGON
Recommended for 18 months to 15 years
Product dimensions: 38 x 30 x 29 inches,  36.4 pounds
Suitable for 2 kids
Price approx. 200$
The Hauck wagon comfortably fits 2 on cushioned seats. However, there are no seat belts, and no cupholders either. The steel tube frame is foldable making it easier to transport. The manufacturer claims it fits in the trunk of an average car. The canopy is included, use it with or without it. The wheels work well on sand and beach. This wagon is also very cool to transport your food, drinks, ball gear etc. The fabric is forest green and hand washable.


Kids Wagons To Fold: Easy Go Wagon
FOLDING WAGON BY EasyGoWagon



For ages 18 months - 5 years (no manufacturer recommendation available)




Product Dimensions: 32 x 24 x 10 inches, 30 pounds


Suitable for 2 (3 small) kids plus storage
Price approx. 95$
In regards to storage and taking the cart along with you in your car, the Easy Go Folding wagon is unbeatable! No more transportation hassles with this kids pull-along wagon. A new patented folding design makes it small enough to fit in the trunk of any standard car. The Easy Go Wagon has heavy duty wheels that work great on paved streets, dirt and sand and that are quiet, too. The wagon has a large handle for easy hauling and it can be used with or without the canopy / sun shade.  Weighing 30 pounds, both the set-up and takedown of the EasyGoWagon are extremely easy and the folded wagon easily stores in your garage. 
The EasyGoWagon is made of fabric and does not have seat belts, neither has it a cushion insert but this does not seem to be a disadvantage. I know two families that have this pull-along wagon in use and they do not mind: their kids (18 months twins in one case) seem to be quite comfortable just sitting on the deep bottom. Add a padded sheet if you think that this makes it more comfortable for your little ones. As there are no actual seats, you can even accommodate 3 smaller kids and not just 2. Currently the wagon is available in red and blue.
RADIO FLYER WAGONS
In case you were wondering why there are no Radio Flyer wagons listed here: Radio Flyer probably is the best-known kids wagon manufacturer and also the one offering the most models and diversity. Find their outstanding range on a separate page: Radio Flyer wagons for kids.
Do you already have a kids pull-along cart in use? Let me and my visitors know what you like and what you dislike about it. Please use the 'contact me' form. Thank you!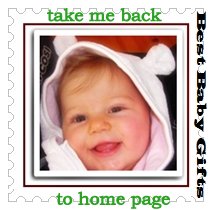 ---
---