Best Baby Picks For 2022
Here are my best baby picks for the current year. These are my special choices for you if you do not have any idea what to give and what to look for when gifting a new family.  

Here I let you know about my (regularly updated) personal favorites and tell you what I'd bring to a baby shower or give as a newborn gift these days.

As you may already know, I'm a mom of 3 and I have a big family. In addition have done research on baby products for about 15 years now. I tell you what a new mom or rather a new family really enjoys and needs.  
Either use my best baby picks for gift giving, have them listed on your own baby registry or give yourself a treat and buy them for yourself. 
One of my present favorite baby picks.
So cute for a baby shower! 
---
---
Best Baby Picks
Something Cute & Relaxing:
Blooming Bath Baby Bath
Think of all the cute baby bath pictures you can take with this one! Even though, I have to admit,  this is not the actual purpose of the Blooming Bath flower ;-)
The Blooming Bath comes in 5 spring-like colors such as pink, yellow, green, turquoise and ivory. It's very easy to use, can be machine washed and thrown in your dryer.

Those days where bath time meant tears and crying for sure are over with the fun Blooming Bath Baby Bath!

Among others, already years ago the yellow Blooming Bath was chosen as the 'What To Expect Moms Love-It Award winner' in the bathing category.  It was also featured on the Ellen Show as well as on the Today Show. And for sure it still is a best baby pick for nowadays, too.
Something Practical & Modern: 
Help Mommy To Organize Baby's Keepsakes
I'm really embarrassed having to confess, but the keepsakes of my kids are to be found all over the place. And unfortunately, after some years, I do not know anymore of some of them which child they actually belong to. What a shame!
But..., if I have had these cool, modern and most of all convenient keepsake boxes I would be much better organized now. These colorful boxes make saving baby's keepsakes really easy and simple and they go great in your living room shelf or in baby's nursery. They come with more than 50 handy labels, 9 small drawers, 8 files, initials for personalization, envelopes (US letter size only, not suitable for A dimensions) and a birthday survey. The keepsake boxes really make a great gift for every new mom, a cool baby shower gift, and most certainly a best baby pick! They are also a great gift idea for a second or third baby or even twins. They come in 3 colors: ocean, plum and slate.  

Something Posh & Expensive:
A Designer Baby Outfit Or Designer Baby Gear
Talking about myself there are things I really like but I'd never buy because they are too expensive or more expensive than the 'ordinary' item. Also if it is clothing, babies and toddlers outgrow them so fast. But if someone gave them as a present to me I'd be more than happy!
And with so many things to buy for a new family addition often only the basic versions are affordable.
So how about giving some designer clothes for the little one such as by Armani, Boss, DKNY, Stella McCartney, Kenzo, Dolce & Gabbana, Ralph Lauren, Moschino, Burberry, Young Versace, just to name a few. I also love the exclusive Steiff Baby & Toddler Clothing Line with the cute tiny little plush bear.  
Designer baby gear is a bit more expensive, also depending on the product or gear you choose.    
And if you still cannot decide what to give, how about a gift card to a high-end baby store? A gift card also gives you the freedom of choosing any amount you want.
More luxury and expensive gift ideas for a new arrival.
Something Useful & Stylish:
Organic Drool Bibs
If you or the presentee has a baby like I had that was constantly drooling whether teething or not, a pack (or even better two packs!) of burp cloths will be a really helpful gift. The days where the chest and front of the little one's shirt is constantly wet will be a thing of the past! And a drool bibs set is just the right thing to prevent this from happening. 
Ideally drool bibs should be easily adjustable, soft and made of an organic, absorbent fabric rather than plastic. As drooling babies will wear these all the time it is nice if they do not just cover up baby's  outfit but if they rather are a fashionable accessoire. These 100% organic cotton bibs come in sets of 8 and various colors as well as designs. So cute!
More Best Baby Picks 2022
Something Classic, Vintage & Fun:
Wooden Blocks
Look at our beautiful wooden blocks! We have been using these for over 12 years now. I just love those colorful handmade blocks, the carved letters with the fancy scroll borders, the ink drawings and that vintage design. And the best: My kids like to play with them for hours!

The Uncle Goose Classic ABC Blocks really make a great gift for baby's birth. It is true, a newborn is not able to really play with these yet but one can use the blocks to make great memories with while baby is still small. These colorful blocks look so cute on a newborn photo and you can write things like baby's name, baby's monogram and 'welcome' with the blocks. They are also cute to use for baby's age on the photo such as 1 month, 2 months, etc. Since the blocks are no small objects and printed with non toxic, lead-free child safe inks, baby cannot be harmed by them, even though the edges may be a bit sharp in the beginning.  

Once baby is a toddler he or she can use the blocks to stack them and knock them down, to build towers as high as they get. They also help (pre-)kindergarten kids to become familiar with numbers and letters. This really is a gift that will be around for a while.
What I also really appreciate about the Uncle Goose Classic ABC Blocks is that they are handmade in the USA! They come in different packages. Whether you choose the ones in a cardboard box, the ones in a canvas bag or the ones with the pull wagon (= extra fun!) is up to you.
More wooden blocks: Here are the blocks of the other kind! These wooden baby milestone blocks are the cutest. Use them as age photo props for your baby photography or as a nursery decor. For sure, these really make a great (baby shower) gift!   
Something Funny, Personalized Or Inspirational: Check Out Zazzle
You name it - Zazzle has got it! Browse Zazzle for great newborn gift ideas and the best baby picks! They have cute baby onesies with a funny or an inspiring saying, baby shirts with Disney prints, personalized pacifiers, baby blankets, diaper covers - you'll get everything there.
Zazzle offer many customizable items so how about a baby pillow with baby's birth details or an inspirational newborn quote on canvas for the little one's nursery? My personal favorite is a pink or blue onesie or romper with 'Cutest baby 2022' or 'Best Baby Gift 2022' printed on!
You can start from scratch and design your own or take a ready made design (the one below has been designed by myself) and just personalize it with baby's name and / or other details.
Zazzle is available worldwide, check it out.
Know a best baby pick that absolutely needs to go on this list? Let me know so I can spread the news to all those new moms out there and to people searching for the 2022 top baby gifts! Thanks.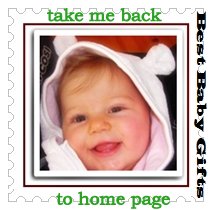 ---
---