Unique Christmas Gifts For Baby 
It's time to think about Christmas gifts for baby because
soon it'll be that magical time of the year again!
Shopping for Christmas gifts for a newborn - whether as a parent, a grandparent, an uncle, an aunt, another relative or a friend - is fun and really easy now!  
Let me show you my favorite Xmas gifts for baby's 1st Christmas to make it a  Holiday to remember.
And in case you are searching for a toddler Xmas gift, have a look further down the page and you'll certainly get some cute ideas for pre-school kids, too.    

Unique Christmas Gifts For Baby - My Best Picks
Christmas Baby Outfit / Christmas Baby Accessories: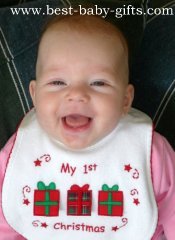 With a Christmas outfit or a Christmas accessory you can never be wrong. Get a complete girl or boy Christmas outfit set or just a single piece like a bodysuit. Since Christmas normally is the cold season of the year you should go for a long-sleeved outfit. It also would be a shame if you had to cover a short sleeved Christmas onesie with a long-sleeved shirt or sweater. If, of course, you live in a region where it's mild or even hot during Christmas time short sleeves are the choice!
If you give a Chrismassy outfit there's another 'benefit': photos of baby wearing cute Christmas clothing are a great keepsake!
Christmas outfits come with all sorts of sassy printed messages such as 'Baby's First Christmas' or 'Santa's Little Helper'. 
Baby Christmas accessories also come in several styles and designs: Christmas bibs, Christmas baby hats, Christmas socks or booties and extremely cute holiday headbands and hair bows for little baby girls. 
Christmas Photo Frame / Christmas Ornament:
Create a keepsake to treasure by giving a Christmas photo frame or Christmas ornament.
Photo frames are a great decoration item at Christmas time. They come in many forms and styles to go with every interior. And they are available in many materials such as wood, silver, gold or glass. Photo frames for Christmas often have an engraving such as 'My First Christmas'. 
The yearly Hallmark 'Baby's 1st Christmas' photo holder - is a classic. Here is the 2017 Hallmark keepsake ornament.
The personalized baby's first Christmas ornament by Rudoph and Me shown here is very cute, too. It's also available for baby boys.
Click the images for further details.
Make your gift more personal with Baby's First Christmas Poems. 
More Christmas Gifts For Baby
Raffi's Christmas CD:
Raffi's baby CDs always are a great baby and kids gift. And the one with the Christmas songs is no exception! Get this as your Christmas gift for baby and in short the whole family will like it!
We all love to listen to this album year after year. You know, there are children CDs that get on your (the parents) nerves after some time. This one, just like the other Raffi CD's, doesn't! Even I am looking forward to get this CD out at Christmas time. Together with my kids, we love to sing along while riding in our car. Songs included are 'Frosty The Snowman', 'Up On The House-Top', 'Jingle Bells', 'Rudolph The Red-Nosed Reindeer', 'Must Be Santa', 'We Wish You A Merry Christmas' and many more. This CD is a gift you can give to a baby already and it will last and bring joy for years!
Reusable Advent Calendar:
Start a beloved pre-Christmas tradition by giving an advent calendar! It is a wonderful way to celebrate the true meaning of this blessed season. Kids love to count down to Christmas Eve and they will enjoy this 'entertaining procedure' year after year. There are various reusable advent calendars, some with pouches for little treats, others with a nativity scene to add a figure every day. This Kurt Adler Wooden Nativity Advent Calendar combines both in one. The little doors allow you to box a small gift or sweets and with the magnetic figures children can set up their own nativity scene. Truly a beautiful and meaningful Christmas gift for a little one!  

Photo Session With Santa At The Mall: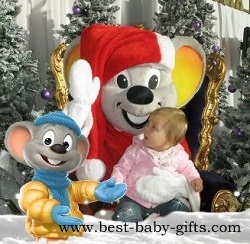 Check out the shopping malls before Christmas and get a gift voucher so mummy can take baby on a photo date with Santa! This Christmas gift for baby can be given on its own. Or you might also like to combine it with the outfit to wear at the photo session, or also give a nice frame to display the best photo in.
Alternatively, take baby (while you are babysitting) to the mall and have surprise photos for the parents. A baby photo with Santa also makes a great baby Christmas gift from mummy for daddy or also from daddy for mummy!

Cuddly Christmas Toy:
Cuddly Xmas toys are a classic Christmas gift for baby. They make a treasured companion not only around Christmas time. So make baby's 1st Christmas one to really remember! A stuffed Christmas teddy bear, a cuddly Elf On The Shelf or any other cuddly Christmas toy is the perfect keepsake and baby gift for baby's first Christmas.

More Unique Christmas Gifts For Baby
Baby's First Christmas Diaper Cake:
Find out baby's diaper size and mommy's favorite kind of diapers and make a beautiful Christmas themed diaper cake or a diaper snail as pictured here! Decorate with a Baby's First Christmas bib, Baby's First Christmas onesie or a baby Xmas hat and booties.
On a Christmas pampers cake you can even put a Santa baby hat on top. Add Christmas goodies, a Christmas garland and if you like also real Christmas chocolates / candy canes for mum and dad.
Just use your imagination (and google for photos) for a really cute Christmas gift for baby. Click here for step-to-step easy diaper cake directions and diaper snail instructions.

The diaper snails pictured above are embellished with a 'My 1st Xmas' set similar to this:
Sophie The Giraffe Christmas Set:
Sophie The Giraffe is one of the best organic teethers, if not the best! And now, there's a 'My First Christmas Teether And Ornament Set' available that makes a really cute Xmas gift for newborn babies. The set even includes 2 Christmas ornaments.
If you do not know Sophie yet, find all Information about her and her friends here. 


Gund Christmas Gifts For Baby & Gund Winter Collection For Baby:
Gund and Baby Gund feature some really nice Christmas toys and Holiday / Season related playsets that make cute Christmas gifts for baby. They are recommended for play from infant up:
Christmas Letter to Santa Playset

Gund Holiday Treats Playsets

Gund Santa's Workshop Playset

Gund Holiday Tree Playset

 

Gund North Pole Playset

Gund Baby's First Present Playset
The workshop playset can even be personalized which makes it double cute and special.
This singing Elmo toy made by Gund is so cute and your kids will love to get it out at Christmas time year after year! Elmo is wearing a green Santa hat and comes in a sleigh. Elmo sings 'Jingle Bells' and moves his mouth and head to the song. Such a riot for baby and the whole family! 
/>
UGG Baby Boots:
Always keep baby's little feet warm by giving those cute UGG boots or a pair of other sheepskin booties.
UGG sheepskin booties are available for the very little ones already (size 0-1 months and up) and look very stylish on baby. UGG baby boots surely are pricy and parents might not be willing to pay this much for them. That's why they make a really special Christmas gift for baby!

Sheepskin baby booties from EMU and Bellybutton (available in Europe only) are less costly and a good alternative.
And I think these Robeez Fuzzy Bear and Robeez Fuzzy Bunny Crib Shoes for infants and toddlers are just adorable, too!


Christmas Baby Books:
A book always makes a great gift for whatever occassion and Christmas books are great Christmas gifts for baby, too. They will love to look at these books for years to come at Christmas time.
Here are some recommendations for cute and stimulating baby books to give at Christmas:
- Fisher Price Little People, Christmastime Is Here!: lift the flap, baby - preschool, 10 pages
- My First Christmas by Tomie dePaola: board book, 14 pages
- Bright Baby Merry Christmas by Roger Priddy: touch & feel board book, baby - preschool, 12 pages
- Baby's First Christmas by Fiona Watt: hardcover, 10 pages
- My First Christmas Board Book by DK Publishing: board book, 36 pages
These all together also make a great baby Christmas book gift basket - and you might like to add a cosy Christmas pillow or a cuddly Christmas toy, too.
And how about a personalized book? Whether Christmas related or not, this will surely be a hit!
Even More Christmas Gifts For Baby
- Suitable for Babies & Toddlers -
Fisher Price Little People 'A Christmas Story' 
Little People sets generally are for babies aged 12 months and older. But you can give baby this gift right after birth so next Christmas the baby / the toddler can play with it. The Fisher Price Nativity Set 'A Christmas Story' consists of a stable with stone walls and palm trees, the figures Joseph, Mary, baby Jesus, an angel, the three wise men, a donkey with a cart, a camel, a sheep and a cow. The star light up and the set plays 'Away in the Manger'.
The set offers great educational value. And since baby has its own nativity set to touch and play with, it might leave alone your valuable heirloom set. This cute nativity toy set will definitely be a hit with baby and the kids - Christmas after Christmas and year after year.
Fisher Price also offer a cute range of special Holiday toys such as the Little People Musical Christmas Train, Christmas Village, Christmas on Main Street or Christmas Tree Lighting in Discovery Park.  The Fisher Price Little People Christmas sets are interactive baby and toddler toys designed with loving attention to detail. They certainly will be fun to play with for years!       

Baby Sleigh:
This Christmas gift idea is for older babies of about 8 months and up and also for toddlers. What better winter and Christmas baby gift in snowy regions! It goes without saying that babies can't have downhill thrill rides yet but will love to be safely pulled around in winterly landscapes.
Whether you go for a sled made of durable plastic material or a classical wooden sleigh with a backrest is up to you, and in a way also up to your purse ;-) Just let the winter fun begin!
Baby's First Soft Doll:
If your baby is close to one year or if it is baby's 2nd Christmas, you might consider a soft doll. Dolls are suitable for girls and boys and there are also boy baby dolls available as the ones from German company HABA, pictured here. Soft dolls make  cute and educational Christmas gifts for baby and offer hours of play. Find more information on baby's first doll here.
Most of my Christmas gifts for baby ideas on this page are somehow related to Christmas. Of course you can also give a 'non-Christmas related' gift for the holidays, feel free to browse my other pages for more great gift ideas that will make great Christmas gifts for baby, too! And if baby is not such a baby anymore, you might like to check out the best baby toys and  my 1st birthday gift ideas.

If you need a Christmas gift from baby for the whole family, check out lots of great ideas here. 

Return from Christmas Gifts For Baby to Best Baby Gifts Homepage