Jungle Diaper Cake
Here's my latest creation: a jungle diaper cake or maybe I should rather say a Jungle Book diaper cake! 

So, the theme of the boy's nursery this cake was a present for, was the Jungle Book. Unfortunately there's not so much merchandise available for the Jungle Book so I made at least a mixture of Jungle Book and jungle in general. And a large stuffed Baloo the Bear is my main piece.
This diaper cake technique for sure is one of the quickest and easiest ways when it comes to making a diaper cake. There's no need to roll the diapers which also means they are easier to use for baby.
A jungle diaper cake is suitable both for girls and for boys. You can just as well add a little bit of pink for a girl or make it neutral with just yellow, orange, brownish or greenish colors. Since the jungle is full of these colors that goes really well with the theme!  
How To Make A Jungle Diaper Cake
What you need:

a burp cloth, preferably with an elephant, monkey or various jungle animals design, but a plain one is also fine - size should be approx. 30 x 30 inches
a large cuddly plush animal, such as an elephant, monkey, tiger, or a Jungle Book character like Baloo the Bear 
2 pairs of socks, plain or jungle or safari design
a pack of diapers (depending on the size of your cloth and on how you fold it you'll need more or less diapers)
pacifier with jungle design (here a lion and "roar" written on it)
various small decoration items (pickers, welcome baby sign / lettering, foam jungle animal stickers, "with love" stickers, baby spoon and ribbon bow,...)
various ribbons
3 rubber bands  
How to make your basket:
For your basket, lay out your cloth (best size is approx. 30 x 30 inches) and fold it over completely so it lays double. It does not matter where the open and the folded side are. But you might like to think about your pattern (if applicable) and place the cloth the way that the pattern later  on fits is not pictured upside down.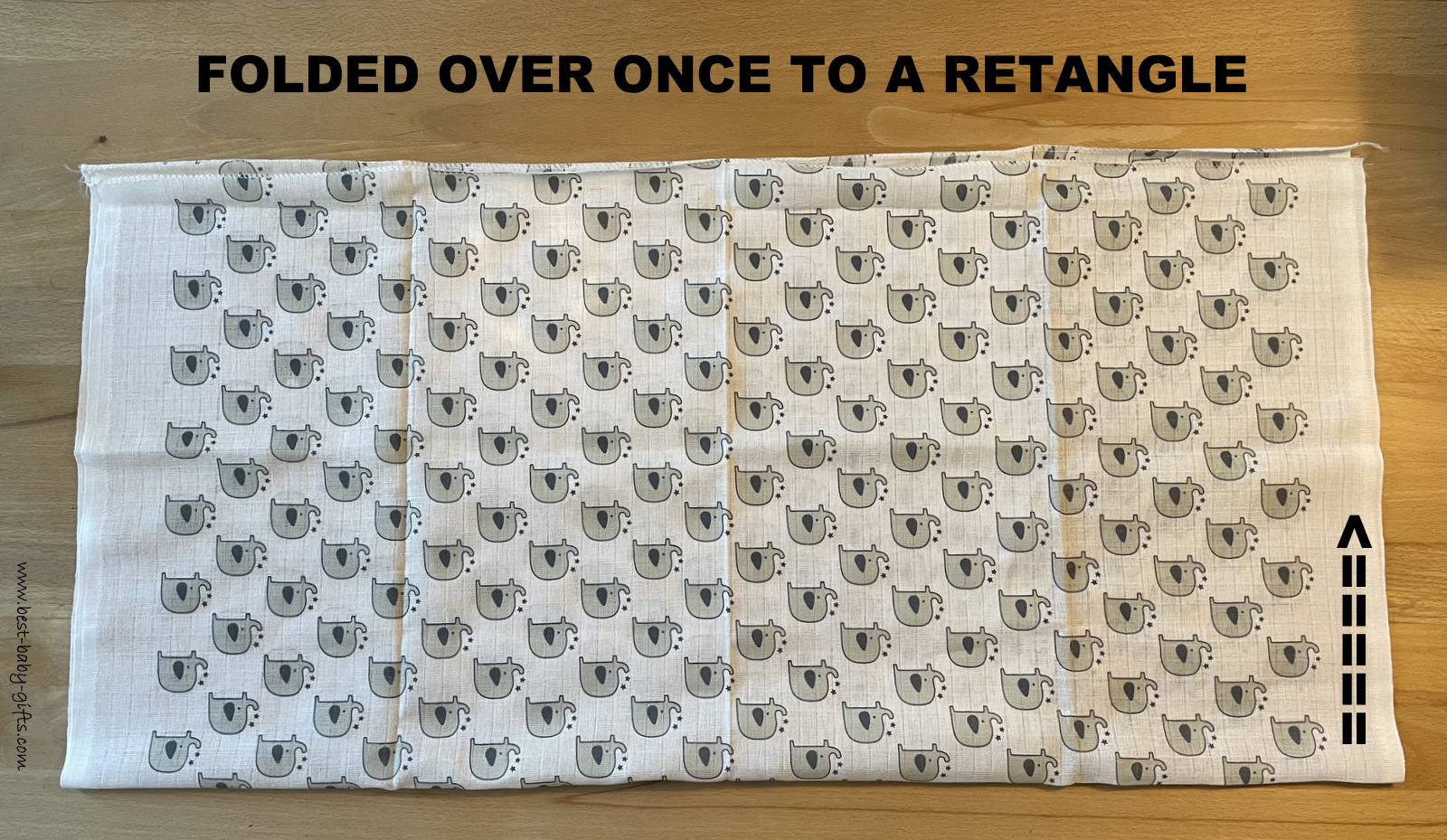 Then take one side and fold it in, with a size of approx. 4 in, as shown here.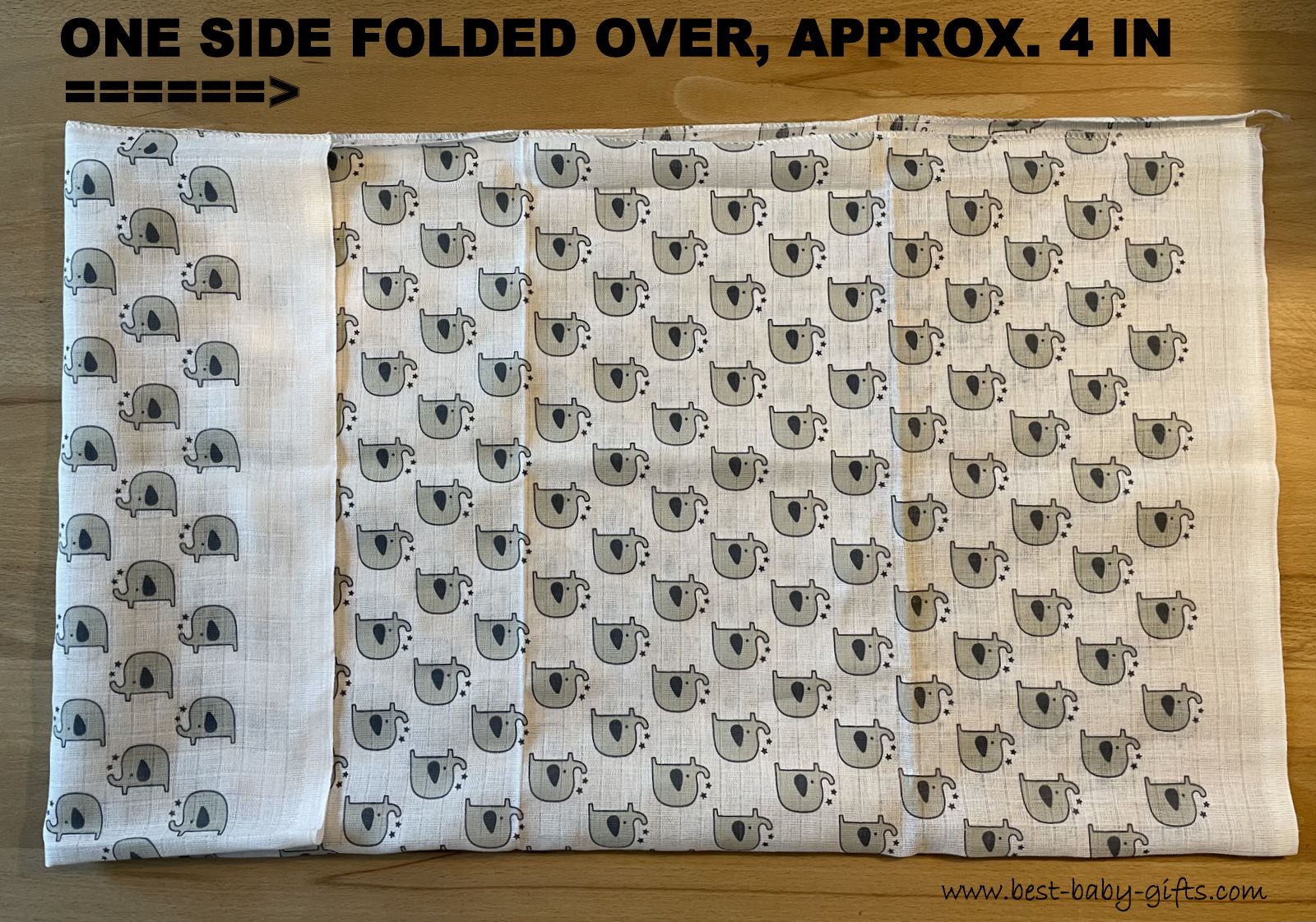 Take the turned over side of your cloth and fold it in a zigzag way (image on the left). Fix with a rubber band (image on the right).
As done on the left side, repeat with the right side. This will make  sort of a round or oval basket out of your cloth. If you think your basket is too small or too large adjust the size by slipping the rubber bands back and forth. You can also wait and only adjust the rubber bands once you have placed your diapers and the cuddly toy into your cloth basket. 
Depending on your cloth design, once again make sure the pattern isn't upside down :-)
How to make your cake:
Once your cloth basket is ready place your cuddly toy inside and then fill with diapers, stacked and / or rolled. As mentioned above, adjust the basket size as needed by moving your rubber bands back or forth. If you like, tie some curly ribbon over your rubber bands.
I have used both stacked and rolled diapers for this gift since the diapers had a koala design. Rolling some diapers and having them stick out (back end of the basket) showed the koala design which complemented the jungle theme.
| | |
| --- | --- |
| details: diaper baby and pacifier | details: sock cupcake, stickers and ribbon |
Make a diaper baby with 2 different socks and a sock cupcake with the other two. Use a rubber band to hold the cupcake together and add some curly ribbon. Stick between your diapers. You can see my sock rose / cupcake at the right side of the diaper cake, I have placed a small white artificial rose bud on top. 

Add some ribbon to your pacifier and stick between the diapers.
Place pickers and stickers between and on your diaper cake.
If you want to fix a ribbon bow on your jungle diaper cake, take a plastic baby spoon, adjust your bow on there and then stick the spoon down the diapers.
Once your jungle diaper cake is ready take a large piece of clear cellophane gift wrap foil and wrap up your cake so it stays clean. The foil also prevents the items to fall down when transporting your cake. Lavishly decorate with ribbons. 
You can make this kind of diaper cake with all sorts of themes by choosing various other stuffed animals and accessories such as: 
elephant diaper cake,
monkey diaper cake,
lion diaper cake
piglet diaper cake,
unicorn diaper cake,
dragon diaper cake,
under the sea / whale diaper cake,
barn yard diaper cake,
and so on.


Personalized Lion Diaper Cake
So this is a similar cake with a lion theme for a baby boy. It's really colorful and features a small cuddly lion toy, a diaper baby with lion socks "roarrrrr", a pacifier with a lion on and two wash cloths with zoo and jungle animals design.
This diaper cake "sits" in a box and also has baby's name on it. This sort of pampers cake is pretty easy to make since you just stack the diapers in the box and then place or stick your items between the diapers. The box is really handy since it is collapsible for easy storage when you do not need it.   
Diaper cakes for baby shower: More boy diaper cake ideas.
Animal diaper cake ideas. 
---
---