How To Make A Cheap Baby Gift Basket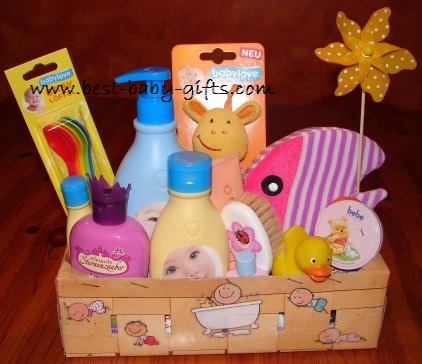 Tips, ideas and instructions for making a nice, cheap baby gift basket: basically, an inexpensive gift basket for a newborn is made the same way, as a 'normal' one. That's why you might like to have a look at this page here about newborn baby gift baskets in general, too.
Then read my tips and ideas on how to make a low cost version for around 10 to 15 bucks that still looks beautiful and not cheap at all.  


What To Include In A Low Budget Baby Gift Basket:
Box Or Basket: 
The basket / box for your baby gift does not necessarily have to be new. Why not search your basement for a suitable box and decorate it nicely? Fruit baskets, small laundry baskets, a big bread basket or even a shoe box may be good for that purpose.
If you do not have anything that fits, go to your local crafts store, to the Thrift Store or the Dollar Store (or any similar store). You will surely find something suitable there.
At your discretion decorate the box/basket with stickers and / or put a colorful napkin, alternatively a burp cloth that overlaps the box, in it.
The basket I have used above is a cardboard fruit basket (originally used for some apples) where I simply put some baby stickers on. It does look nice, doesn't it?
For baby girl gift baskets use pink as your main color, for baby boy gift baskets use blue and for unisex ones yellow and green are perfect.

If you need to buy a new basket consider taking one which still comes in handy later on. For example a fabric-lined basket can serve as a box for the diapers on the changing table.  


Inexpensive Baby Items To Include:
Search for cheap, but nevertheless nice and practical baby items. Search your Dollar Store. Sometimes you can make good bargains there but you have to look for quality items. Very impressive but low cost additions to a cheap baby gift basket are for example:
- plain burp cloths
- bibs
- teething toys
- rattles
- cuddly toys
- baby bottles
- a bottle brush
- socks
- pacifiers
- a baby bath thermometer
- onesies
- baby booties
- a rubber ducky
- plastic baby spoons
- a supersoft baby hairbrush
- a sun hat
- a cap
- soft baby books
Also, baby body care products always are a good choice since most of them can be used for a long time. So parents never can have too much of these. Select a good variety of baby shampoo, baby lotion, powder, baby oil, baby bath, baby sunscreen lotion, diaper rash ointment, diapers, etc. Often you can get a complete pack in travel pack sizes saving you some bucks.
When browsing through a baby store you'll surely find a lot more things that fit into your basket since the choice is vast.
For parents that use cloth diapers a pack of Snappi cloth diaper fasteners also make a great, inexpensive basket present.
Another good idea is to include an issue of a parenting magazine. 
 
Finishing Your Basket:
Arrange all your items in a nice way. Sometimes it can be helpful to fill the bottom of the basket with some cotton balls, diapers, a baby cloth or something similar so things fit into the basket more smoothly. 


Then, for that last piece of perfection use clear gift foil wrap as well as a broad ribbon, or several thin ribbons to decorate your cheap baby gift basket. This makes your gift look rather 'lavish'!
Cut a big rectangular piece of foil and place the finished basket in the middle. Take the ends of the foil and bring them together at both sides. Twirl the foil a little bit so it stays up. Finally, use the ribbon(s) to fix the foil in a nice way (for details see picture).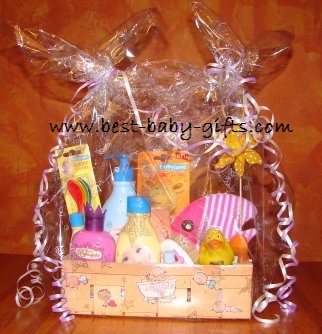 Et voila, here you have a very beautiful, yet inexpensive baby gift basket!

And let's stress this:
a cheap baby gift basket needs not look cheap at all!

More Tips On Savings:
Check out travel sizes of the body care products. Sometimes trial size packs with various baby care products are available at a reduced price. You can even ask for free samples and baby freebies at the chemist or drugstore.     
And how about adding a babysitting coupon or a coupon for your help in the household or garden? They do not cost you any money! See the details here: free baby gift coupons to add to your baby gift basket.
To decorate your basket add one or several tissue paper flowers / napkin flowers. All you need is a napkin and they are easy to make and look very pretty. You can use them to make your basket look 'fuller' ;-)
If you want to include baby clothing into your basket, to make savings, buy anti-seasonal but consider you'll need a bigger size so it will still fit baby by the time of the year.   
Baby gift baskets make great and inexpensive baby shower gifts, too.


Return from Cheap Baby Gift Basket to Cheap Baby Gifts
Return from Cheap Baby Gift Basket to Best Baby Gifts Homepage