Organic Diaper Cake
Go green!
An organic diaper cake is perfect if you want to give a homemade, eco-friendly, plastic free and natural baby gift.  I have various tips and recommendations for you on how to buy or make a practical green baby gift.   
This snail diaper cake is made of organic diapers and an organic baby set (hat, onesie and pants by H&M Conscious). The colors are neutral and suitable for both girls and boys. 
Whether you make a green diaper cake yourself or buy one - this eco-friendly gift for newborns literally conveys 100%  natural love. 

The nappy cakes I present you with are made of disposable, yet eco-friendly and biodegradable diapers (organic cotton diapers, bamboo diapers). These are the perfect alternative if parents want to raise their baby more natural and environmentally friendly but still do not want to miss out on the amenities of disposable diapers.  
If you want to make a diaper cake with cloth diapers, check here. A cloths diaper cake will be less filigree than a disposable diapers cake but you can still make a cute gift.
Keep in mind that organic diapers and organic accessories are more expensive than the 'usual products', thus an organic and natural diaper cake will cost you a bit more. 

Buying A Ready Made Organic Diaper Cake
Google for 'organic diaper cake' and you'll see that this is a tough one! While you get many results you'll soon discover that the ingredients may be organic such as organic toys or swaddle blankets but the diapers are not. 
Ready made organic baby gift baskets are easier to get. Thus, an alternative can be a gift basket and you just add a pack of organic biodegradable diapers or also organic cloth diapers. 
How To Make An Organic Diaper Cake
Basically, an organic nappy cake or any other diaper gift is made just like any other diaper cake except you use eco-friendly, natural and organic 'ingredients' such as
organic diapers

organic baby blankets

natural baby care products

do not use googly eyes for diaper babies or diaper animals but draw some cute eyes instead

organic ribbon such as organic cotton ribbon or straw/hemp ribbon or eco recycled paper raffia, recently I even discovered some naturally degradable curling ribbon made of cotton that actually really curls - and it wasn't even expensive!


 
#ad
Nature's Baby Organics Products to include in your eco-friendly diaper cake.

Go green! Organic Diaper Babies
adorable organic diaper babies for baby girl
My 'conventional' diaper babies in a (plastic) box / basket are transformed into an organic diaper cake in a blink! Use biodegradable diapers (or even place cloth diapers instead of organic ones in the burp cloth), 2 pairs of organic baby socks, 4 organic baby wash cloths (for example made of 100% bamboo) and an organic burp cloth. Do not use plastic wiggly eyes but draw them instead. I'm not good at this, so I used googly eyes for just one baby... These little diaper dolls are really easy to make, here's the link to my tutorial.  
You can also make the diaper babies with socks only (no wash cloths). If you have one or two pairs of socks left over just place them into the burp cloth together with your organic diapers. 
If you prefer an organic gift basket for baby think about replacing the stacked diapers in the cloth with organic onesies and/or organic baby care items. You can also place the items and the babies upright in your cloth. Of course you can also replace the cloth with an eco-friendly basket or an organic diaper caddy.    


This is the boy version to the organic diaper babies shown above. I have used some fabric ribbons and mostly raffia ribbon which is 100% natural and no plastic involved. Raffia ribbon is made of strips of the raffia palm tree. Since I cannot draw nice open eyes I have cheated but used just one little pair of googly eyes... 

Eco-Friendly Diaper Cake Instructions
Use organic / biodegradable diapers and organic accessories and follow my instructions for an 'ordinary' diaper cake:
for a small diaper cake (1 tier) 

for a large diaper cake (3 tiers)

for a diaper snail

for a diaper owl

for a diaper bouquet

for diaper babies

for even more organic diaper gifts
Links to easy and detailed instructions for the above diaper gifts here. 
Cute to attach to an organic baby diaper cake: Sophie The Giraffe, a very popular organic baby teething toy - this adorable baby girl loves to play with Sophie! Sophie is difficult to see on this photo - it is right in front of baby in the grass.

Recommendation: Organic Diapers
The perfect pack (size 2, 36 count) to make a small organic diaper gift such as an eco-friendly 1-tier diaper cake, a diaper snail, an organic diaper owl or a biodegradable diaper bouquet with!
Little Toes naturally biodegradable and hypoallergenic bamboo fiber diapers. Natural, soft diapers that don't leak.
#ad
The perfect pack (size 2, 94 count) to make a medium-sized or large diaper cake with!
Andy Pandy disposable bamboo diapers with wetness indicator: eco-friendly, 100% chlorine free and 100% biodegradable, no alcohol or preservatives, made of bamboo and soft & silky to the touch, but extremely strong & absorbent. This brand has only got positive reviews and 5 out of 5 stars!

#ad

Organic Baby Gift Basket
An organic baby gift basket is a very cute alternative to an organic diaper cake. Our green house have a very vast and cute range of organic gift baskets not only for babies but for the whole family. Check them out:
#ad
Back to Organic Baby Gifts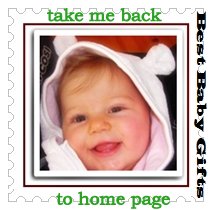 ---
---