Baby Sleep Aids 
Baby sleep aids can have a positive effect on baby. Since a crying baby fighting for sleep and not able to fall asleep, always is very exhausting both for baby and for the parents. 
In general, it is important that baby has a bedtime routine. You should have certain rituals before bringing baby to bed such as reading a book to her/him or listening to some lullabies together. And a  cuddly companion to hold also will be useful to calm the little one down. A security blanket or cuddly toy will give baby familiarity and security while on the go.     
How to get baby to sleep in no time
In rare cases, a sleepless baby may suffer from a medical condition or new teeth might break through but in many cases there is 'no real reason' behind a tired but wide awake baby or toddler.  Of course, a baby sleep aid cannot always be a common remedy for newborn sleep problems, but it can certainly promote baby's well-being and help with baby's sleep pattern. 
Here are a few products and gift ideas to help baby to fall asleep more easily. Let baby slowly drift away into a peaceful slumber! And as you can imagine, this will have a positive effect on the parents' well-being and sleep, too. Thus, a product helping baby to fall asleep, makes a very practical baby gift. 
Get real expert advise!
To start with it can never be wrong to read what the experts say and try out their tips:
Cuski - The Original Baby Comforter
Cuski is a multi award winning baby sleep aid, suitable from birth. It promotes bonding with mummy and daddy. The idea behind this product is that mom and/or dad sleep with Cuski for one night to transfer their comforting scents onto its wonderfully soft absorbent material. By doing so, a naturally safe, secure environment is created for baby. Cuski is made of good quality material, durable and fully machine washable. The Cuski baby comforter helps to comfort and soothe baby to sleep and makes a great gift!
And don't forget to check out the Cuski Mussi Baby Comforter, too! 
Cloud b Products
Cloud b have a cute range of comforting products for babies, toddlers, kids and even adults that have trouble to fall asleep. Cloud b, are known as 'the baby sleep specialist'. They develop all their products in consultation with an advisory board of pediatricians and sleep specialists. Their goal is to achieve a better and safer sleep for babies. Many of Cloud b products have won various awards.
Many of Cloud b sleeping aid products come in the shape of a cute cuddly companion.
Marvin The Monkey And His Friends
These cute little fellows come with 4 different soothing sounds. On some you can also record your own voice up to 10 seconds so baby can hear your familiar voice. This is an awesome feature that can help ease separation anxiety.
The monkey has velcro hands so you have the possibility to wrap it around a crib or a stroller. It comes with an illustrated storybook. Toddlers and older kids will surely love the adoption certificate that's also included! 
Sleep Sheep / Sleep Sheep On The Go
The Cloud b Sleep Sheep is very soft and cuddly and made of 100 % polyester.   NEW ! - Sleep Sheep has 8 different soothing sounds (before 4): mother's heartbeat/twinkle-twinkle button, ocean surf/classical lullaby, rain/rockabye baby button, whale songs/tranquil melody. It comes with two time settings and an automatic time-out of 23 minutes and 45 minutes.
The velcro strap allows you to easily attach the sheep to car seats, strollers, the crib, etc.  The 'On The Go' version has the same features but is smaller (7").
Also available as Bubbly Bunny, Grey Bunny, Frankie The Fox, Ella The Unicorn, Gentle Giraffe and Panda.
Twilight Constellation Nightlight 
The Twilight Constellation Night Light turns baby's room into a starry night sky and comes in 3 cute designs: a turtle, a sea turtle and a ladybug. Find all details about these cute baby sleep aids at my practical baby gifts page. 
Lullabye CDs For Babies
A steady bedtime routine can help to get baby to sleep more easily. Playing some familiar and calming melodies to baby can be part of that routine. There are many lullabye CDs on the market, here is a selection of the ones having been reviewed as the best. You can get just instrumentals, too.
Also check out the Lullabye Renditions by Rockabye Baby as well as Baby Einstein Lullaby Classics!
Amazon gives you the possibility to listen to some samples:
Fisher-Price Products
Fisher Price have a whole range of baby items and products helping baby to fall asleep more easily and enabling baby to sleep better.
Starting from rock and play sleepers and cradle swings down to projection mobiles and glowing animal pals - they have it all! 
Let me introduce you to just a few highlights of Fisher-Price's baby sleep aids: 
 
Fisher-Price 4-in-1 Rock 'n Glide Soother
Babies love being rocked back and forth - preferably on mom's or dad's arms. That's nice for mom and dad for a while. But then it starts being a pain... Now here comes the Rock'n Glide Soother, doing all the hard work for you! 
Fisher-Price Soothe and Glow Seahorse

This whimsical companion comes in two different colors, blue and pink. The seahorse plays 8 gentle lullabies and 2 soothing sounds of the sea. When you cuddle the seahorse, the belly gently starts to glow and the seahorse plays 5 minutes of music and ocean sounds.  After 5 minutes the sounds and lights will gently fade out in order not to disturb the little one. One of the many positive reviews on amazon: "I purchased 3 of these for my 3 granddaughters and they all enjoy them when going to sleep at night. The music helps sooth them to sleep."

Check out more 'magical' baby sleep aids:
The Bubzi Co Baby Sleep Night Light & Susher Sound Machine
This cute owl can play 10 lullabies to comfort and soothe your baby. It also has LED lights that project stars to a room's wall and ceiling. It turns off automatically after 30 minutes so no need  to worry about that for you. Baby and mothers alike love it, just see all these enthusiastic reviews.
Prince Lionheart Slumber Bear with Silkie Blanket
Available in cream, blue and pink, this cute bear helps you to put baby to sleep and, if necessary, back to sleep in no time.

The WubbaNub Infant Plush Pacifier
A pacifier often helps to calm down baby. This pacifier is a special one - it includes a cute little plush animal. There are many animals to choose from such as a monkey, giraffe, puppy, elephant, frog, lamb, turtle, dragon and many more. The WubbaNub is made in the USA of latex free Medical Grade Silicone. Such a cute and helpful baby sleep aid!
Tiny Love Soothe 'N Groove Mobile
Little cute objects dangling over baby while some soothing music is playing, often do the trick. So try a mobile with your newborn. We (and many parents) especially like these by Tiny love! 
Summer Infant Slumber Buddies

Check out these cute little sleep aid pals, helping baby to fall asleep more easily:
---
Do you have any baby sleep aid products to recommend or any successful routine to get your baby to sleep? Please mention and describe in the box below to help others. 
---
Return from Sleep Aids For Baby to Practical Baby Gifts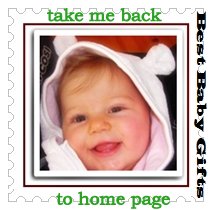 ---
---