What A Funny Baby Onesie!  


A funny baby onesie is cute to buy for your own baby or to give it as a gift! It will be great for not just one but many good laughs!
So look at this little girl who just found out that 'being beautiful is exhausting'. And that's exactly what she looks like - lol!

Baby onesies and bodysuits with a funny slogan and a funny image going with it are a great gift idea. But not only to gift to a new baby and its parents but also vice versa from the baby and parents to for example other members of the family and relatives.  They will all be happy to see baby in a onesie or shirt with a printed message referring to them: grandma, grandpa, baby's sister, baby's brother, aunt, uncle, godmother, godfather, cousin, etc. And last, but not least, such a onesie makes a cute gift for mother's and father's day or for mum's and dad's birthday! 
But as already mentioned, a slogan onesie is a great 'treat for yourself', too. So buy it for your own baby and have fun with it. After all, a photo of baby wearing a slogan onesie always is a great keepsake.
Slogan and funny baby onesies also are a nice gift for 'older' babies and toddlers. Like a 'I am 1' onesie for baby's first birthday and moreover they make a cute Christmas and Easter gift, too! 
Find lots of cute and funny slogans here and tips where to buy / order your custom baby onesie online. 
I have designed some funny baby onesies myself, you can view and order them directly at my Zazzle Shop:
#ad
Funny Baby Onesie -Ideas And Sayings Especially For Mommy:
- give for mom's birthday, for mother's day, as a Christmas gift, as an Easter gift, at Valentine's day,... -
- I love my mom
- I have the best mummy
- my mummy rocks
- I got my good looks from mommy
- mom + dad = me
- my mummy's a hottie
- my mum looks hotter than yours
- my fingers may be small but I still wrap mommy around them
- mothers of little boys work from son up 'til son down
- mommy's personal alarm clock
- I have the coolest mom. She stays up with me all night!  
- thanks, but my mommy doesn't want your advise
- straight outta mommy
- keep calm, my mum's a lawyer / chef / nurse, etc.
Funny Baby Onesie Ideas Especially For Daddy:
- give for father's day, for daddy's birthday, for Easter or Christmas, Valentine's day, to let dad know baby No. 2 is on its way... -
#ad
- I love my dad
- I have the best daddy
- my dad rocks
- my dad's car is faster than yours
- mom + dad = me
- cute like daddy
- pacifier: 6,95$, crib: 300$, daddy's expression when changing diapers: priceless!
- my fingers may be small but I still wrap daddy around them
- in 16 years, I'll crash your SUV in our garage
- daddy's little caddy
- my daddy is a daddier daddy than your daddy...
- my dad's tattoes are better than yours!
- don't look at me, that smell is coming from Daddy
- I found my prince. His name is Daddy.
- no shirt, no shoes. I'm probably with Dad...
- who needs a superhero when you ave a daddy!
- daddy's drinking buddy
- me + mommy = one broke daddy
Funny Baby Onesie - For Mommy & Daddy Together:
a 'mom's surname' and 'dad's surname' production: #ad
---
---

Funny Slogan Onesies For Family And Relatives:
- I am a little sister
- I love my big sister 
- I love my big brother
- I am a little brother 
 
- I love my cousin
- my cousin rocks
- take me to grandma's
- spoilt by grandma
- what happend at grandma's stays at grandma's
- my fingers may be small but I still wrap grandma (grandpa, my aunt...) around them 
- I'm so cute grandma retired to spend all day with me
- what part of take me to grandma's don't you understand?
 
- if you think I'm good looking you should see my aunt
- I will only be speaking to my gorgeous aunt today
- 9 out of 10 kids get their awesomeness from their aunt
- I'd rather be with my aunt
- I'm smart and adorable (I take after my aunt / uncle).
- if you think I'm hot you should see my aunt / uncle
- when I grow up I want to be as cool as my aunt / uncle

- my cute uncle is single - want to be my auntie?
- my uncle is hot - and single! 
Funny Baby Onesie For Twins and Triplets
More Funny Slogan Ideas For Your Custom Onesie:
- proud to be Canadian (or any other nationality)
- I'm what happened in Miami (or any other place / country)

- the dog did it (the cat did it)

- future firefighter
- future police officer
- future top model
- chicks dig me
- my crib or your crib?

- I only cry when ugly people hold me
- here comes trouble
- I tried being good but it just didn't work out
- world's most adorable baby
- iPood
- will cry for food
- I may be small - but I'm the boss
- spit happens
- I still live with my parents
- BYOB - bring your own bottle - my place 3:00am
- I am a little prince
- I am a little princess
- Baby GAGA
- little monster
- being beautiful is exhausting
- new kid in the house
- cute runs in the family
- facebook status message: I was up all night
- diaper changes are like a box of chocolates... you never know what you gonna get!
- lock up your daughters
- live.laugh.poop
- they tell me my early morning drinking habit is causing a few problems...
- Santa Clause doesn't exist. But I can't read so it's okay.
- I drink until I pass out
- I'm not crying, I'm ordering dinner
- eat. play. sleep. repeat.
- I'm too sexy for my onesie.
- I'm not allowed to date. Ever!
- instructions not included!
- birth: nailed it!
- Diaper loading. Please wait.
- Storm Pooper.
- LMDO. Laughing my diapers off!
- chillin' in my crib
- unemployed and living with my parents
- while you were reading this I pooped my pants
- I am the new man in the house!
- naturally sweet - no sugar added
- my parents are exhausted
- who's the boss?
- oops, they did it again...
- nothing is wrong, just teething you
- chick magnet
- sorry boys, I only date rockstars 
- are these people really my relatives?
-AB/CD - for those about to talk
- baby talk insults my intelligence
- I'm kind of a big deal
- yes, I am bilingual. I can cry in English & Spanish (or any other language).
- Prince / Princess of Wails   
- kisses 25 C. Saving for my College fund
- chubby, bold and unemployed
- by reading this message you agree to change one diaper
- sleep sold separately!
- current family favorite!
- I'm the reason we're late
Where to buy a funny baby onesie or where to have it custom made with your own slogan
If you are looking for a "standard" bodysuit, check out amazon first. They have lots of baby-onesies with funny sayings to choose from. Some vendors also offer personalization. Do not forget, to check out amazon handmade, too. 
#ad
Another creative marketplace is Etsy. Here you can order artsy designs and cute products created according to your own specifications and wishes. 
Zazzle is also a platform worth to check out for having made a custom baby onesie or also buying a ready made one.  

Make Your Own Funny Baby Onesie


Personalizing a baby onesie with a funny message is not too hard. However, observe two things:
1. as it is for baby the fabric paint should be eco-friendly, non-toxic and absolutely safe.
2. again as it is for baby, the onesie needs to be washed often and the paint must be durable!
Apart from the paint all you need is a onesie in a light or pastel color such as white, rose, blue, yellow, green and a little bit of imagination respectively the right slogan.
This website gives you a lot of ideas for humorous sayings to use and to make a unique funny baby onesie, also meaning a unique baby gift!  And don't forget: such an "artwork" might well be kept as a baby keepsake!
Matching Family Clothing
Matching tees and onesies for big sisters and big brothers are another great gift idea - let the whole family make a statement!
Why not dress all siblings with matching tees and onesies? Big bro and big sis will be ever so proud!
Great for your first visit at the hospital to see the new baby.

These are also the perfect outfit for a family photo session!


Funny Baby Onsie - Back To Cute Baby Gifts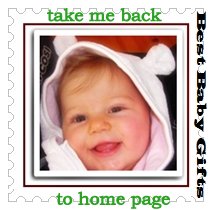 ---
---