Homemade New Dad Gifts
Need a gift for a new dad or a daddy-to-be? Have a look at these homemade new dad gifts! A DIY gift always is something unique and  you can follow special preferences of the new father. 
Most of these ideas qualify for a mum to give to her husband but I also have ideas for co-ed baby showers, a baby shower for dudes or for office staff to give to their co-worker or boss who just became a new dad.
Literally! Handmade Gift Ideas For A New Dad, For Daddy's Birthday, Father's Day, Valentine's Day, Christmas Or Just Everyday!
Baby Handprint Or Footprint Art
Are you a new mommy and need a cute birthday gift from yourself and baby for daddy? Or a Christmas gift? Or a gift for dad's first Father's Day? Or do you and the kids just want to tell daddy you love him? This idea perfectly qualifies for all these occasions. This is a very beautiful homemade new dad gift where mommy and baby have to work on together ;-)
Baby Canvas Art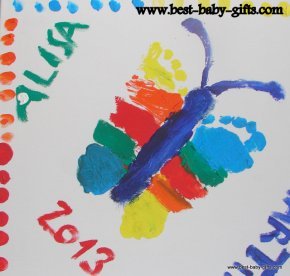 Make some cute canvas art out of baby's hand- or footprints. I used our baby's footprints and fingerprints (for the frame) to make this colorful butterfly. My husband absolutely loves it! 
Handprint art ideas for babys and kids.

Baby Handprint Poems / Baby Footprint Poems
You can also add some text to your hand print or footprint art like for example: 
'There's nothing quite as sweet, as tiny little baby feet'.  




---

'I love you Dad. From the tip of my nose to the tips of my toes!'

'This is not just a butterfly as you can plainly see.

I made it with my feet which are a part of me.

It comes with lots of love especially to say 

I hope you have a very happy Father's Day /  Christmas Day! (I hope you have a wonderful and special birthday!)'

(If your picture is not a butterfly simply substitute butterfly with another word. And if you used baby's hand, write hand(s) instead of feet)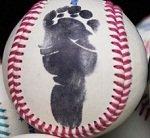 Does daddy have any special likings? Any ball sports, like baseball, football, soccer, tennis, hockey, icehockey, etc.? Take a ball and personalize it for dad! Print baby's handprint or footprint on it. Or just write / paint on 'new dad' or 'Emma's dad'. You can also add the baby's date of birth. If daddy likes cars or motorcycles, take a toy or model car / motorcycle and add your writing on there. 
Just use your imagination! Dad will love to showcase this new 'trophy' on his desk at work or at home! 


Homemade Daddy Gag Gift 
How about a gag gift for the new dad? Put together a homemade diaper changing toolbox with lots of funny things for daddy and baby.
For the container, get an ordinary (empty) toolbox or a tool caddy at the hardware store of your choice or get one online. 
It's a boy!
It's a girl!
Things to include (you may get some of these at the Dollar Store): 

- a face breathing mask, so daddy can breathe okay while changing baby's diapers

- (a pair of ordinary swimming) goggles, for better eye protection

- (plain, extra long, wooden grilling) tongs, to easily remove and dispose the diapers
- (ordinary) ear plugs, might come in handy...
- some clothes pegs to use on daddy's nose once the smell gets unbearable 
- baby wipes, well, even mommy needs these when changing a diaper

- a 'bio hazard bag' (write bio hazard bag on an ordinary dustbin bag) and rubber gloves, to dispose the diapers straight from the tongs into the bag
- some coffee and an insulated coffee mug, for those looooooong nights
- a spare onesie or a bib saying 'I love daddy', in case daddy and baby had an 'accident'
- a pacifier with some funny daddy saying on it, maybe even dad could use this from time to time...
- a couple of men's cologne sample packets, come in handy to 'cover funny smells'
- a boo-boo bunny, for the worst case
- Ibuprofen, when all else fails take 2...
- some diapers with funny messages for daddy written on. Choose diapers that are plain white at the back and without a pattern and a suitable felt pen. Alternatively stick a post it or a little note to the diapers. Funny diaper messages are for example: 'Caution! Open at your own risk', 'Hold your breath...', 'Do not test with finger', 'shit happens', 'daddy's turn', 'I love daddy', 'special delivery', 'code brown'
Put everything in your toolbox, add little funny notes to your items (hints what to use the items for, just as described above) and finally use metallic letter stickers on top of the toolbox to personalize the new dad baby kit for the new dad! 
Free printable funny diaper messages to use with your homemade new dad gifts.

Homemade New Dad Gifts:
Baby Gift Basket For Dad / Diaper Cake For Dad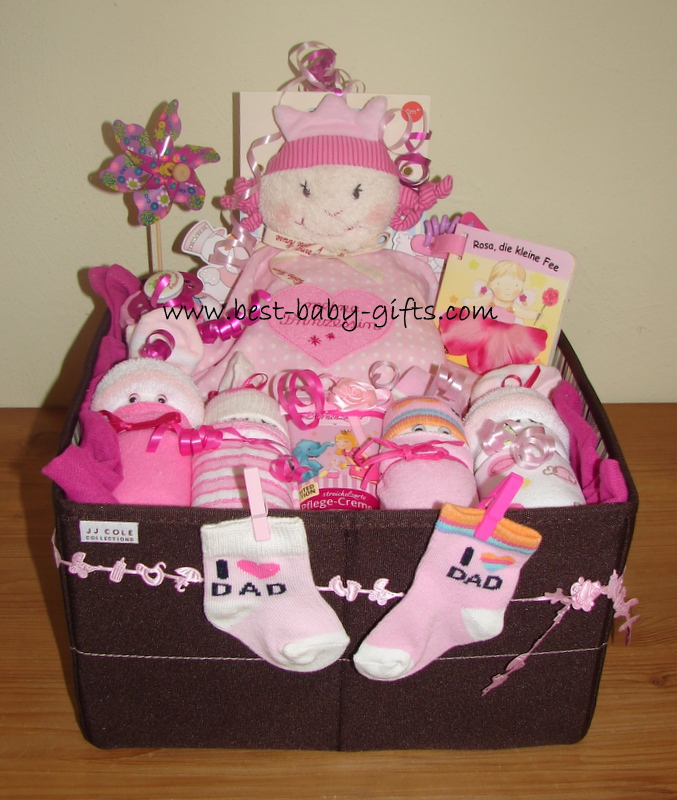 Just as the mom gets a diaper cake with some goodies for mummy included, you can make one for a new dad, too. Alternatively a gift basket (that can also include diapers) is a cute idea. For a special 'daddy touch' include some baby clothing saying 'I love Dad' or 'Best Dad ever'. The diaper gift basket shown here was for a company boss who had just become a new dad. 
Things to include in a daddy diaper cake / daddy baby  gift basket: 
- baby clothing saying 'I love Dad', 'Best Dad Ever' or a onesie with a funny saying about daddy ('Handsome like daddy', 'I like to hang out with daddy', etc.) 
- chocolate, candy, Lifesavers
- a daddy & baby photo frame
- an insulated cup or mug 'Best Dad Ever' (see above) 
- a dad T-shirt / matching daddy and baby clothing
- any of the fun items mentioned above for the daddy diaper changing toolbox.
If you want to make a daddy diaper cake or a daddy gift basket, you can find instructions for diaper cakes and baby gift baskets here. 
---
diaper babies for new dad /

daddy-to-be, made with

newborn socks 'I love Dad' 

diaper snail for new dad,

made with baby hat

'I love Mum and Dad'
---
Not into making a homemade new dad gift? Then just buy one - find lots of gift ideas for a new father here.
Return from Homemade New Dad Gifts to Best Baby Gifts Homepage