Harley Davidson Baby Gift Ideas
- not just for boys!
A Harley Davidson baby gift is the perfect gift for every Harley, motorcycle and chopper lover! Like father, like son. But Harley Davidson do not only have boy gear but also offer very cute baby girl merchandise in black and pink. 
such a cool motorcycle...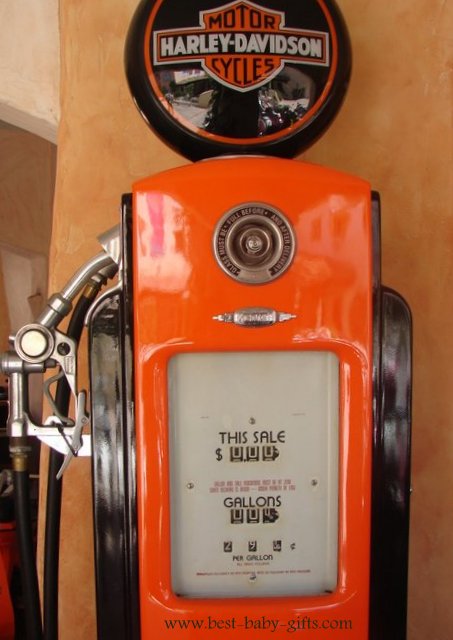 vintage Harley gas station
120 year anniversary
Founded in 1903 by William Harley and Arthur Davidson and based in Milwaukee, WI the Harley-Davidson Motor Company is a famous manufacturer of motorcycles. They are an American icon representing freedom and independence and have friends and fans all over the world.
Born to ride! Here are the best finds: let's see what Harley-Davidson have to offer for babies and all these little bikers in training.
If you cannot get the Harley merchandise you are looking for, consider to get 'just any' biking related gear, clothes or toys instead. So I also have some "general motorcycle themed" baby gift ideas for you.  


Discover The Best Harley Davidson Baby Gifts For Bike Lovers
Harley Davidson Baby Clothes
If mom and dad are Harley lovers, they will absolutely love it if baby is dressed up in Harley Davidson baby clothes!
You can give just an accessory for baby such as Harley Davidson baby booties or a Harley Davidson baby cap but you can also give a complete matching outfit. Cute Harley Davidson baby gift sets and gift baskets are available, too.
For details check out: wisconsinharley.com
Harley Davidson baby clothes for boys:
Since Harley Davidson baby clothes are very popular, they come in lots of cool designs. Most of the clothing is made of 100 % cotton feeling good on baby's delicate skin. The predominant Harley boy colors are black, grey, dark blue and orange. Their baby clothing range comprises baby boy onesies, baby boy rompers, baby boy coveralls, baby boy T-shirts, baby boy creepers, a baby boy denim set (shirt and denims), baby boy short sets, etc. Some of the Harley Davidson baby clothes have cool slogans printed on such as 'My Dad rides a Harley' or 'Faster is better'.


Harley Davidson baby clothes for girls:
Not only baby boys can brag in their Harley Davidson baby clothing but there are also many cute baby girl outfits, mostly in pink, grey and black colors. These are just a few examples: Harley Davidson girls infant socks, Harley Davidson reversible buckle hat in pink, Harley Davidson bodysuit in pink and white / bodysuit twin pack in pink and black, Harley Davidson twin pack romper set in grey and pink. There's also a baby girl gift set that is adorable for any little Harley princess.   


Harley Davidson Baby Bedding, Blankets, Booties, Socks, Bibs and Towels
Harley Davidson not only offer cute baby clothing but also other baby merchandise such as Harley Davidson crib bedding and fleece receiving blankets. So keep the little bikers-to-be cuddly and warm in style!
Also available are Harley Davidson socks, booties, bib twin sets, towels, and many more.

Harley Davidson Toys
Another great Harley Davidson baby gift idea are Harley toys. They feature cute Harley Davidson plush toys (bears, dogs, hogs and more) and also some developmental toys.

Harley Davidson Riding Toys
Check out the Piki Piki Bike, Easy to Ride Toddler Bike, Made in USA, recommended from 18 months to 4 years. For inddor nd outdoor.
The Fisher Price Harley Davidson Tough Trike is really cute, too. It's recommended for 2 years up and an amazon exclusive.
An alternative - even though not in the Harley design but a general motorcycle theme: Happy Trails Motorcycle Rocker, for toddlers and up. 
Even though these riding toys are recommended for 1 or 2 years up, they for sure make a great baby gift for baby's birth or baby's baptism. First, baby might be able to ride on it with your help and supervision earlier already and a real Harley Davidson lover will not mind having such a cool thing as a decoration at his home or baby's nursery!


Motorcycle Baby Books
There are two Harley Davidson officially licensed baby books I know of, an interactive one and a bath book. They are hard to get these days. So I am concentrating on motorcycle board books for the little ones here:
for 12 months and up: #ad
#ad

More Harley Davidson Baby Gift Ideas
Harley Davidson Diaper Cake / Biker Diaper Cake
A homemade Harley diaper cake also makes a great Harley Davidson baby gift - and a real eyecatcher! For a 3-tier diaper cake with Harley Davidson baby accessories you do not need to have any experience, it is really easy to make. Just follow my diaper cake instructions and use orange and brown ribbons and bows for your basic cake decoration. Possible accessories are for example a Harley Davidson onesie, a Harley baby blanket, a Harley bib, etc. Amazon also carries biker rubber ducks which would go well with the theme, too. On top, either place a Harley Davidson teddy bear or a Harley Davidson cuddly toy. Or you could even use a Harley die-cast model for your cake's centerpiece.  
Another cute Harley Davidson diaper cake idea is to make a Harley Davidson diaper bike and to decorate it with Harley baby merchandise. Here I have included a Harley Davidson onesie and have chosen all other 'ingredients' in orange and brownish colors. You can make this diaper bike with or without a driver. A Harley Davidson teddy bear makes a cute driver, too even though here I have used a cuddly tiger in light brown with a Harley bandana around its neck ;-)     

Other Harley Davidson Baby Gift Merchandise
Last but not least, Harley Davidson also carry practical baby gifts such as a Harley toy storage caddy, a Harley Davidson piggy bank and a Harley Davidson children's growth chart.
And how about a Harley Davidson diaper bag? This is a great gift for a new dad! Alternatively get a sturdy Harley Davidson backpack for daddy so he can use it every day - with or without the baby! But of course mummy can also have a Harley Davidson diaper bag, they also have feminine messenger bags (in pink). 

Harley Davidson is a true legend making legendary baby gifts!
You see, Harley Davidson baby gifts come in a great variety and you'll surely find the perfect Harley gift for baby!

One last advise, when buying Harley Davidson baby gift merchandise online make sure to choose the right and accredited dealer to get authentic and officially licensed Harley baby merchandise and not just a shabby imitation. I recommend House of Harley-Davidson or WisconsinHarley.
Return from Harley Davidson Baby Gifts to 
Baby Boy Gifts 
---
---