Piglet Diaper Cake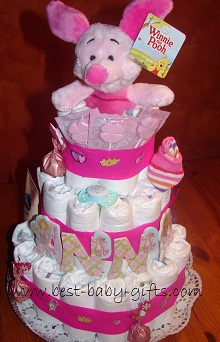 Learn here how to make a really cute Disney Piglet Diaper Cake.
Know a Winnie The Pooh lover who's pregnant or just became a new mummy? Here we have the perfect baby shower gift!
Make her a diaper cake with a Winnie The Pooh theme.
For baby girls, the cute, pink Winnie The Pooh Piglet is just excellent! For boys I'd rather opt for Winnie himself or Tigger or Eeyore as the theme, simply because of the colors.
I won't give you detailed instructions here such as a complete shopping list for every single item, etc. Instead, I give you basic tips and ideas so you can get creative and make your own individual and 'one and only' Piglet Nappy Cake!
Tips And Ideas For Making Your Piglet Diaper Cake
If you know how to make diaper cakes just make your usual plain nappy cake and then proceed with the Piglet theme.
If you have never made a diaper cake before, do not worry. Diaper cakes are really easy to make and everyone can do it. You find free, detailed and step-by-step instructions for the actual diaper cake here.
If you do not have time, to make a diaper cake yourself, you can buy a DIY diaper cake and then decorate it with Piglet baby items and other pink girly baby stuff yourself:

Buy a decorate it yourself diaper cake online.
Things to include in a Piglet Nappy Cake: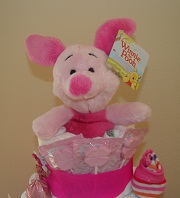 Well, Piglet is pink. And most girl diaper cakes are in pink shades. So that's perfect. Try to buy most of the things you want to include in a pink, red or purple version. Also use pink ribbons for your cake.
A cuddly Piglet toy on top is a must, all the rest is at your own will.


Here are some ideas for pink items to attach:
a Disney Piglet plush toy or a Piglet blankie on top are compulsory

buy or make pink letters to personalize your cake

check Johnson's or Aveeno baby care products, many of them come in pink bottles

include a piglet onesie or tee in white or pink

attach chocolates, candies or confections individually wrapped in pink or red for the new mom and dad: such as Kit Kat Minis, Lindt Lindor Truffles or as featured on the cake above Lindt Fiorettos (pink version, also available in blue for a boy diaper cake), see even more ideas below

pink socks

pink feeding spoons

a pink baby grooming set

pink lollies for an older sibling

Piglet receiving blankets or washcloths

pink pacifier(s)

Piglet rattle

pink baby hat (with Piglet on)
Browse Disney Piglet baby merchandise.
Learn how to best attach your items to your diaper cake with this step-by-step tutorial and lots of photos.

Individually wrapped, pink, purple and red candies, to attach to a girl diaper cake:

make a garland from Pink Strawberry Salt Water Taffies and wrap it around the diaper cake

stick some Blackberry Pink & Black (or Pink & Blue) Old Fashioned Hard Candy Sticks into the diapers - they can also be used as candles

purple Hershey's Kisses - Dark Chocolate

Hershey's Holiday Kisses, Milk Chocolate Filled with Cherry Cordial Crème - packed in pink foil

Haribo Primavera Strawberries Gummi Candy (red) or Haribo Tagada Pink Gummi Candy (pink) or pink/red/purple M&Ms - these are not individually wrapped but you can put some in a small clear bag, close it with a ribbon and then attach to the cake



Beautifully wrapped - the last piece of perfection to our homemade Disney Diaper Cake with Piglet Theme for baby girl Anna:

---
---
Of course, you can always buy a ready made Winnie The Pooh or Piglet Pampers Cake, have a look at this beauty:

---
Return From Piglet Diaper Cake to Girl Diaper Cakes

---
---