Diaper Cakes For Baby Shower
Get some inspiration: your diaper cakes for baby shower! 
You are invited to a baby shower party? That will be great fun! But wait, you'll need a gift. A diaper cake is a great and practical baby gift idea and easy to make. 
This hot air balloon diaper cake is much easier to make than you may think but it looks just as stunning as the more complicated ones. As the air balloon theme is gender neutral it is suitable for a girl or boy alike.
Hot Air Balloon Diaper Cake
Depending on the gender of the baby, use pink or blue colors or even white/  yellow / orange / brown for a unisex pampers cake.

What you need:

- a square storage box for the hot air balloon gondola
- 4 wooden sticks / bamboo sticks (like the ones you use to grow tomatoes)
- a paper lantern for the hot air balloon
- a little pack of diapers, containing around 30 diapers but also depending in the size of your box 
- baby items to fill up the storage box: a stroller baby book, a teething toy, a baby onesie, a cuddly toy, some baby socks, wipes, etc.

- for decorating you need various ribbons, plastic spoons, a pacifier and little wooden pegs.
- if you want to personalize your cake you also need wooden letters or foam letters
How to make your hot air balloon cake: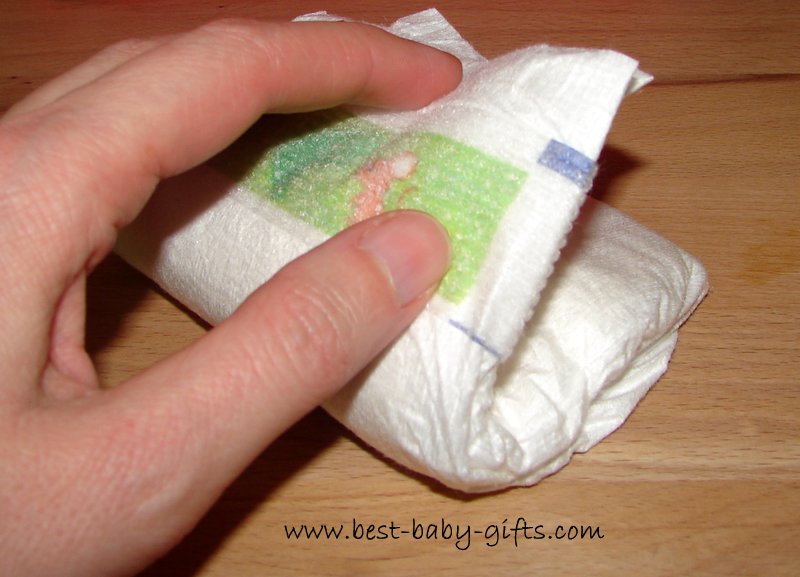 how to fold your diapers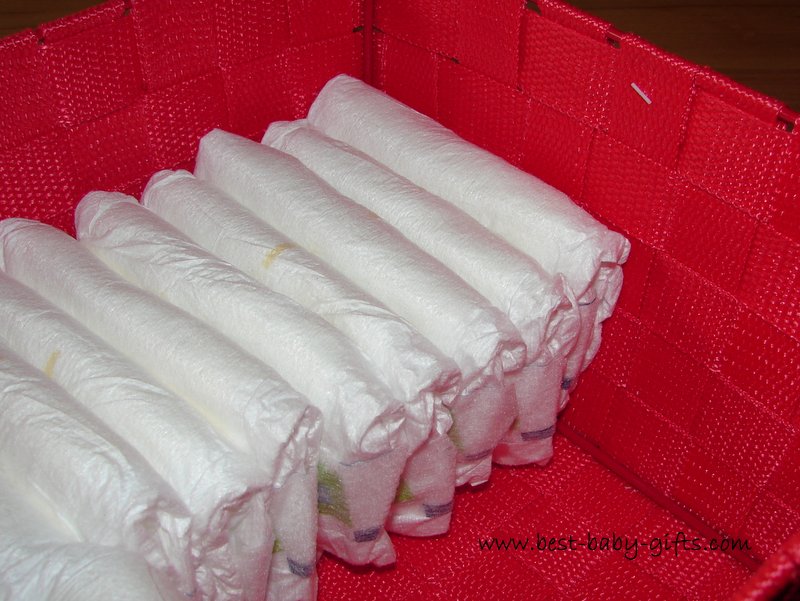 stacked diapers in basket
Fold the diapers over just once as shown on the photo. Arrange them in your basket so the bottom is covered with diapers. If you are lucky you can place two rows side by side and your basket is full (I needed 20 diapers here, 10 each row). If not, fill the spaces with more diapers just as it fits. You can also roll up your diapers and put the rolled diapers in your basket until it is full.
Then take your bamboo sticks and put one down each corner. There is not need to fix them in any way, the diapers will hold the sticks upright in the corners.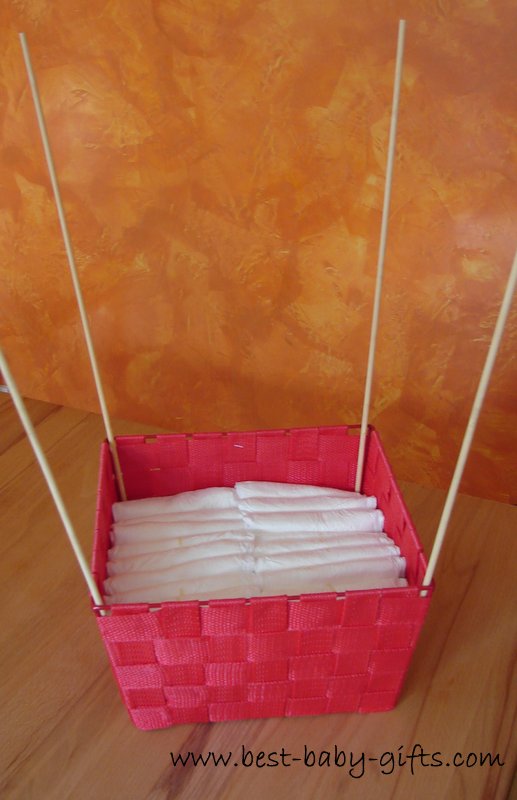 Use some little wooden pegs to hang the socks outside the basket so they look like little sand bags. If you want to, put some crumpled kitchen paper or cotton balls into the socks so they look even more like the real sand bags.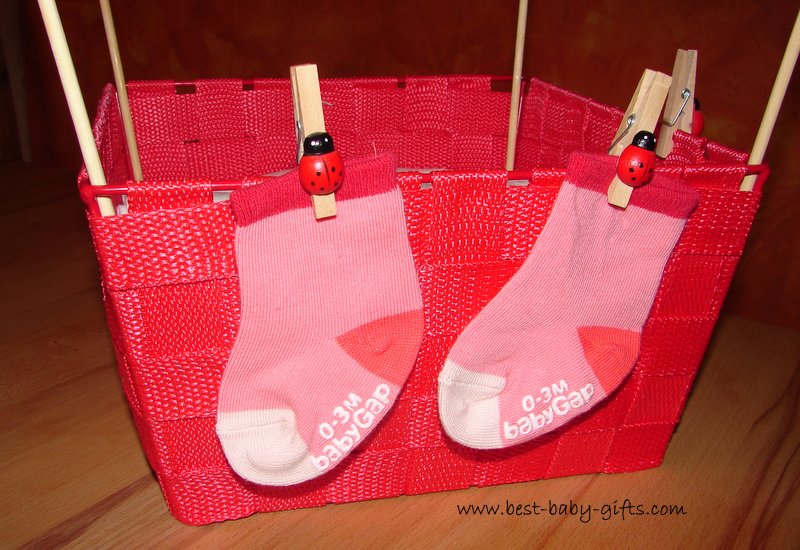 Place all your items you want to fill the basket with on top of the diapers (optionally place a diaper cloth over the diapers first) and then arrange your items nicely in the basket. Use baby spoons to fix items inside the basket (in that case you cannot put a cloth in). Stick a spoon in between the diapers and use the part sticking out to fix any of your items, for example with some curly ribbon.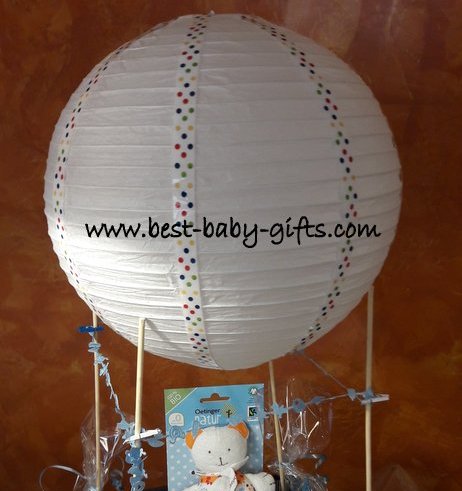 If you like, decorate the lantern with washi tape or stickers or with baby's name. Then simply place it on top of your sticks. The four sticks will hold it without any additional fixation needed.
For the boy balloon above I have used a blue fabric ribbon with baby motifs (baby bottles, baby feet, baby carriage, etc.) and have wrapped it around the 4 sticks with the ends hanging down. However, that's optional. 
If you want to personalize your cake - which always is a cute idea! - use either big letters and glue them to your gift or take letters to thread to a satin ribbon as shown here. You can fix the ribbon with little clothes pegs.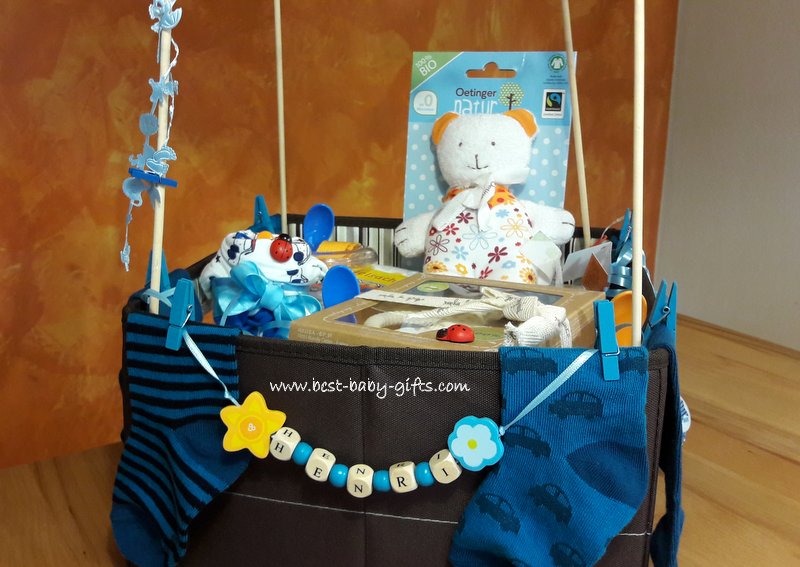 Wrapping your hot air balloon without damaging it may be difficult so I just used some clear foil to protect the items inside the basket and left the top without any wrapping. You can see this in the above photo.
Diaper cakes for baby shower: More boy diaper cake ideas.
---

Mouse Baby Shower Diaper Cake
Have a look at my tutorial for a cute mouse diaper cake for a girl or boy. 
More ideas and tutorials for homemade diaper cakes here. 


Nappy Cakes For Baby Showers: Decorate Yourself Diaper Cake
If the above looks like too much trouble to you (even though it is really easy and quick to make), let me show you this alternative. This makes your life very easy. Buy a ready-made diaper cake and decorate it yourself. All you need additionally is some colorful ribbon and maybe a cuddly toy.
This 'decorate it yourself cake' comes in 2-tiers, 3-tiers or 4-tiers so make your cake just as 'big' as needed!
#ad

Buying Diaper Cakes For Baby Showers 
Want to buy the complete, handmade cake and not worry about anything? Have a look here.
---
---