Best 1st Birthday Gift Ideas
Choosing a 1st birthday gift can be difficult. Especially if you do not know too much about 1 year old kids. But even parents can be at a loss when it comes to selecting a suitable gift for their little birthday kid.

My tips and recommendations give both parents as well as family and friends helpful ideas of what to get for a 1-year-old on its special day!

My listing also includes seasonal baby gift ideas for those celebrating their first birthday in summer or in winter.



First Birthday Gift Ideas
Birthday T-Shirt
Get that little birthday kid a birthday tee with a birthday slogan such as "I am one", "Look who's 1", "I'm ONE-derful" or just simply with a big 1 on it. Such a shirt can be worn all year round until the little one turns 2.
A complete 1st birthday outfit, cap, bib or onesie are cute, too. Mudpie have very cute first birthday outfits in their product range. Check them out! Also on Etsy, you can get very cute personalized shirts for that occasion. 
Take photos in the outfit and you'll have the perfect keepsake.
This shirt has been designed by myself, of course it is also available for ONE-derful girls.
Birthday Train With Birthday Candles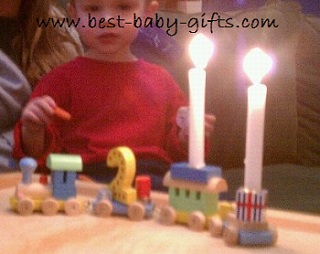 One review says: "Love this. Well made and so cute" and I cannot help but agree!
Let a special tradition come to life. This birthday train is a wooden train used for decorating the birthday table. It consists of around 8 pieces and each year a new trailer is added to baby's personal birthday train.
A similar train is also available as a birthday caravan featuring zoo animals.

In Germany this kind of birthday decoration is very popular while in the rest of the world it is hardly known yet. Therefore this is truly a special 1st birthday gift idea!
Please take in mind that you need to get candles of the right size for this train! They do not come with the train package. For more details click on the image and read the questions and reviews. 
When I first listed this birthday train, there were no reviews available yet. Meanwhile the train has become quite popular as people love it - just as I do. 
#ad

A 1st birthday in summer calls for special summer toys...
If baby celebrates its 1st birthday in spring or summer, a special summer and outdoors toy for the beach or garden is a great 1st birthday gift idea!

How about a sand play set or water fun set? Many sand and water play sets are for 12 months and up. I especially like and recommend German brand and mostly 'made in Germany' #ad Spielstabil sand and water toys. They are free of BPA, PVC and phthalates. These fun toys are very sturdy and durable for sure. They are of superior quality which guarantees hours of fun for little ones. 
Another summer fun gift for a 1 year old is a baby pool or baby float. The ones with a canopy are the best since baby is being protected from harmful sun rays. This is very important while baby is still little ( - and later on just as well!).

#ad
This 1st birthday gift is great for summer and outside, even though the inside ones are also very popular: how about an infant/toddler swing for baby? Buy a convertible one and baby can use it well into toddlerhood.

#ad
Shop for infant to toddler swings.

First birthday gifts for winter, cold weather and snow
#ad
If baby's 1st birthday is in autumn or winter, an infant sleigh might be a great 1st birthday gift idea. Watch out for a safe and stable design so the sled does not fall over. The sleigh should also have a backrest and / or an adjustable seatbelt and a long tow rope - so both baby and parents can enjoy that ride through the winter landscape! Either go for the 'nostalgic' wooden design or the modern plastic material.

Also great for an autumn / winter gift is a warm snowsuit for baby. If you are not sure about the size and style, better give a gift certificate so mum can choose one herself. Also nice: a winter set consisting of matching hat, scarf and mittens for baby.

Or what about some really cool and trendy UGG infant or toddler boots for the coldest days of the year?




More great 1st birthday gift ideas:

Musical Toys
Around baby's first birthday, it starts to really like to listen to music and little stories. When there's music, baby likes to dance and 'sing along'. Considering that, you can either get a musical CD with children song and little short stories. Or you can also get a simple musical instrument such as maracas, a rainmaker, a xylophone or also a complete musical set for babies / toddlers so baby can actively join the fun. Musical instruments for babies and toddlers are very durable and bring fun for years. Regardless whether girl or boy, these kind of toys are sure to make that one year old happy and keep it entertained over a long time! But also keep in mind that their noise possibly can drive the parents crazy! ;-)    
#ad


Gift Certificate For Baby's First Shoes
This is a nice gift idea for a one year old if you are a member of the family such as the grandparents, aunt or uncle or baby's godmother/godfather. Simply create a nice gift certificate card and offer to accompany the family on their trip to the shoe shop to get that first tiny cute little walking shoes for baby. They might not fit for long but many parents keep baby's first shoes as a memory and thus, they become a valued keepsake. And the proud parents will always add: 'Back then, you got that pair of shoes by auntie Jessie...'.   



Touch And Feel Books
Books are a great gift at any age, and so are they for babies. Get just one book or even a whole book basket for that special birthday kid. Just make sure you get a sturdy board book which baby won't be able to rip off. Touch and feel books are very suitable at that age and babies will love to explore these books with all their senses. Follow this link to #ad popular touch & feel books for one year olds.

Bath Toys
No doubt, squirting bath toys are a classic when it comes to bath toys. But there are many more great toys around to convert that sometimes dreaded bath time into fun and great educational play! Whether it is colorful stacking bath cups, a baby bath ball, a Sesame Street tub sub, a tugboat, a Winnie The Pooh tub tower or a bath tub book, hardly any kid will be able to resist the tub anymore! And by the way, most bath toys are also suitable to play with outside the bath tub. Recommended #ad bath toys for babies and toddlers.   

Steering And Activity Wheel With Sound
This is a fun and entertaining toy for girls and boys alike. Activity wheels are available in many designs and with various 'gadgets', some are suitable for as early as 6 months. Others for 12 months and up or 18 months and up. 

#ad

1st Birthday Poem
Use this cute little poem
- for scrapbooking,
- for your birthday card accompanying your 1st birthday gift
- or to personalize your photo taken on that very special day!
This is your 1st birthday
A very special one
A nice kind of day
For treats and lots of fun.
From the time you get up
Till you go nighty night
Hope your 1st birthday
Is a special delight.

Adjust this poem also to a 2nd or 3rd birthday ;-)
Even more great 1st birthday gift ideas here!

Return to Best Baby Gifts Homepage 
---
---