Baby's First Soft Doll
A soft doll is a great toy and a cute gift idea for baby. Let me introduce you to the world of soft baby dollies, mostly dolls you can dress and undress that is - for ages 12 months and up. Find out which one is the best 1st doll for your little one - be it girl or boy!
Some manufacturers also have additional doll gear and accessories to play with such as doll clothes to change, doll carry cots, doll buggies, doll prams, doll carriers, doll tableware, etc. I will point out some of these to you, too.
This photo shows our favorite soft dollies by Haba: Paola and Lotta dressed as twin dolls by my little daughter;-)
Best Soft Dolls & Accessories:
Gund - My First Dollie
These cute little plush snuggle buddies are suitable from birth and up. They are even even machine-washable and thus just perfect for baby's 1st doll. The are 12 inches (the blonde one) and 13 inches tall (the brunette one) and have embroidered eyes as well a an embroidered nose. With their friendly faces "My First Dolly" by Gund will be a great first companion for every baby. 
---

Haba Dolls
May I introduce you to the Haba doll Nelly (also known as Nele in Europe). This cute soft rag doll is 12" and just about right for tiny hands. I personally would recommend Nelly from 6 months onward - just remove the shoes, the flower and the hairbands at this young age. 

It's no coincidence Haba is right on top of the list. Our family's personal favorite soft baby dolls for sure are the ones from Haba! They are high-quality, colorful, have a cute appearance and are great to play with. And they have a great range, so you will find a suitable doll for every kid, also for a boy.
Moreover, they offer quite a lot of accessories and make way for more creative role play with their adorable dolls. Their dolls also have different sizes, so this makes great big / little brothers and sisters if you have more than one.

Haba soft dollies are made in Germany of kids-friendly materials and are very durable. They are made of fabric only, there is no plastic at all. Their lovely faces are stiched on and they have soft chenille hair. The dolls and clothing are hand washable, some items are even machine washable. Most Haba dolls are recommended for 18 months and up.
Haba Soft Baby Dolls sizes:
size 15 " / 38 cm (also known as Lotta and Friends): Paola, Lotta, Fay Finja, Charlotte, Sihu (American Indian), Amelie, Souri

size 13,75" / 34 cm: Philippa, Clara, Annie

size 12" / 30 cm (also known as Lilli and Friends): Mali, Elise, Lukas, Little Scamp Michael, Little Scamp Mette, Graham, Lilli, Nelly, Yui (Japanese doll with kimono), Yanni

size 16 / 40 cm: baby Luca (16")

size 12,75" / 32 cm: Elf Elfine
Note that this list is not complete, Haba regularly adds new dolls and characters.
Haba Dolls accessories:
Haba horse Paulina, Haba horse Sissi, Haba American Indian Horse Lanu, Haba stable

Haba doll clothes with different themes such as Ballerina set, horse riding set, beach set, rain set, pyjama set and many more

Haba baby seat, Haba pram, Haba baby carrier, Haba carry cot, doll pram, doll buggy, fabric doll house, doll bed, doll table and chair, doll cupboard, tableware set and much more



#ad View the complete range and accessories for Haba Soft Dolls.
Equally as cute  are the HABA snug-up dolls Luisa and Luis. They are machine washable and infant safe for birth and up. 
Snug-Up Dollie Luis: #ad
---

Manhattan Toy Soft Doll
Baby Stella by Manhattan Toy also is a very popular 1st soft baby doll, it is recommended for 12 mo +.
The Stella range comes in various models that all look like babies: Stella Doll (available in peach or beige), Stella Blonde Doll, Stella Brunette Doll, Stella Sweet Sounds and Stella Boy Doll. Manhattan Toy have won the Oppenheim toy portfolio gold seal award in 2006 as well as the Canadian toy testing council 3-star award in 2007 for Stella.
The Stella dolls have embroidered features and soft fleece hair. They all have a removable outfit, a removable diaper and a magnetic pacifier.
Accessories for Stella include doll clothes and cute doll dress up outfits, a potty training set, a carrier, a day at the beach set, a playtime potty, a moses basket, a stroller, a grocery tote, and more.
---

Personalized Soft Doll
How cute is this!? A soft doll with baby's name on!

Gloveleya also offers personalized baby soft dolls in 16 inches and they are available in several designs and colors.
---


Corolle - Mon Premier Calin
Corolle stands for French dolls with style. The Corolle brand develops dolls, doll clothes and accessories for the special needs of girls and boys since 1979. Corolle offer a vast range of soft baby doll models, even bath dolls.
Their 'Mon Premier' Poupon models ('mon premier' means 'my first') are designed in France and suitable for 18 months and up. 'Mon Premier...' are perfect for baby's first doll. They are 12", have a soft bean filled body and are lightweight. These dolls sort of looks like a baby, are surface washable, have vinyl skin, open-and-close eyes and come with removable clothes.
Other Corolle doll styles are suitable for 2 years and 3 years and up.
Corolle also feature a soft doll line suitable for birth and up called 'Mon Doudou'. These are 11" tall, have a pillow-soft body, are machine washable and their clothes are sewn on for complete safety. Should the little friend be lost a sewn-in label with space for child's name or parent's phone number will help to get it back.
Corolle 1st doll accessories:
Corolle also have a number of neat accessories for their soft dolls in their program such as 'My first accessories set', a small stroller, various doll clothes, 'Mon premier mealtime set', 'Mon premier carry bed', 'Mon premier small cradle', 'Mon premier doctor set', a nursery highchair, etc.

Browse the #ad Amazon Corolle Store.
---

Melissa & Doug Soft Doll
Melissa & Doug's soft dollies are recommended for 18 months and up. The line is called 'Mine To Love' and there are several models. Also a baby boy doll and twin baby dolls! They all measure 12" and have 'real faces' with their eyes open and close. They can suck their thumb or the included pacifier. The Melissa & Doug dollies have a sweet smelling, a soft body, removable clothes and their arms and legs can be wipe-cleaned.
There is a Melissa & Doug mix and match doll clothes set available especially for the 'Mine To Love'-line and also some playing sets such as a feeding set, a bathtub play set, a baby doll carrier set and others. These are recommended for 3 years and up, though.

---
Other popular companies and brands offering soft baby dollies:
Madame Alexander: My Sweet Pea Diaper Baby
Kathe Kruse
Carter's
North American Bear Company
Zapf: Baby Born
Zapf: Chou Chou
Zapf: Baby Annabelle
---
Back to First Birthday Gift Ideas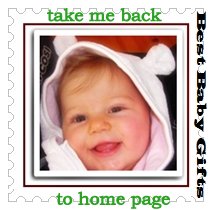 ---
---