New Baby Wishes & Congratulations 
Here are ideas for your new baby wishes, here is your source of inspiration: Hooray, a new baby is on the way or already born. I have various ideas for sending out newborn baby wishes and also sample sentences for your baby shower card or baby congratulations card.

Baby Shower Card Or Baby Congratulations Card?
Finding a cute greeting card for a new family is relatively easy.
Just remember to distinguish between a baby shower card, given to the mother or both parents prior to baby's birth, and a baby congratulations card, congratulating the couple on their new child's arrival!

If you are up to it you can make a congrats card yourself. For suggestions, visit the scrap-booking section of your local crafts store.  There you'll get tons of cute supplies to make your own card.

When it comes to writing baby cards, we often wonder what to write. Even though this is a very joyful occasion, it can be hard to find the right words to express our feelings of happiness and best wishes for the new family member.

If you are not sure what to write you might like to pick a card with a pre-printed text and pre-printed congratulations and then just add some general greetings and sign it.

But of course it is more personal to write the message yourself! So follow these links with sample sentences to use. Just combine the sentences as they best fit. 




---
Buy your unique personalized baby card, texted and designed by myself here, girl's version and without name available, too.                Easy for you: personalize, buy, sign and ready to gift!
#ad
---

Here Are Sample Sentences For Your:
- twins and multiples congratulations
Here are more funny baby quotes.

Unique New Baby Wishes
Together with a present for the little one goes a congratulations card for baby and its parents. Often greeting cards received for baby's birth are kept as a keepsake to pass on when the kids get older. Thus they are sort of a souvenir while the actual gift might not be in use or not be around at all anymore. Some mothers or parents also include the congrats cards in their scrapbook album.

And as a matter of fact, nowadays hardly anyone cares to write a handwritten message anymore, making your personal wishes even more special.
---
Buy your unique new baby card, texted and designed by myself here, personalized version with baby's name available, too:
#ad
---

Using Baby Poems And Quotes For Your New Baby Wishes
Another great way to express your joy is to add a baby poem.
Just quote the baby poem and sign your card or additionally include the poem, for example, on the left side of your opened card. 
Want it shorter? Complement your card with a newborn quote: choose either a funny quote or an inspiring baby quote.  

For creatively wrapping your present, write your poem or quote on some plain baby gift wrap. Use a glitter pen, a golden or silver pen and let your gift look more personal and glamorous.

Check Out These Cute Ideas!
Unique New Baby Wishes In A Baby Book And What To Write Inside:
Ever thought about using your favorite childhood book (or any other baby book) for writing down your personalized message instead of giving a congrats card?

This unique idea is a cute keepsake and your congratulations will be treasured for ages. They might even be passed on to the next generation!
So what to write in your baby book? Simply address baby (and the new parents) and write down what childhood memories this book brings back to you. Alternatively, write the congrats you'd normally write in your card - if you are lost for ideas, simply click the links above and use one of my sample sentences. 
The dedication in the baby book above says: "Dear (name of baby), This book was one of my favorite ones when I was little. I hope you'll have as much fun as I had when looking at the cute pictures and reading it with my mom & dad." 
This little poem really fits well, too: "Read me a story, tuck me in tight, say a sweet prayer and kiss me good night." 
Another special way to deliver your new baby wishes is here: Take a picture frame and place your congratulations in there. Later on the parents can exchange the greetings with baby's photo.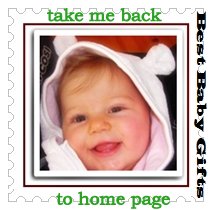 ---
---