Picking A Personalized Baby Gift
You hardly ever can go wrong with a personalized baby gift. Since it is custom made especially for that new arrival, a baby name gift is something very individual and unique which everybody will love.
This personalized door plate for Mia's nursery is handmade and really easy to make. Click on the link below to see a short tutorial.


Ways To Personalize Your Gift:
Personalization can be done in many ways. You may only have the baby's monogram or you can have baby's name. Here you may have just the first name or the first and the middle name or even the family name, too. And a photo is a cute way of personalization, too. 

At discretion you can add baby's date of birth or even baby's time of birth. This also kind of depends on the size of your gift. For example, a pacifier or a bracelet won't give as much space to personalize as a blanket or a hooded baby towel do. And depending on your gift's material the personalization can be embroidered, engraved, printed or (hand)painted in various styles and fonts. 

Monogram Baby Gifts
Spice up your gift with baby's monogram! The advantage of a monogram is that there is not much space needed. Thus it can be placed on most baby gifts. A monogram makes your gift so much more elegant and classy.
Monograms are especially suitable for baby layette, baby bonnets, baby pillows, baby jewelry, cozy baby blankets, baby linen and baby bedding. And on a christening gown a monogram looks classy and exclusive, too.      
Embroidered Baby Gifts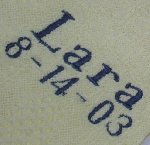 An embroidery is suitable for all 'comfy' baby gifts, that is soft material for baby to play with, for baby bedding or bath accessories like towels. These items and materials usually offer much space and you can choose the full name and the date of birth or the first name only, just as you prefer.
Popular embroidered baby gifts are hooded baby towels, baby blankets, baby pillows or baby sleeping bags. Cuddly baby toys and stuffed baby animals often wear a personalized embroidered T-shirt which is a cute idea, too.

Bearing in mind that personalised baby gifts are usually a fine keepsake I would not give embroidered bibs or burp clothes. They are more of a commodity and quickly get dirty. And you wouldn't want spinach or carrot stains on your keepsake, would you?      

Engraved Baby Gifts
The engraving of a personalized baby gift can be done by hand or machine and in various engraving styles. It is a fine art and can be done very detailed.
Engraving is suitable for personalized baby jewelry as well as for personalized silverware such as baby photo frames, baby sippy cups, baby spoons, a sterling silver birth certificate holder or a sterling silver tooth fairy box.
As there usually is not that much space to engrave, it is best to engrave the first name or the monogram only.
Personalized Baby Gift Ideas
Handpainted Baby Gifts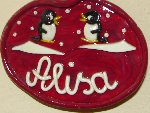 If you are an artsy person you may like to make your personalized handpainted baby gifts yourself. A handpainted baby photo frame actually is no rocket science. 
The hand-painted room plate with the kids name shown here is made of modelling clay by a 'professional'. It is a bit more complicated and needs some exercise to make this on your own.   
Another popular hand painted item is a personalized baby plate made of ceramic. They usually are dishwasher safe and can be used just as any other plate. If you think a plate might break too easily how about a hand-painted personalized name tile to decorate baby's room with?
This handpainted ceramic piggy bank for little girls comes with a dry erase pen so you can personalize it yourself with baby's name and even further details such as baby's date of birth, baby's weight and height at birth, etc. 
#ad #ad
Personalized Baby Photo Gifts / Printed  Baby Gifts
Baby photo gifts are not only great for baby but also for parents. How about a photo mug for mommy or daddy to use at the office? Thus that smiling baby face will always be present at work and brighten your day. Filled with a hot coffee it often makes that hard work a piece of cake. Alternatively you can have baby's photo printed on a mouse pad.
If you have baby's smile printed on a baby T-shirt, his or her smile gets doubled! You can also have baby's name or a funny slogan added.
And a baby photo shirt for mommy or daddy equally make a great personalized gift. You can order all these personalized baby gifts online from home and all you need to do so is a nice photo of the little one.
(New) Mommys and daddys pay attention: your partner will be pleased if he or she gets a baby photo gift from you! And you might even be on the photo together with baby...

In general, a personalized baby gift always is a treasured keepsake. The customization makes it one of a kind and shows that special love and affection of the gift giver.
Have a look here for a pre-selection of really unique personalized baby gift ideas.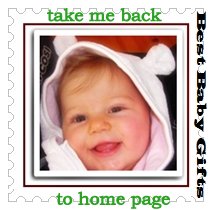 ---
---