Bumbo Seat Review
The Bumbo Seat makes mommy's life just a little bit easier and this means a lot in "mommy terms". Mom and baby will love it! 
"Yippee! I can finally sit up."
The Bumbo baby seat also makes a great gift since it promotes close-contact family interaction. 

And if nobody gives it as a gift to you, you might consider getting one yourself :-)
Depending on baby's head control abilities, this unique baby seat is recommended from 3 months and for up to 14 months (or 22 pounds).
Since there has been some confusion about the security of this baby seat and since there have been recalls, this review aims at pointing out what to pay attention to when using a Bumbo.  
Renamed to: Bumbo Floor Seat!

What Makes The Bumbo Baby Floor Seat So Special?
Once babies are 12-16 weeks old, they get easily bored just lying around all the time. Around the age of 3-4 months, babies have gained some neck and head control, and want to be in a more upright position for a while. They do not want to simply lay down anymore in car seats, gliders or cribs where they lay flat. Instead, they want to know what's going on around them and they want to start to participate in family life!
The 'trick' with the Bumbo seat is that it puts baby in an upright position and makes it possible for baby to see what mom is doing at an early age already. Thus, when in the Bumbo Babysitter, most babies will be more content and will be more at ease giving the mother just a little bit more freedom.
The Bumbo can also be a good alternative to tummy time. If baby does not like tummy time, the seat can offer a more pleasant way to keep baby from laying on the back for too long.
If you have twins, triplets or multiples they can use the Bumbo in alternate turns. Also if you have close siblings, the seat can be very helpful to 'park' one kid for a short time in there. Thus, the Bumbo makes a great and very practical gift for twins or multiples as well as for a family with very young siblings.
Order your Bumbo Baby Seat here: 
The Bumbo Baby Seat is designed to fit the baby's posture. When baby sits in the Bumbo, its bottom is lower than its legs and feet, so baby's weight is centered in the bottom of the seat and baby cannot fall or crawl out. Additionally, a front post keeps baby from sliding forward.
The Bumbo Seat is made from a low-density foam material. It is lightweight and portable as well as very easy to clean. Due to its light weight the Bumbo can easily be transported and taken to places outside the home and on travels, for example for feeding baby.
The Bumbo is available in trendy colors: aqua, blue, lilac, pink and lime green. Every baby will find its favorite color there!
You May Ask: Is The Bumbo Baby Seat Really Safe?
First of all, the Bumbo Baby Sitter is recommended by pediatricians, orthopedists, and physical therapists.
If you use the seat according to the manufacturers safety instructions, you should be perfectly okay. But, for safety reasons, you must observe the following:

only use once baby is fully able to support its head

even though the Bumbo itself is not tipsy, it is only to be used on flat, stable ground-level surfaces and never on elevated surfaces

never use the seat without adult supervision and never leave your baby unattended in the seat 




always use the restraint belt 

only use it for an appropriate time period
Once again and most important: this is a floor seat only. Always watch your baby while using it! 

Bumbo Seat Accessories
The Bumbo Baby Seat Tray
There is a separate matching play tray available to attach to the seat. This allows baby to keep its toys within arms reach and it helps develop baby's hand-eye coordination. With the tray baby is able to play with its toys while sitting in its seat. This will keep baby busy and entertained for a longer period still. The tray attaches easily to the seat and clicks securely in place. It can be taken on and off as often as needed.

The Bumbo Seat Cover
These seat covers come in different colors/designs (and atvarious prices!) and are a cute way to make your Bumbo look more colorful and fun. The cover is made of cotton, easily slips on and off the Bumbo and is machine washable. People using it, state, this is nothing you need to have but nevertheless it is a 'nice to have'. 

Features In Summary
mommy has her hands free for other things like preparing food

baby can sit up and will be more content

easy to clean

lightweight, also good for when baby is on the go

made of safe and non-toxic material

if properly used, baby cannot fall out

recommended by pediatricians

separate tray offers even more possibilities to keep baby entertained

great for twins to use in alternate turns
Only use as per the safety instructions that come with your seat.

If you want to spice up your Bumbo babysitter gift, use it as your basket for a baby gift basket! It makes a great container to fill with all sorts of baby goodies!
Be aware there are 2 models for different stages. The Bumbo Floor Seat for the very young and then, once baby has outgrown the floor seat, the Bumbo Multi Seat. If you are interested in the Multi Seat, I recommend you watching this Bumbo Multi Seat review.
Return from Bumbo Seat to Practical Baby Gifts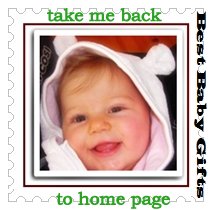 ---
---