Adoption Quotes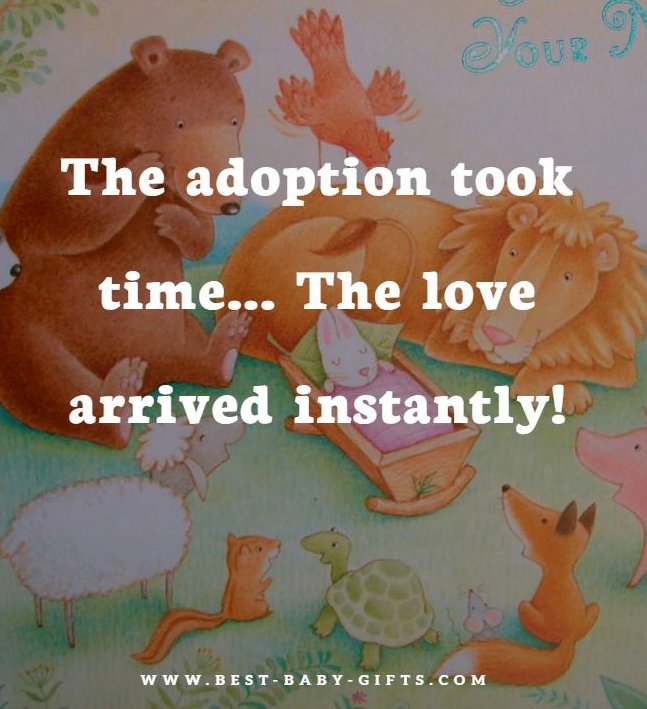 This collection of adoption quotes, adoption poems and adoption sayings will help you write and pimp up your
adoption congratulations card

a (new baby) announcement for your adopted child

an adopted baby's scrapbook

an adopted baby's photo album.
This adoption messages are also great as a wall art / wall decoration in an adopted baby's nursery.
In addition, at the bottom of the page you'll find some unique gift ideas for adopted babies and children. 

Inspiring Adoption Quotes
Bound by love. Joined by hearts. Sent from heaven. A gift from God.
Parenthood requires love. Not DNA!
You may not have my eyes or smile but from that very first moment you had my heart.
Adoption is when a child grows in his mommy's heart instead of her tummy.
I didn't give you the gift of life. Life gave me the gift of you.
Biology is the least of what someone makes a mother. (Oprah Winfrey)
Adoption is: Love. Commitment. Courage. Family. Charity. Adventure. Happiness. A wonderful experience. And so much more!
Adoption spells: Amazed. Delighted. Overjoyed. Proud. Tickled. In 7th heaven. On Cloud Nine. Never Happier!

More Adoption Quotes
Wanted - Chosen - Adopted - Loved.
This baby is chosen, she (replace by he if it's a baby boy) is wanted, she is cherished, she grows in your hearts, she is the missing piece, she is loved, she is adopted. 
Adoption helps put love back into a child's life.
This baby wasn't expected, he/she was selected!
Some things are absolutely worth the wait.
Adopting a child won't change the world but for this one child and couple the world will change. 
The adoption took a very long time and patience - The love arrived instantly.
Whichever way parenthood comes to you. It's a miracle!
Adoption. Born in your hearts. United by love.
Not flesh of my flesh. Nor bone of my bone. But still miraculously my own. Never forget for a single minute, you did not grow under my heart but in it.
We adopt not because we are rescuers but we are the rescued.

I will not leave you as orphans. I will come to you. (John 14:18)
For this child I have prayed and the Lord has given me my petition which I asked of him. (Samuel 1:27)
Gotcha Day: Children are a gift from the Lord. This is a day the Lord has made. We will rejoice and be glad in it. (Psalm 127:3, 118:24)  
I may not have carried you for 9 months but I will spent the rest of my life loving you, protecting you and doing whatever I need to make you happy. 
Do you know any more inspirational adoption quotes to complete my list? Feel free to leave a comment in the box at the bottom of this page. 
Adoption Congratulations Cards
With regards to writing an adoption congratulations card, why not write what you'd write for a biological baby, too! Such as for example: "Congratulations and a very warm welcome to (name of adopted baby / child). May your new family be blessed with good health, love and laughter."
Here you'll find many more sample messages for your baby congratulations cards.
Complete your wishes by adding one of the adoption quotes above or use one of these for your cover text. Sometimes you might need to adjust the 'I form' into the 'you form' to make it work.
Adoption Gift Ideas
I have a few cute and thoughtful ideas if you want to give the adopting family a gift. If the family has adopted a baby you can gift basically everything you'd gift for a biological child, too. Such as care products, a diaper cake, a baby blanket, a cuddly toy or other baby items. Simply browse my website's other pages to see lots of practical, cute and unique ideas. The sitemap will help you to find your way.
But there are also some really unique gifts especially for families which have adopted, some of which I am presenting you here:
---
My special adoption gift recommendation: 
                        How about adopting / gifting a hero rat?
I love and support this foundation and program ever since I heard about it. And this is just a unique and perfect gift idea for an adopted baby or child. Adopt (just finance it, you do not have to take the rat into your home) a HeroRAT and help to save lives! I just briefly explain to you what it's about, please get all information and make your adoption via the link to Apopo's homepage provided below (this is no affiliate link, I will not earn any commission).  

Adopt a rat that will be trained to either detect landmines or tuberculosis. Experience how your rat(s) develop from birth to saving lives. You'll (or the giftee) receive a welcome pack, an adoption certificate and monthly updates. And you can choose basically any amount you like: Apopo HeroRATs - Homepage
Return to Best Baby Gifts Homepage