Nosefrida - The Best Nasal Aspirator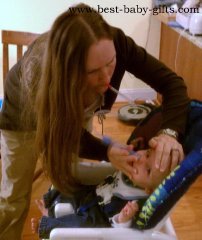 Oh no, not another cold...

The Nosefrida nasal aspirator is bringing relief! 
This review on amazon says it all: ...I used to get up to soothe my baby every couple of hours on those nights... now I get the Nose Frida and he sleeps the rest of the night. It is amazing! I am buying this for every baby shower I go to from now on.'

So whether you are looking for a practical baby gift or want to buy it for your own kid - this device has great reviews and helps baby to breathe better when its tiny nose is congested. It is recommended for ages 0 - 3.

And even though this product sounds gross and nasty, it really helps and most users claim this nasal aspirator to be the best product on the market.
The Nose Frida snotsucker effectively helps when baby's or toddler's nose is congested. Babies and toddlers can not independently blow their nose, this has negative effects on their sleep and food intake. And often the entire family is 'suffering' with baby and has sleepless nights, too.
Nosefrida Snotsucker- doctor invented and doctor recommended
The Nose Frida nasal aspirator device is both doctor-invented and doctor-recommended. It was developed by ear, nose and throat specialists and meets all safety and hygiene requirements. The nasal aspirator does not irritate the sensitive mucous membrane of the baby or toddler. Swedish physicians have thoroughly tested the device with no complications at all. Clinical tests have also shown that the use of Nose Frida reduces the cold symptoms and improves sleep and appetite. 
This nasal aspirator it is non-invasive, BPA and phthalate free and easy to clean. It is equipped with an absorbent hygiene filter that must be replaced after each use. This ensures a hygienic application. The device is kept in a specially designed case.
European mums and dads have been using the Nose-Frida for years. It consists of a small tube with a filter and a suction tube with a mouthpiece. This mouthpiece goes in your mouth. When you start sucking, the mucous is being aspirated into the cylinder chamber.
Just see all the positive and enthusiastic - yes, you can be enthusiastic about babies bogeys and snot! - reviews on amazon! Click the image to see the reviews:


See the Nose Frida in use above and note: baby is not crying!
Compare the Nosefrida snot sucker to other nasal aspirators: more nasal aspirators.
Return from Nose-Frida to Practical Baby Gifts


Return from Nosefrida to Best Baby Gifts Homepage
---
Enjoy this? Don't miss out - sign up for my free newsletter and get access to exclusive articles and resources. 
---