Best Baby Gifts
The best baby gifts and baby shower gift ideas all in one place!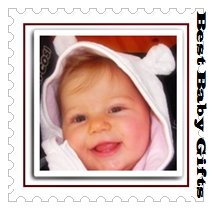 Best-Baby-Gifts can help you with all of the above. Now it's really easy to find the perfect present for the wee one! I'm a mom of 3 and show you the latest novelties for little ones as well as well-tried products and also amazing must-haves you didn't know existed.

My page introduces you to gift ideas for the new offspring for all occasions and at every price level. The recommendations are grouped in categories such as luxury, practical, inexpensive, organic, personalized, and many more. Not to forget my gift ideas for newborn twins and multiples. Simply have a look at the navigation bar or use my sitemap and start to browse.   
For your convenience, many of the items and gear presented can be easily ordered online.
Best Baby Congratulations 
My ideas for presents for the new family are complemented by messages and sample sentences to write in your congratulations card for the family and their new arrival.
You are also welcome to browse my large collection of newborn quotes, baby poems (some also written by myself), scrapbook verses and grandchildren and grandparents quotes. 
Also get lots of ideas on how to creatively wrap your present for the newborn and how to nicely pimp up a 'just diapers' gift.

Homemade Best Baby Gifts
If you are a creative person, have a look at my DIY baby gift ideas. I like to make all kinds of diaper-gifts and newborn gift baskets and have many free tutorials for you. 
Best Baby Gifts For New Parents:
New parents searching for the latest must-haves and gear for their new family, for perfect infant toys, for Christmas and Easter treats for the little one as well as 1st birthday presents will get helpful information here.
I have poems and quotes for your birth announcement or scrapbook, too.  
New parents will also appreciate my gifts from baby ideas listing unique birthday and Christmas treats from their little one for mummy, daddy, grandma, grandpa, other relatives and friends.
Thank you for visiting Best-Baby-Gifts.com. I hope you have as much fun browsing through my pages as I have when writing them! If you want to learn more about me and my lovely family, please visit my 'about me' page.
Eva - Best Baby Gifts

---
Enjoy this? Don't miss out - sign up for my free newsletter and get access to exclusive articles and resources. 
---