How To Make A Diaper Snail
A diaper snail is such a cute homemade baby gift!
You can make it plain with just some ribbon and two spoons which also makes a great baby shower decoration. You find a photo further down below this page. 
Or add a cute baby hat and some cuddly toy or a pacifier chain and maybe also roll a onsie into the snail's house and you have the perfect unique homemade gift for that little new arrival!
Simply follow the below instructions, read my tips and have a look at my ideas to come up with this beautiful baby craft! 
cute H&M baby set 'wrapped' in a snail diaper cake 

Diaper Snail Instructions
What you need:
* 22-26 diapers size 2 or 3
* a cute baby cap or baby sun hat (alternatively 2 plastic baby spoons for a plain snail)
* something to fix on the diaper snail such as a rattle, cuddly toy, baby shoes, 1 or 2 buggy baby books, a pacifier chain, etc.
* extra, if you like but not mandatory: a piece of baby clothing, a washcloth, etc. to roll into the core of the snail's shell
* some thin and broad ribbon matching your accessories
* wobbly eyes and a piece of pipecleaner for the mouth
* a cake pan, pot or similar container, the best would be an adjustable cake setting ring with a dia. of around 8 inches. If you do not have a setting ring, it's not worth to buy one for just making one snail but this 'tool' is great for decorating a real cake, too! Check it out:

How to make your pampers snail:
Take your cake setting ring (or pan, etc.) and start to stack the diapers in there. Make sure they all face the same way and overlap a bit (for the outer layer you will need 5-6 diapers).
Continue stacking the diapers until your ring is nearly full.
For the middle of your snail shell use a rolled diaper with another diaper rolled around. Then stick the roll inside the hole. The diaper roll will adjust itself to the hole so it won't fall out. If you have a onesie or any other small clothing item, you can roll the onesie and then stick the onesie into the middle.  


Tie a thin ribbon around the diapers and then remove the cake ring. Make sure your ribbon is in the middle. Then take your broad ribbon and place it over the thin ribbon. Use a little bit of glue to fix it - the spot where you glue it will be on the bottom of your snail shell, so it does not really matter what it looks like. You can use a little cloth peg to fix the ribbon until the glue has dried.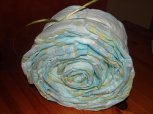 Depending on whether your baby hat has straps or not, you need to craft the snail's head in a different way.
Hat with straps: take a diaper and roll it. Then open another diaper and roll it around. Do the same with up to 7 diapers, meaning open them up and roll them around the others. Depending on how big your hat is use either 5 ,6 or even 7 diapers for the head. Fix the last diaper with some scotch tape. This spot will be hidden under the hat, so use the tape generously if necessary.
Hat without straps: take approx. 3 feet of thin ribbon and roll a diaper around. Then open another diaper and roll it around the first one. Continue as described above.
Place the baby hat on your rolled diapers. You will need to play around a little bit to see how it best fits. Make sure the scotch tape is hidden underneath your hat. Then take your wobbly eyes and a glue stick and fix the eyes. The pipecleaner mouth also can be best fixed with a glue stick.  If you make the mouth a bit longer, the snail will have a bigger smile ;-)
Take either the hat's straps or your small ribbon sticking out of the diaper head and tie them behind the snail shells back. Make sure, they are not too tight but also not too loose. Baby hat straps often are a bit elastic which makes it easier.  

If you want to fix something on top of your pampers snail, you need to play around and try a bit, too, depending on what you have.

| | |
| --- | --- |
| | A pacifier chain, like this wooden one from Haba, usually is very easy to attach since it has a clip you can just clip onto the ribbon. Here I have tied a thin ribbon around the broad ribbon and then have clipped the chain onto the thin ribbon. There is no need to fix the chain somewhere else it just hangs loosely down the snail's shell.  |
Cute Haba pacifier chains for your diaper animals.
In order to make this cute HABA clutching frog and rattle sit and ride on the snail, I have fixed it with some thin ribbon on the broad ribbon and then have placed a pacifier at its back so the binky is like a little stool for the froggy ;-) 

Tip:
Usually hats with little ears or feelers look very cute on the snail. If your hat does not have any feelers, you can also add two little (decorated) cloth pegs, giving your diapersnail a more whimsical look.   

Baby shower decoration: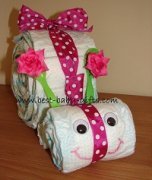 If you want to make just a plain pampers snail, use 2 baby feeding spoons as snail feelers. Fix them with scotch tape behind the snail's head. Place a big bow on top of the snail's shell to make it look more glamorous .
More baby shower decoration ideas here.


Alternative:
This is another alternative if you do not want to use a baby hat for your diaper snail. It was a special request by one of my customers, so I included a baby tee and leggins into the snail's body and attached a name ribbon with beads on top. Instead of the baby hat, the customer wanted the spoon feelers. I tightly knotted the white ribbon behind the snail's head so I could just stick the spoons down there and did not need any extra scotch tape. I also included a ribbon into the inner diaper of the snail's shell and then simply tied the head on both sides to the snail's body.   

If you have made a diaper snail, diaper animal, diaper bouquet or a diaper cake using my instructions, I would love to see your craft. Please post up to 4 photos at my 'Diaper Cake Gallery' and write something about it! Thank you so much.

More cute diaper snails: photo gallery
Here are some more photos of pampers snail cakes.  
The one on the top right side has rolled diapers instead of the stacked version. If you prefer to roll the diapers, have a look at my diaper bouquet instructions, to learn how to do this. The size of the snail shell is approx. the same as for the diaper bouquet.

Diaper Snail With A Twist:
For these diaper snail cakes I have made a diaper cake base and have then placed a diaper snail (with spoon feelers) on top. The snail is fixed with 3 plastic baby spoons stuck into the base. One on each side and one at the back. So easy, and so cute both for girls and boys! 

Return From Diaper Snail To Diaper Animal 
 Return From Diaper Snail To Best Baby Gifts Homepage
---
Enjoy this? Don't miss out - sign up for my free newsletter and get access to exclusive articles and resources. 
---