Specialty Baby Gift Baskets
Specialty baby gift baskets are available at many (baby) stores and online shops. If the new mom, dad or family have a special liking or a special profession, like cat lovers, book lovers, natural living, sports, farmers, etc., a themed basket is a cute idea.
Same here, as for an 'ordinary' baby gift basket - it's just the icing on the cake if you make it yourself!
And you do not even have to leave the house for doing so. Everything you need is available online!

To create your own basket, first check out the basics on how to make a baby gift basket.

Then come back to work on your theme. Giving your homemade basket an overall theme is a great idea.

Best Ideas And Themes For Unique Specialty Baby Gift Baskets:

* MOM AND BABY GIFT BASKET:
if you especially want to include mom in your giving, a mom and baby gift basket is the ideal gift idea for you.



* BABY EINSTEIN GIFT BASKET:
want to help baby explore the fascinating world of nature, animals, classical music, arts and poetry? Then go for a Baby Einstein gift basket. Combine Baby Einstein items with a cozy blanket, a cute snugly pillow or a cuddly friend. You'll find plenty of Baby Einstein products and ideas at amazon or at your local book shop.    



* NATURAL BABY GIFT BASKET:
Natural goes hand in hand with organic. Thus, first of all take a basket made of natural fibers (such as cottonwood, willow, or even an organic shopping bag). And for a natural baby gift basket theme I would opt for things like organic clothing, an organic blanket, organic baby toys - see all details here: organic baby gifts and gift baskets.

Great natural baby care products are available by Weleda. Their baby care lotions and products are made from hand-picked Biodynamic® calendula, organic chamomile and natural plant-based oils. Their complete range is available at amazon and also at Whole Foods.

Burt's Bees also offer great natural baby care products to make your own organic baby basket with but they also have cute "organic welcome home" basket gift sets and bathtime gift bundles in various sizes:

* LUXURY BABY GIFT BASKET:
Your deluxe and luxury baby gift basket should contain nothing but the best! Go for exclusive brand and designer names and maybe throw in a baby cashmere blanket, too! A deluxe baby gift basket might contain designer baby clothes, a sterling silver baby hairbrush, a cosy baby blanket, a designer hooded baby towel and exclusive baby body care products. I recommend the Weleda Baby Starter Kit and Weleda Baby Care Products, available at amazon or also at Whole Foods.
And why not pamper mommy a little bit, too - by adding some cosmetic products such as Honeymark Mud Mask, Anti-Wrinkle Serum or Honeymark Bath Salt. Their excellent products are made with all-natural ingredients, containing active Manuka Honey with antibacterial properties.

                                    

* NEUTRAL BABY GIFT BASKET: 
If you do not know the baby's sex you need to make a neutral or unisex baby gift basket. That means you have to choose neutral colors that are suitable for girls and boys and also unisex baby items: instead of using a princess doll for a girl or a plush car toy for a boy you can choose a teddy bear that is suitable for girls and boys alike.   
click the photo for tutorial




* BABY BOOK GIFT BASKET:
Reading is fun and promotes several important skills. See here how to put together a unique baby book gift basket.



* TWIN BABY GIFT BASKET:
see all you need and what to possibly consider when making a twin baby gift basket here.





Spice up your specialty baby gift basket with some whimsical diaper babies! For instructions click the photo.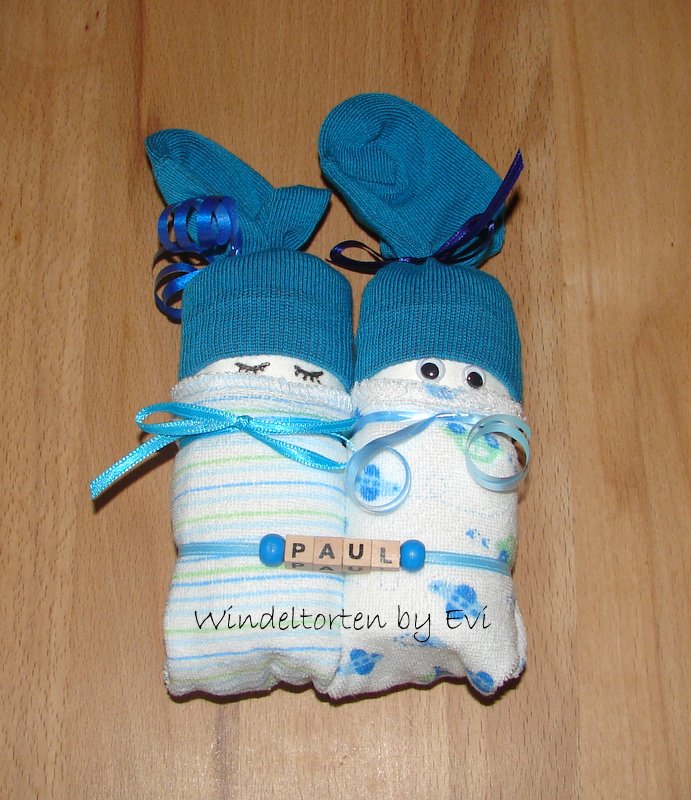 pair of personalized diaper babies

A specialty baby gift basket is the ideal group gift idea for a baby shower party:
A baby gift basket is also a great idea for a group gift- for example at work. There are baskets in all shapes and sizes as well as in many different price ranges. So it is easy to find a basket that fulfills all your needs. 

#ad
Return from Specialty Baby Gift Baskets to Best Baby Gifts 

---
---