Modern Baby Gifts 
We Love Stylish Designs!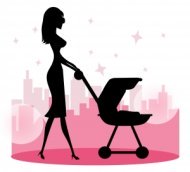 Modern baby gifts in a fashionable design sure are booming. Since nowadays, families want a fresher feel for baby, too. 
Find my personal favorites of hip, cool and contemporary baby gifts and baby stuff. Enjoy my best finds!
iPhone Cradle For Baby's Stroller / iPhone Holder For Bugaboo
The modern mommy needs a modern present! So, is mommy completely at a loss when she's deprived of her iPhone? No more worries now since you just found the perfect gift for her: an iPhone holder for the stroller! With this little gadget, she can always stay connected with you. The iPhone cradle facilitates an active lifestyle while allowing to stroll safely. 
With this holder, mommy can attach the iPhone to the threadmill, too - so no more excuses... 
And for those who are lucky to possess a Bugaboo? Well, they have just introduced a special iPhone holder for their popular Cameleon and Bee strollers. Makes the Bugaboo even hipper! 

By the way, husbands and new dads: an iPhone holder also makes a great gift for your wife!
iBaby M6 Baby Monitor
This 360 degree monitor camera lets parents keep an eye on their little ones with just the swipe of a finger. The iBaby care app is available for apple and android devices and gives you a crystal clear video around baby's nursery (or wherever you want to). The iBaby has two-way speakers so you can listen and talk to your baby. Another great feature is the motion alert: when the monitor detects sudden movement, it will take 3 images or a video and will also send you an alert push notification to your device. Check it out, it's worth its price!
Digital Photo Frame
Once baby is there the new family will have lots and lots of pictures to display. The parents (and later on also the child) will have hours of fun watching all these cute and memorable moments on their digital photo frame. A modern baby gift for modern times! 

Browse digital photo frames.
Modern Baby Gifts
Baby Organizer
The Essential Baby Organizer: Birth to One Year (The Essential Organizers): I wish somebody would have given such an organizer to me. With 3 kids it is hard to stay on track and to remember who did what and when for the first time, etc. This baby organizer provides pages to track baby's feeding, sleeping, and diapering patterns which comes in handy for parents, caregivers and pediatricians during the first months. The content also includes helpful advise on topics such as breastfeeding, sleep guidelines and even interview questions for babysitters. And there is space for baby well-check records, there are photo pages, convenient journal pages as well as a pocket for paperwork or keepsakes. This organizer has been called 'a lifesaver' and an 'awesome must have for new parents' by its many thrilled reviewers.
Modern Baby Furniture
Bloom, Boon, Stokke: brands that offer great functional and modern baby furniture. 
BLOOM

Designer Baby Gear
Coco Bloom Baby Lounger: 
This stylish and iconic lounger is one of the greatest modern baby gifts around: let baby relax, rock and lounge - with Coco Bloom. This amazing baby lounger has been developed by the European Bloom Design Team to fit modern living and contemporary style. You can use the Coco Bloom lounger from birth to 12 kg / 26 lbs and it has a 5-point harness so the little one stays safe. It is available in a range of contemporary colours. 

Bloom Otto Table and Chairs:
The Bloom Otto wooden table with 2 chairs comes in 4 different colors. They are suitable from 18 months. The table features two sliding art-and-play trays. This set has a very clean and modern design. It sure makes a baby gift to last for many years. 

Bloom Alma Baby Crib: 
This crib is made of solid wood and, as all Bloom products, has a contemporary design. Baby will fit into this crib from birth until about 12 months. The award winning Bloom Alma mini-crib is designed to easily fit through small and standard doorways. 

All Bloom baby gear conforms with globally recognized safety standards and norms! It is safe and at the same time hip and cool, and modern of course!
For more details, just click on the images.



BOON Flair Pedestal Highchair With Pneumatic Lift
Now that is really cool: a baby high chair with pneumatic lift! This baby chair combines innovative features with distinctive modern style. Flair features a seat that makes clean-up extremely easy since you simply have to wipe it down. The high chair has 6 urethane casters and glides in all directions. And a hands-free braking system will lock the Flair in place. The height of the chair can effortlessly be adjusted and it fits easily under tables.
Click the image for more details and many enthusiastic reviews. 
Stokke

Baby Highchair and Daybed
The Stokke Tripp Trapp Highchair is a modern classic. It's been around since 1972 and the design has not been changed since then. The Trip Trap will 'grow' together with the baby and can still be used for a school-kid and longer. It is ergonomically designed and comes in many colors and finishes and with many accessories and ad-ons like a play-tray. The award winning Stokke Tripp Trapp highchair is the perfect modern baby gift! 

Another modern highlight from the Stokke company is the Stokke Bounce 'n' Sleep Daybed. This clean, simple and modern looking bassinet can be used from birth to 6 months approximately.
babyletto Bowery Convertible Bassinet
What a cute, contemporary looking baby bassinet! And best of all: once baby has outgrown the bassinet you can convert it into a beautiful toy box. The crib is made of sustainable pine wood with a non-toxic finish. Love it! 


Contemporary Design Crib Bedding Set
How about a crib bedding set in a modern design such as Polka dots or Argyle patterns? JoJo Designs have a large range of modern styles, both for girls and boys. 
Register A Personal Website For Baby
Give the new parents a premium membership to create a personalized baby website for the new arrival (and for sibblings). It usually is simple to set up a website for baby since the providers are using simple point and click tools - so no experience is needed. Friends and family around the US and even around the world will enjoy baby's photos, videos, baby's firsts and baby's latest stories. The website can be password protected and will be third-party and banner ads free. 
More details for example at: www.baby.myevent.com
Haven't found the right modern baby gift idea yet? Here are even
More Modern Baby Gifts
Baby Briefcase - Baby Paperwork Organizer
This helpful baby paperwork organizer by Baby Briefcase is the winner of the national iParenting Media Award. It keeps all of baby's paperwork in one place and fits into many standard size file cabinets. It is very practical when it comes to filing and consequently finding baby's documents. Because, let's be honest, who hasn't been in search of that misplaced document yet!?... Especially new parents won't have the time and leisure to sort out all of baby's things and paperwork. But with this organizer everything is stored away and ready at hand in just a minute. A great and modern baby gift as many excited reviews on amazon confirm!
Picture Keeper by Simplified IT
A modern baby gift for new, modern parents! No more risk to loose all those irreplaceable photos! 
Parents are constantly taking pictures of their little one(s). Now it's a snap to save the pics with Picture Keeper. The PK is the simplest automatic picture keeping device. This USB stick keeps up to 32,000 photos (4 sizes available) and there is no software to install. Once inserted the Picture Keeper will automatically find and save all pictures. Fastened to the diaper bag the parents always have photos of the family on hand – all they have to do is to pop it into any USB port on a computer. And it will work with a digital picture frame, too. This device really makes a great gift!
RaZbaby Keep-it-Kleen Pacifier
I put this in the modern baby gifts section since it is kind of a modern gadget. But it is practical as well! This pacifier is BPA-free and comes in different colors and many cute designs. The special thing about this binky is, that it closes when dropped! Thus the nipple always stays clean. Click on the image to see all designs available.
Want more ideas on modern baby gifts? Feel free to browse my other categories to find just the perfect gift for your needs!