How To Make Diaper Babies


Look at these cute miniature diaper babies! They are really quick and easy to make, are simply adorable and make a super cute baby shower gift! Learn how to make diaper babies in my tutorial.
As some of you might know, besides managing this website, I do have a diaper cake business. And these mini diaperbabies are my bestselling product by far! 

Learn step-by-step how to make these little diaper fellows. They are very versatile and can be used for a lot of cute homemade newborn gift ideas. Starting on their own as 'just a little something' to cute baby gift basket 'fillers'.  Get tips what to use them for and learn how to put together a really unique and practical pampers babies gift basket for a newborn baby.

How To Make Diaper Babies With Socks And Washcloths
What you need  for 1 pair, that is 2 miniature babys:
- 2 diapers (size 2 or size 3)
- 2 baby washcloths 
- 1 pair of newborn socks
- some slim ribbon, some satin ribbon or also raffia ribbon
- 1 pair of small wobbly eyes and a black felt pen to draw sleeping eyes (I think they look the cutest if one is asleep and one awake)
Diaper Babies Tutorial
Take a diaper and roll it up. The best way is to roll it from the open end to the closed end as shown here. Don't roll it too tight, though. if Needed, fix at one end with a rubber band.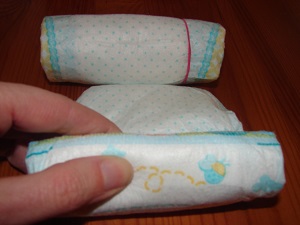 Take your washcloth and wrap it half way round your pampers. If you have diapers with something printed on, make sure the part of the diaper where there is no pattern is on the front (where the face will be later on -  it's nice to have a plain diaper otherwise baby's face will look spotty). Fold the washcloth half way up, turn the nappy around and fix with a slim ribbon.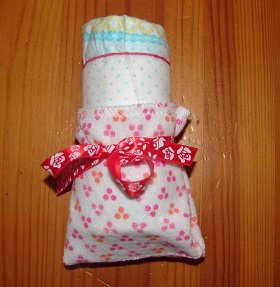 Remove the rubber band. Take your sock and fold the rim over - if necessary fold it several times. Then put it over the top of your diaper just like a hat. Take another piece of ribbon (the same kind as for the body or also a second one for more variety) and tie it around so the hat looks like a jelly bag hat. 
Take a glue stick and attach the wobbly eyes. You can also get sticky eyes so you won't need glue.
Alternatively use a felt pen to draw your eyes. If you like, draw a mouth, too. Some people think the sleeping version is so much cuter ;-) You can also make one with wobbly eyes and one sleeping which is my personal favorite version!
Et voilà, your diaper doll is finished!

Place it on a nappy and this is a cute baby shower decoration idea! 

Sock Diaper Babies
You can also make your babies out of a diaper and a pair of socks only. This makes sense especially if you want to show the design of the socks. Here I have used a pair of "I love mom" and "I love dad" socks. It would really be a pity if you couldn't read the messages!

Baby Shower Decoration Ideas With Diaper Babies
put them on an extra diaper and lay several ones on the tables (photo above)

have them dangling from the ceiling (fix ribbon on the sock hat)

take 4 pampers babies together and place them upright back to back, fix with a broad ribbon and place them in the middle of your tables)

take the lower part of a shoe box and wrap it with wrapping paper matching your baby shower theme. Place some diaper babies inside, if you want place them on a diaper cloth and add some more decoration such as a pacifier etc. (photo below) - place a box on each of your tables 
Diaper-Babies For Twins And Multiples
Miniature babies made of diapers also make a cute gift for baby twins or multiples. You can make two boy babies or two girl babies or a girl and a boy baby. Either give the other sock as a separate addition or you can also place one sock over the other and use both socks for the hat. 

More Ideas - Use Diaper Babies For:
- a whimsical baby shower decoration (as described above)
- making a cute nappy baby basket gift
- a little something so you do not come empty handed, for example when you go to hospital to see the new addition for the first time
- decorating your diaper cake or specialty baby gift basket
- to go with a baby gift card and pimp up your voucher
- use as a gift topper, for example a baby book 
These are the bestseller at my online shop!
Gift basket for girl: a decorative box filled with diapers, then a burp cloth to cover and the pampers babies on top. 

Make a cute and practical diaper dolls baby basket gift:
Buy a larger storage bin. That can be just a 'normal' storage basket -made of fabric or plastic - or a special nursery storage basket with a baby design. A storage bin always comes in handy, be it to keep baby stuff on the changing table or to store baby's toys. Collapsible storage baskets can be folded and conveniently put away when you do not need them.
Fill the bottom of the basket with plenty of diapers, a baby wipes pack, some baby clothes, etc. Place a burp cloth on top. Then lay your pampers babies on the cloth. You can also mingle them with litte cuddly baby toys, a cuddly musical toy, bath sponges, rubber duckies, etc.
Use clear gift foil wrap and lots of ribbons to perfectly decorate your diaper-babies gift basket.   
#ad
Cute nursery baskets to use for your diaper dolls gift basket.
Summer diaper babys:

This was a gift for a soon to be 2nd-time-mom from her baby swimming class of the 1st child. They took some diaperbabies in swim suits/bath clothing and then arranged them in a big, flat storage basket so it looked like a swimming pool. Creative and cute, eh?
 
Make a small welcome gift: 
For a small basket gift, use 4 pampers babies made out of 2 pairs of socks, 4 diapers and 4 baby wash cloths. Take a lunch box container  or a small basket / canvas box and place your diaper dolls in there so it just looks like a bed with 4 babies sleeping side by side.  Something like this is always a cute addition to a baby gift certificate. 

Add just 2 or more of these little cuties to your homemade specialty baby gift basket or diaper cake.